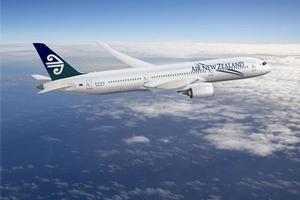 Boeing says it is working with customers to find a "win-win" solution after delivery delays for the 787 Dreamliner have stretched at least another six months for Air New Zealand.
The airline is the launch customer for the 787-9 plane which, when ordered in 2006, was expected to be in service next month. It will now get the first of its eight aircraft at the end of 2013.
The programme for the new aircraft built mostly of carbon fibre has been plagued by delays due to design flaws and problems with outsourced supply lines.
Boeing's marketing vice-president Randy Tinseth, who is in New Zealand, said it was now in discussion with airline customers to find solutions following the latest problem, stressed joints between the wing and the body of the plane.
"We clearly made some misstep in that programme. We've had some challenges especially in terms of production and supply base," Tinseth said.
It was hoped the first test flight would take off before the end of the year.
One Wall St analyst has calculated Boeing's penalty fees to airlines for late deliveries of the 787 have reached US$5.1 billion ($6.96 billion).
Tinseth would not comment on the figure or deals struck with individual airlines.
For Air New Zealand delivery delays have partly worked in its favour by pushing out capital spending at a tough time for global aviation.
Tinseth said: "This is a challenging time. Sometimes it's beneficial for airlines to move back a bit, sometimes it's beneficial for us to move other airlines forward. That's why we're looking for some middle ground."
Air New Zealand has previously said it is disappointed with the delays.
Aviation Week reported Macquarie Equities Research's Robert Stallard as saying penalty payments to airlines for delivery slip have "significantly dented the profitability of the programme". But the cost had been manageable as customers are being compensated with "payment in kind", such as other aircraft in the interim instead of cash.
The company last week announced plans to establish a second 787 production line in Charleston, South Carolina, away from its traditional manufacturing power base on the outskirts of Seattle, Washington.
Tinseth said this would allow the company to push up production to 10 aircraft a month once the programme was fully on track. The 787-9 series, which has a longer range and greater seat capacity, would still be made near Seattle.
As part of 20-year projections for the aviation sector, Boeing estimates traffic in the Oceania region will grow by 5.1 per cent - 670 new aircraft valued at US$90 billion.