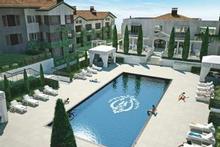 More than $600 million of new hotel rooms and serviced apartments are expected to be built in time for the Rugby World Cup but it still won't be enough to cater for all the visitors, according to tourism consultants Horwarth.
Three new hotels have already been announced for Auckland and a further three hotel or serviced apartment developments are being planned.
The largest of those already in the pipeline is a new five-star 296-room Pulman hotel in Customs St which is due to be completed by August 2011.
Five-star hotels are also planned for Waiheke Island by the Langham hotel group and at Britomart, although completion dates have yet to be set.
A fourth hotel at Auckland Airport is expected to be developed by the Tainui Group through an $80 million investment, and a further two developments have yet to be publicly announced.
Horwarth director Terry Ngan said 1203 new hotel rooms and serviced apartments in 10 developments were under construction throughout New Zealand in preparation for the cup.
A 50-room hotel in Wellington was planned and a second 120-unit serviced apartment was also expected to be started before the year, said Ngan.
Christchurch would see 363 new hotel rooms open before the cup, with the Novotel and Rendezvous Hotels expected to open in late 2009 and early 2010. But of the new hotel and serviced apartment supply only 40 per cent would be in Auckland where most of the visitors were expected to pass through.
"Unfortunately, this new supply of 524 rooms and apartments will not sufficiently help to meet the needs of many of the 75,000 international visitors to New Zealand who will descend on Auckland for the Rugby World Cup.
"Temporary accommodation, including cruise ships, will be needed in Auckland to offset the shortfall in permanent accommodation supply."
New developments like the Pulman and Tainui's new airport hotel would also need to be started by the end of the year or risk not being completed in time, Ngan warned.
Some developments such as a Holiday Inn planned for the North Shore also face an uncertain future due to the economic climate.
"Our outlook publication found that some eight announced projects may well not proceed within the timeframe indicated or at all due to more challenging investment and funding conditions," Ngan said.
Included in those is the troubled Kawerau Falls development in Queenstown. Two of its five planned hotels are expected to be completed but a further three are at risk.
PLANNED AUCKLAND DEVELOPMENTS
Brand: Pulman Hotel
Rooms: 296
Opening: August 2011
Brand: Rydges Hotel
Rooms: adding 81 rooms
Opening: completed March 2010
Brand: Four Seasons Hotel (Britomart)
Rooms: 175 rooms
Opening: to be confirmed
Brand: Langham Hotel (Waiheke)
Rooms: 79 rooms
Opening: to be confirmed
Brand: Yet to be named (Greenlane)
Rooms: 100 rooms
Opening: late 2009
Brand: Ventura Inn (airport)
Rooms: adding 70 rooms
Opening: September 2009
Brand: Waldorf (St Martins Lane)
Rooms: 154 serviced apartments
Opening: June 2009
Brand: Waldorf (Emily Place)
Rooms: 119 serviced apartments
Opening: January 2011
By Tamsyn Parker

Email

Tamsyn