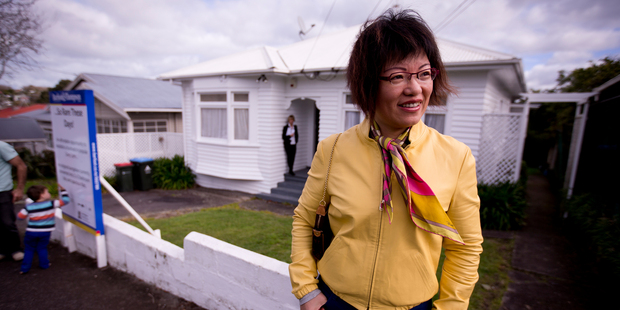 Take the power of rumour and gossip, mix in a few drops of the incipient xenophobia that lurks within the national DNA, and Labour's decision to join the Greens and New Zealand First in wanting to ban non-resident foreigners from the second-hand house market will win wide popular support.
What a shame it will do little to dampen the rampant real estate speculation in house-starved Auckland and Christchurch.
It won't create a single new home, which is the crux of the crisis facing the country's two biggest cities.
Fixating on foreign ownership misses the point. It's not as though the overseas buyer can hot-foot it from the auction room to the airport and stuff his prize new McMansion into the hold of a waiting whisper jet. And unless he leaves his new house empty - and there's a rumour to fit this proposition as well - it will remain available to the third of Aucklanders who live in rental accommodation.
A few weeks ago, the Government and Auckland Council announced a housing accord endeavouring to address the real problem, the large undersupply of housing fuelling the current buying frenzy.
A target of 39,000 new houses in three years was set - 9000 in year one, 13,000 the following year and 17,000 in year three. The Auckland Plan pinpoints the challenge. Population growth will call for 400,000 additional dwellings by 2040, meaning 13,000 new builds each year.
"This is a huge challenge given we already have a shortfall of 10,000 homes and current levels of house building are less than half the volume required."
In this context, a few houses sold to overseas buyers is just a sideshow, fuelled in part by frustrated property-seekers seeking someone to blame. They get outbid at an auction by an "Asian" and hit out. They should be denouncing the politicians who stood aside as this crisis developed.
It's hardly surprising there are people of Asian ethnicity at house auctions in Auckland. At the 2006 census, 19 per cent (268,600 people) of Auckland's population identified as Asian. By 2021, the proportion will have increased to 30 per cent (469,800). There's an influx of new citizens looking for homes.
The facts about the dreaded overseas buyers are hard to come by. In March, the BNZ and the Real Estate Institute tried to shine some light on the issue by adding extra questions in their monthly survey of more than 10,000 licensed real estate agents.
BNZ chief economist Tony Alexander concluded: "The sprawling anecdotes regarding Auckland properties being snapped up by Chinese buyers are not supported by the evidence."
Nationwide, only 9 per cent of all sales are to people from overseas (Auckland, 11 per cent) and of these buyers, at least 40 per cent indicated to agents they intended to shift to New Zealand. The result being only between 4 per cent and 5.6 per cent of all New Zealand dwelling sales are to people not intending to live here.
Of total Auckland sales, overseas Chinese bought 2.1 per cent, British residents 2 per cent, and Australians 1.7 per cent.
According to this survey, the biggest competition for first-home buyers comes from "investors" who nationwide bought 19 per cent of available houses, compared with the 24 per cent that go to first-time buyers.
In Auckland, first buyers snapped up 23 per cent, to the investors' 22 per cent.
Unfortunately, there's no official data to back up or discredit the BNZ-REINZ voluntary survey, to which, Mr Alexander admits, only a small proportion of agents responded.
Indeed, he admitted subsequently to a Chinese journalist that "with regard to Chinese buying houses, I have yet to find a single person in New Zealand who agrees with the survey results. Everyone believes that the true level of Chinese house buying in Auckland, in particular, is much higher than my survey suggests."
Mr Alexander said he didn't believe it was as high as the anecdotes suggested, but worried that "the issue is causing societal discord ... and threatens the very good trade relationship between New Zealand and China".
His answer to the housing crisis is to ban house sales, both new and old, to non-residents as part of a comprehensive action plan which is centred on a "quick jump in house supply combined with reductions in building materials costs".
It's the sort of package that you'd think a left-leaning Opposition would embrace with open arms. It starts off with a large builder training programme which would warn investors to "think twice about their capital gain assumptions".
He would ban council development fees, "create a state-owned enterprise whose sole purpose is to undercut building materials suppliers", and initiate a new large state housing building programme. The list goes on. Capital gains tax on second properties, opening up more urban fringe land ... etc etc ... It addresses the real issues.
Mr Shearer started down the same road last November at the Labour Party conference when he announced the next Labour government would enter the housing market and build 100,000 low-cost houses over 10 years.
The plan attracted 70 per cent public support in a subsequent Herald-Digipoll survey. What a pity he didn't get up on Sunday and flesh out that proposal, instead of straying down the Winston Peters cul-de-sac.
No doubt Labour will gain popular support for the anti-foreigner move. But will a spoonful of jingoism build one extra dwelling?
Debate on this article is now closed.