On the 70th anniversary of D-Day a book seeks to win recognition for young flyers who bravely took the fight to the enemy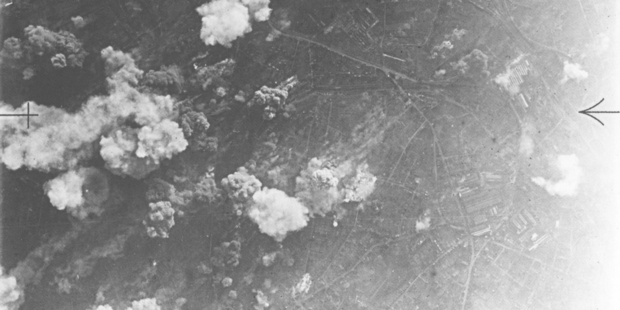 Flak ripped into Marty Kilpatrick's fully-laden Lancaster bomber as the Kiwi pilot kept it on a steady course for the Ruhr Valley refinery.
Shrapnel destroyed the radio beside navigator Ray Tait, covered his work table with jagged metal pieces and tore into his parachute harness.
The port inner engine stalled, then the outer Rolls-Royce Merlin unit on the starboard side caught fire. Ray Tait, now 90 and among the dwindling number of surviving New Zealand airmen from World War II, recalls the unflappable skipper Kilpatrick pressing on to the target, a fuel plant in the industrial heart of Germany.
The crew dropped their deadly load from 20,000 feet and turned away from the synthetic fuel factory at Osterfeld. With the crippled engines feathered and more than two hours to run back to their base in Cambridgeshire, Tait knew getting home would be a close-run thing.
"Marty was pretty confident," Tait remarked. " Nothing upset him." The beaten-up Lancaster, down to 1000 feet and lumbering along, put down as astonished ground crew scattered in fear of a crash.
For his nerveless flying on the operation in early 1945, Kilpatrick earned a Distinguished Flying Cross. Tait's honour came a little later, as the war wound down.
In all, Tait completed 35 missions as part of the Bomber Command strategy to bring Germany to its knees by pounding targets needed to feed its war machine. His war service, and that of hundreds of other New Zealand pilots and aircrew attached to the RAF, is covered in Victory, a book by Max Lambert, published to coincide with the 70th anniversary of D-Day - June 6, 1944.
Victory completes Lambert's trilogy about Kiwis who flew in Europe in World War II. He started with Night After Night, an account of Bomber Command, before writing about the fighter squadrons in Day After Day. The Wellington author, now 78, says: "I always felt the Air Force guys never got the recognition that, say, we pay to the great Army battles."
In contrast, many of the bomber guys got it in the neck after Dresden (the German city destroyed by a firestorm in February 1945 after waves of bombers unleashed hundreds of tonnes of high explosives and incendiary bombs).
In the safety of peace, said Lambert, people had short memories. So he set about recording a few more accounts of the Kiwi airmen who helped bring the war to an end, taking the fight to the enemy in every conceivable way - such as the exploits of pilot Noel Sutherland who towed gliders full of paratroopers and on one occasion carried a container of lacy underwear for women of the French Resistance.
Roy Le Long
Mosquito pilot Le Long's place in RAF history is assured by the deadly fire he directed into an ME410, a twin-engined German fighter barely 90 minutes into D-Day. The Auckland pilot picked up his prey over occupied France. Pulling up right behind, Le Long blasted 13 shells from each of the four cannons in the nose of his plane. His combat report, which Lambert got from Le Long's son, Noel, who he tracked down in Britain, described how the two-man Mosquito crew watched the stricken enemy plane burst into flames and explode on the ground.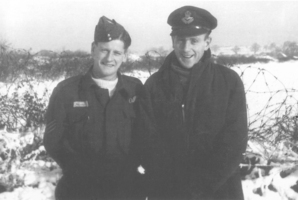 Le Long had destroyed the first German plane on D-Day. His most stunning bag was recorded four months later when he tore apart a formation of maritime patrol aircraft in a destructive seven-minute, engagement . Without defensive fire to evade, Le Long claimed six enemy planes and could see black smoke for miles behind them as they flew away from the Baltic Sea towards Britain. Flak hit his plane over Denmark but he nursed the Mosquito home. "Quite an afternoon," writes Lambert.
Les Brown
Flight Sergeant Les Brown, a South Island school teacher in civilian life, spent four hairy months of the war in southwest France after a nighttime Stirling flight to drop supplies to the Resistance near Bordeaux ended when accurate German guns hit his plane. With the port engines alight, 26-year-old Brown desperately looked for a clear area. Heading for what appeared to be a field, he brought the big machine down on a forest, coming to rest against an oak tree. Flames engulfed the wreckage and Brown, shouting to his crew over exploding ammunition, yelled: " I'm off to the forest. Who's coming?" Only rear gunner George Griffin took up the offer, the other three survivors opting for the lights of a nearby farmhouse.
For the next four months the two airmen, slightly burned from the landing, evaded Nazi patrols helped by an underground network run by George Starr, a daring English secret agent known by the codename Hilaire. Brown was recruited to the movement. Armed with an unfamiliar Bren gun, he defended the hilltop village of Castelnau-sur-l'Auvignon, keeping the enemy pinned down in a vineyard. With five others Brown crossed the Pyrenees to safety. Rarely for an airman, he was awarded a Military Medal, the citation saying he showed "cool courage and daring".
John Curtis
Pilot John Curtis flew 49 operations in B-25 Mitchells in the last months of the war. Now 90, he told the Weekend Herald the American light bombers were solid, dependable aircraft which could take a bit of punishment. On a daytime mission over France, his plane was hit by flak "but not in a vital spot" and didn't catch fire. Another B-25 in the group wasn't so lucky, erupting in flame. The pilot passed his parachute to his navigator, whose own chute was burned, effectively signing his own death warrant. "I lost a few mates," recalled Curtis, who retired to Taupo after a postwar career in aviation flying DC-10s with Air NZ and Garuda. "I went to see the parents of some of them. That wasn't a pleasant experience." Of war he said: "No one wins. I think I'm lucky I had the experience. I was lucky I came home. I wouldn't want to do it again."
Ray Tait
The Lancaster navigator thinks Lady Luck flew with him too. He survived a crash and landed cold and ragged after a flak attack. "When you came back you'd pretty well had it ... It was so cold that if you touched something with bare skin you left it behind." Back at base, the crew would get a slug of rum: "That tingled you up." Just 20 on his first mission, he knew the terrible odds facing Bomber Command crews - about half were killed - but says he never got time to be afraid.
"It made you grow up in a hurry. When I left New Zealand I'd never had a beer, or kissed a girl. Nothing like that, but things soon changed." But he feels many veterans who struggled with their fears were badly treated. "They used to brand them LMF - lack of moral fibre - strip their rank and send them packing. I thought it was disgusting because you know some people can take it, and some can't."
Author Lambert thinks New Zealand lost some of its best and brightest in the air war; 1800 Bomber Command pilots and crew died, more in fighter squadrons.
"I'm not denigrating the army or navy but you had to be smart to be pilots and navigators. Who knows what they would have achieved if more had come home?"