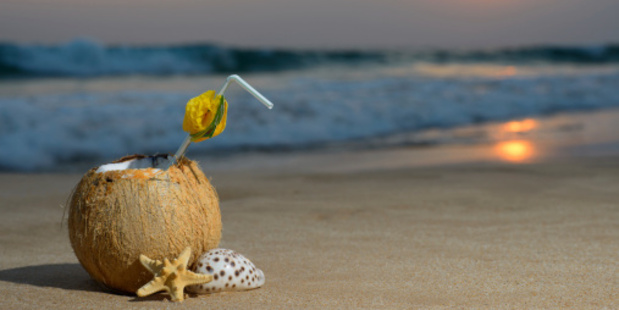 Seat-of-the-pants expedition filmmaker Brian Armstrong has an eye for weird and wonderful alcoholic concoctions.
He sources them from far corners of the world, relying on their ability to help negotiate foreign deals and dodge tropical diseases.
He talks to AAP about his dedication to strange liquors and the adventures that led to his first book, The Exotic Booze Club.
It's great how in your book you tied in each National Geographic filming assignment you went on with a new beverage experience. what was your strangest find for The Exotic Booze Club?
When you have about 130 children to choose from, it's hard to say pick the strangest.
Even though it's a gimmick in most cases, the bottles with something extra inside are always interesting - sometimes plants, like the vanilla bean in some rums from Madagascar, or the ginsing root in some Korean wines.
It gets more interesting when the Japanese put an eviscerated highly-venomous habu snake in their sake, and I just picked up a bottle of scorpion vodka from Thailand, complete with its own scorpion.
Of all of them though, probably Archer XXX rum from India was the scariest. It was made by the dubious sounding East Indian Distillery and Chemical Company and came with things floating in the bottle that didn't look safe.
It's the one bottle we never finished.
You've visited very isolated and dangerous parts of the world; have you ever seriously feared for your safety and/or life?
Yes. With all of the following: snakes, crocodiles, sharks, tornadoes and exploding volcanoes.
But they all pale compared to the armed rebels we encountered in Burundi. We were there to film a large croc - possibly the largest living reptile on the planet - when a local rebel group decided to use our arrival as an excuse for their first ever daylight attack. They blew up a bus ahead of us on our road to the river. We made a very fast u-turn.
We've had a helicopter crash which is always hairy, but sometimes it's the little things, namely mosquitoes.
I've had a lot of folks come down with malaria on various shoots - one die. I've always managed to dodge that bullet with long sleeves, nets, fans, repellent, and a good deal of paranoia. The alcohol may have helped too.
What is your advice for intrepid travellers venturing to secluded parts of the world?
Start drinking. Bring enough to share. Learn how to say cheers in the local language.
In your book you show a lot of pride about being an Australian and write about the joy of working with other expats and bringing them home on assignments. where has been your favourite Australian film shoot?
All the outback stuff is where I find my soul. I should say chasing camels around Alice where I hooked up with my wife, but I also had a two-week-long shoot in the Pilbara chasing death adders with legendary snake man Brian Bush that was epic.
On another trip I filmed for 10 days while walking through the desert without any food - that was memorable. But you're right in that it's not just the location, but the people. And that shoot with Brian was a boys' own adventure like no other.
Can you tell me about the country home of your adolescence?
I grew up in Marong, west of Bendigo, the youngest of seven kids. It didn't get much smaller than Marong back then.
My primary school when I started had less that 30 kids. Not per class - that was the entire school. And when I went to high school I had to catch three buses to get there.
My father trained horses for a living, so we always had lots of land around us to explore and I was always off with my mates doing just that.
I got a tent for Christmas one year and that sparked a wanderlust in me. I fashioned my own backpack out of a hessian bag, some poly pipe, a bit of wire and a couple of old seat belts, then I was gone.
When I started earning money as a teenager, a real backpack and some maps were among my first purchases. I've been travelling ever since.
Marong was a great place to grow up and develop imagination, and it taught me that there's always something cool just over the horizon.
Where's the next adventure?
I'm looking at a big project on rivers that will take me through Alaska, Canada, the US and into Mexico this year. But one can ever be sure.
We have a lot in development right now, and a couple of shows that would even get me back to the outback.
We're also talking to a network about turning the Exotic Booze Club into a TV series. If that happens then I'll be living the dream, finding an exotic alcohol somewhere on the planet and travelling there to investigate.
Cuba and Mongolia would be high on my list.
• The Exotic Booze Club by Brian Armstrong (Allen & Unwin $35) is out now.
- AAP