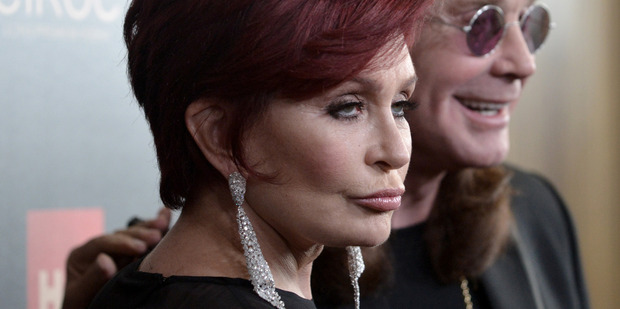 When the powers that be were doling out opinions, Sharon Osbourne went back for a third helping.
The outspoken TV personality, who's never shy about dispensing with her often-brutal assessments on anything and everything, is sounding off on Kanye West.
"I have no time for him. He bores me," Osbourne says of the hip-hop heavyweight and Kim Kardashian's other half in a candid new interview with The Daily Beast.
"I said it on the show, he's an average-looking man with an average talent, but he's a great salesman. He should sell cars because they would f*****' fly out the door. He's his number one fan."
West wasn't the only chap scalpel-tongued Osbourne targeted during the confab.
Gird your loins, Justin Bieber.
"I feel really bad for him," shared the Osbourne family matriarch when asked for her opinion on teen titan. "There's this little kid with a huge dream, he's cute, girls love him, and he wants to be a mean boy, and he's about as mean as a f*****' kitten, and he's trying to act out."
Osbourne then referred to the recently released video of 19-year-old Bieber peeing in a mop bucket in a nightclub and spraying cleaning fluid onto a picture of Bill Clinton.
"It's like pissing in a bucket. It's like, 'Oh, we're the bad boys!' F**k off! You don't know what bad is.
"And I think that he's lost, I really do. I think he doesn't understand he's white and not black, that's a huge problem. And, at the point he's at in his career, it's so dangerous because we've seen it all before a million times. Where do you go when you're a child entertainer and then you want to transition to be a man? Very few make it."
The Talk host continued to sound off on other famous faces during interview. Namely Taylor Swift and Justin Timberlake. For the record, she thinks country-pop songbird Swift is "brilliant", and Timberlake is "the best all-rounder".
Osbourne also had some choice words for shamed New York City mayoral candidate Anthony Weiner, whose latest sexting scandal has been hogging headlines of late.
"I think he wrote something on his penis and sent a picture of it. Was it "Big Dirty"? Fabulously insane. I mean, this guy is out of his f****** mind. What is going on?
"You're a grown man with a great education, and you think, in this day and age, you can send pictures of your penis over the internet and not get caught? Now, how f*****' stupid are you? What makes him think that he has a sense of freedom to do that?
"I'd like to slap him," she continued.
'IT WAS NOT A CASE OF DIVORCE'
Osbourne also said that, contrary to recent reports, her marriage isn't on the rocks due to Ozzy's recent relapse.
"You know what, to have addiction problems ... I have an addiction to f*****g buying things, and everyone has an addiction in life that they need to address, and for Ozzy, it's a drug and alcohol addiction, and he slipped really badly," she said.
"Well, he didn't slip, he f****n' fell. At that time in my life, I couldn't handle it. I just said, 'You've got to get out and come back when you're sober.'
"It was not a case of divorce. I would never divorce my husband. Ever. I love him too much. He's far from perfect, and I'm even further from perfect, but I've known him for 42 years, and we've been a couple for 33. That's my life. You just don't walk away from people because they have a problem."
The X Factor judge also opened up about her decision to undergo a preventive double mastectomy in 2012, after finding she carries a gene which increased the risk of developing breast cancer.
"I'd had the genome test done, and in the genome test it had come up that I had the gene, and at that time, I'd had an implant in my breast that had leaked, and it was going to be a major operation, and with me having the gene, I was like, 'Just get rid of it'," she shared.
Angelina Jolie also had that same operation after being told she had an 87 per cent chance of contracting breast cancer due to the BRCA1 gene.
"But my situation is nowhere near what Angelina's was," added Osbourne. "She had lost her mother and her aunt to it, and she has all those babies to take care of. I've had my life, and she hasn't yet."
More from the no-holds-barred interview here.
NOTABLE NUGGETS
And finally ...
* "I'm not about to shut up" - TV star Leah Remini speaks out after leaving Church of Scientology.
* "Bisexual? Me? I don't think so. I'm pretty sure I'm not" - One Direction's Harry Styles in the new issue of GQ magazine.
* Michael Jackson duets with Freddie Mercury to be released later this year.
* Watch: Taylor Swift sings You're So Vain with Carly Simon.
* No more Posh pout: Victoria Beckham is all teeth and smiles as she soaks up the sun in Hollywood.
* It's a boy for Jamie Bell and Evan Rachel Wood!
* Katy Perry finds a low-key way to announce her new album.
* Lady Gaga, is that you?
* Move on: Matthew Perry and Lisa Kudrow wish Friends had never ended.
* And the reviews for Lindsay Lohan's latest flick are in. Eek!
- Rumour Has It