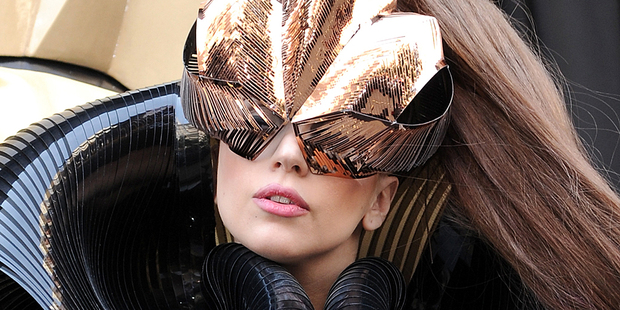 An 81-year-old New York politician has labelled Lady Gaga "a slut" for smoking pot during a recent concert in Amsterdam.
Staten Island Borough President James P Molinaro made the slur on Monday at the kickoff of an anti-substance abuse initiative, reports the Staten Island Advance.
"We have to understand that there's a tremendous influence with our youth, which I didn't have as a youth," said Molinaro, according to the website.
"And there's the influence right there. Stop glorifying the drug use. There's Gaga. Here's this ... this ... I would call her a slut. This slut is influencing many, many children."
He added: "My niece has two daughters, 12 and 14, [and] they love this woman.
Why? Why?"
Molinaro made the remarks while he stood alongside photos of Gaga taking a puff on a joint that a fan passed to her during her Born This Way Ball tour date in Amsterdam last week.
The snaps of Gaga were displayed on a poster that said: "Stop glorifying drug use in the media."
Molinaro, who lost a son to a drug overdose in 2006, added during the event on Monday: "We have a job to do also with these actresses, actors, ballplayers. They use drugs as if it's nothing. We shouldn't praise them. We shouldn't honour them. We should really hit them. We should hit the sponsors that she has... where her millions of dollars come [from].
"To me, she's [Gaga] not an actress, she's a slut ... in the pure meaning of the word."
No, she's not an actress. She's a singer.
Manhattan Borough President Scott Stringer, who is a friend of Gaga's parents, took exception to Molinaro's remarks, and praised Gaga in a statement.
"Lady Gaga's work is a symbol of individuality and artistic expression. In addition to her artistic pursuits, she is a social justice activist and a real leader for marriage equality in this country," Stringer told the New York Observer's Politicker blog. "And no matter which continent Gaga happens to be in today, she remains an Upper West Sider at heart."
Gaga later responded to Stringer defending her.

The singer wrote on Twitter: "To @scottmstringer of Manhattan, thanku for your support of my activism as a new yorker. You show political integrity + a modern vernacular."
'WHAT'S THE BIG DEAL ABOUT IT?'
Meanwhile, Molinaro remains defiant over his choice of words - arguing that the word doesn't have a sexual meaning.
"A slut is someone that's immoral or uses improper conduct. That's the interpretation in the Random dictionary. So she's using improper conduct. So she's a slut," he told the Staten Island Advance on Wednesday.
"What's the big deal about it? Are you excited because she's female? There's males that are sluts too ... Anyone that would expose people that look up to them and who their idol is, to the use of narcotics, to me is a slut, male or female. It doesn't matter."
He told the New York Times: "I have grandnieces that idolise her - 12 and 13 years old - and it's ridiculous. You see these young girls walking around on Halloween with her outfit on."
Watch a brief news report on Molinaro's remarks here.
Gaga has yet to comment directly on Molinaro's words.
Earlier this week, Mother Monster confronted detractors who criticised her recent weight gain (she says she put on 25 pounds).
On Wednesday, Gaga posted unedited images of herself wearing nothing but a yellow bra and underwear, while admitting body struggles from her teen years on her social network Little Monsters.
"Bulimia and anorexia since I was 15," she wrote on a dedicated page titled, "A Body Revolution 2013."
"But today I join the body revolution to inspire bravery," she added.
She also posted another shot of herself. "To inspire Bravery. and BREED some m$therf**king COMPASSION," she wrote.
"My mother and I created the BORN THIS WAY FOUNDATION for one reason: to inspire bravery," Gaga said on the site. "This profile is an extension of that dream. Be brave and celebrate with us your 'perceived flaws,' as society tells us. May we make our flaws famous, and thus redefine the heinous."
In another post, the singer wrote, "Now that the body revolution has begun, be brave and post a photo of you that celebrates your triumph over insecurities."
'I AM NOT GOING TO GO ON A PSYCHO-SPREE'
Soon after Gaga wrote the posts, fans began flooding the website with photos of themselves.
"I have been startled and overwhelmed with pride and emotion the past few days. Gratitude mostly," Gaga wrote in a letter to her fans later in the week.
"You are proud to be born this way, and brave in your vulnerability with this community. Watching you all create a safe space online for people to be compassionate is the greatest gift you could ever give me."
She continued: "My weight/loss/gain since i was child has tormented me. No amount of help has ever healed my pain about it. But you have.
"My boyfriend [Taylor Kinney] prefers me curvier. When I eat and am healthy and not so worried about my looks, I'm happy. Happier than I've ever been. I am not going to go on a psycho-spree because of scrutiny. This is who I am. And I am proud at any size. And i love you, and want you to be proud in any form you may take as well."
FAST GOSSIP
And finally...
* Is Tom Cruise really abandoning Scientology?
* Robert Pattinson and Kristen Stewart reportedly shacking up together - for a "one month trial".
* Chris Brown and Nicole Scherzinger deny locking lips.
* Adele slams stars using sex to sell music.
* Steven Spielberg opens up about dyslexia battle.
* Piers Morgan bans Kelsey Grammer from his show.
* Anne Hathaway to perform one-night-only concert in NYC.
* Justin Timberlake could play alcoholic food critic in new romantic dramedy.
* Adam Lambert not impressed with Paris Hilton's gay remarks.
* Listen: Rihanna debuts Diamonds single.
* Kylie Minogue blooms in sensual new Flower video.
Follow Myrddin Gwynedd on Twitter.
- Rumour Has It