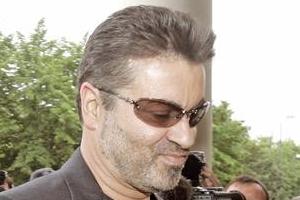 UPDATED: Notoriously media-shy George Michael has flipped the lid on his drug use and cruising for sex with strangers in a warts-and-all interview.
Speaking to Britain's Guardian newspaper for probably one of his most candid interviews to date, the Wham! warbler admitted to smoking crack cocaine and defended his sexual habits, declaring "it's just who I am".
George also confirmed reports that he'd been caught in possession of crack cocaine when arrested last year in public toilets on Hampstead Heath - a gay cruising area near his north London home.
"I've done different things that I shouldn't have done, once or twice," the singer confessed, adding, "of course, nobody wants to regularly smoke crack."
Asked whether he was using crack when arrested, he said: "Was I? On that occasion, yeah."
But when pressed by the interviewer to reveal when he had last smoked the deadly Class A drug, he clammed up and refused to answer.
He did, however, set the record straight about his well-documented love of cannabis. Once a strictly 25 a day man, the Careless Whisper star says he's cut down to "seven or eight" spliffs per day - because he was worried his naughty habit would affect his voice.
"I probably do about seven or eight a day now," he said. "[Before this] I was existing on a balance of Starbucks and weed."
'I'll do it on a nice summer evening...'
The hitmaker also defended "cottaging" and enjoying sex with men other than his live-in boyfriend, Kenny Goss.
"The handful of times a year it's bloody warm enough, I'll do it. I'll do it on a nice summer evening. Quite often there are campfires up there [On the Heath]," he said.
"It's a much nicer place to get some quick and honest sex than standing in a bar, E'd off your t*** (high on ecstasy) shouting at somebody and hoping they want the same thing as you do in bed."
Asked why he goes cruising for sex with strangers, he said: "I do get anyone I want. But I like a bit of everything. I have friends up there, I have a laugh."
He may be laughing his Calvin Kleins off now, but he sure as hell wasn't in 1998 when he was arrested in a dunny in a Beverly Hills park for "engaging in a lewd act". Then there were those two occasions when he was found away with the fairies and slumped at the wheel of his car - he subsequently got a slap on the wrist and was cautioned for possession of cannabis.
He said: "I had a problem with sleeping pills for about a year and a half, and I f***** up really badly.
"I got in the car twice when I'd forgotten I'd already downed something to try to get me to sleep. It doesn't matter that it wasn't deliberate - ultimately, I did it a second time, and I could have killed somebody.
"But the fact remains I was never accused of driving under the influence. I got done for exhaustion and sleeping pills."
And while it would be easy for us to picture George as a forlorn figure of a man who's permanently stoned and looking for fast love in open places, he says it's simply not true.
So what exactly does he do to while away the hours? "I normally get up about 10am, my PA will bring me a Starbucks, I'll have a look at my emails," he said.
"At the moment I've got nothing that pressurized other than keeping an eye on the video they're making for the Christmas single.
"Then, if I'm in the mood, I'll come up to the office in Highgate, do some work, writing, backing tracks or whatever.
He added: "Come home. Kenny will be here, the dogs are here. Maybe eat locally, hang out, and then probably go off and have a s**g or have someone come here and have a s**g.
"It's not typical - that's probably a couple times a week."
A little bit TMI, but thanks for sharing, George. Quite frankly, we're amazed at your stamina.
Actually...your extracurricular activities might explain why you've not been that productive musically of late...
Unreleased material
Or maybe not. He's apparently got a stash of music ripe for release, but is undecided whether he'll bother.
He said: "I've got some great stuff, and I don't know whether I should release it or hold on to it. It uses my supposed infamy on my own terms."
Whether he releases a follow-up to 2004's Patience or not, at least we have this Yuletide cockle-warmer to tide us over:

'People want to see me as tragic'
Looking back on his headline-hogging transgressions over the years, he admitted: "I'm surprised I've survived my own dysfunction".
He added: "People want to see me as tragic with all the cottaging and drug-taking... those things are not what most people aspire to, and I think it removes people's envy to see your weaknesses.
"I don't even see them as weaknesses any more. It's just who I am."
Back off Elton...
The village drums were beating of late with reports that Elton 'swinging pearls' John feared for George's wellbeing and roped in U2's Bono to stage an intervention, something the singer finds hilarious.
"Geri [Halliwell] told Kenny that Bono, having spoken to Elton, had approached Geri to say, "What can we do for George?"
"This is what I have to deal with because I don't want to be part of that social clique. All I'd have to do to stop it is hang out in London, so people realise I don't look close to death."
He said: "Elton lives on that. He will not be happy until I bang on his door in the middle of the night saying, 'Please, please, help me, Elton. Take me to rehab.' It's not going to happen.
"Elton just needs to shut his mouth and get on with his own life. Look, if people choose to believe that I'm sitting here in my ivory tower, Howard Hughesing myself with long fingernails and loads of drugs, then I can't do anything about that, can I?"
How poignant, but ultimately true. We're just worried for you, George. And it's just a crying shame that you're now more infamous for your sexploits than your singing.
But hey, if you can't be good, at least be careful.
Show us your tatts
Jake Gyllenhaal guested on US TV show Jimmy Kimmel live last week and dished some dirt on his new movie Love and Other Drugs, co-starring the fabulous Anne Hathaway.
"[I'm] making a movie with Annie Hathaway, and we've been having a lot of love scenes in that movie," he said.
"And we've been baring almost all of us... So, that's not been that bad, either. We were pretty much naked but for a merkin."
Asked what a merkin was, he described it as a "cover for your junk", adding that it is what "prostitutes used to wear when they shaved their pubic hair in the 16th century... because they thought they had crabs".
Enjoy your lunch.
As well as embracing his on-screen flesh-flashing with Hathaway, Gyllenhaal debuted a new fake ink on his back.

Speaking of tatts...
Disney brat Miley 'like' Cyrus has caused a wee bit of gum-flapping after being snapped sporting a new tattoo.
Why the flap? She's 17, and the legal age for getting inked in the US is 18.
The offending item is positioned on her rib cage, just under her left breast, and reads 'Just Breathe'. Insert obvious gag here *because she needs to be reminded how to*
See exhibit A here
Twitter flirters
Seriously, Demi Moore and Ashton Kutcher, get a room. The couple recently got their flirt on over twitter, exchanging suggestive messages on their bodies and whatnot. Put it away, guys.
Blogger's briefs
This lot just in...

* Wow, Christmas at Beckingham Palace sounds like a hoot. Naked Twister with brainbox Becks, trout pout Posh and...Gordon Ramsay (nevermind, let's call the whole thing off!). Festive turkey here
* Talk about extracting the urine. Muscle man Hulk Hogan has reportedly filed a lawsuit claiming that his ex wife stole his toilet seat. Wooden toilet seat gold here
* Lady GaGa thinks glitter can solve a world war, and sequins are much more fun than bombs. Genius here

* Where Katie Price (aka Jordan) goes, a bad look follows. Someone's had a visit from the trashed fairy.
Blogger Bites Back
*Follow Blogger Bites Back on Twitter
Pictured: George Michael. Photo / Supplied