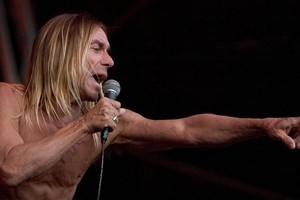 Iggy Pop seems to be indestructible. If 30 years of heavy drug use didn't kill him and his boisterous, often self-harming stage antics didn't cripple him, one would think at the age of 63 the rock icon might at least slow down a notch.
But he retains his long, blond hair, a deep, leathery tan, a body as wiry as ever and is still ready to tear off his shirt and leap head-first into the crowds.
Pop, born James Osterberg in 1947, has no intention of retiring any time soon.
"I started feeling a little too old when I hit 24," he says "I remember I was down and out in LA and I was living with a male hustler called Bruce in a parking garage and he looked at me one day and said 'you know Iggy, you're not a chicken anymore'."
But Pop has since stopped listening to what people say about him.
"The category is so vast, so there's really nothing that you don't expect anymore.
There are no limits to the cruelty, criticism and negativity of the human race. I really don't give a shit," he says. "I think the trick is to try to match the task to your age and bite off the right amount. I try not to underestimate what I might be able to do and how much work I am able to take and not to overestimate it either."
Looking back, he counts the blessings of a career in which fame and prosperity didn't come easy. His band, the Stooges, burned brightly but briefly from 1967 to 1974, leaving a legacy that was more influential than commercial. They recorded three albums before they broke up in a haze of drug addiction and bad behaviour.
With the help of David Bowie, Pop embarked on a solo career. He released his most acclaimed albums The Idiot and Lust for Life in 1977 and kept writing music, dipped his feet into acting, wrote poetry and took a whole lot of drugs until he cleaned up his act in the late 1980s.
With the popularity of grunge music in the 1990s a new generation of Stooges' fans arrived and the band finally got back together in 2003 and has since toured the world many times, including a previous Big Day Out appearance in 2006.
In 2009 the band lost founding member, Ron Asheton, who died of a heart attack. The current line-up consists of his brother and original drummer Scott Asheton, saxophonist Steve Mackay, bassist Mike Watt, and guitarist James Williamson, who joined the original Stooges late in their career and went on produce some of Pop's solo records.
This year the group set out to perform 1973's Raw Power live.
Raw Power, the band's last album, produced and recorded with David Bowie in London, failed to find much recognition and the group broke up soon after, but almost 40 years on it is considered one of the seminal punk rock albums that shaped generations of musicians.
"Right now I am still fulfilling the reasonable and respectable destiny of the band. There were things that didn't get done for us overnight. Because frankly, we were pioneers," Pop says.
This time around the crowds are bigger but the music is very similar: "The tempo is just about the same, it's got the same force."
Not only did he pioneer a new style of music- he is also credited as the inventor of stage diving but Pop says he wasn't the first to have crossed the front of the stage.
"I think the one I liked the best was [soul singer] Solomon Burke, who used to come down during instrumental breaks in Harlem's Apollo Theatre to sell popcorn and merchandise while a song played.
"But in my case I was opening very, very early in my career for Frank Zappa and the Mothers of Invention and I really wanted to make sure that people remembered us and I couldn't think of anything else to do, early into set. So I just fell forward, the way children do, when they want attention when they are about 4 or 5.
"That was my first dive. It was basically a pre-school thing and then it went on to where I learned to swandive gracefully."
Having broken conventions, pushed boundaries and hit rock-bottom many times, Pop now is able to harvest the fruit of his work.
There's not only wild child Iggy Pop, the public figure he shaped over 40 years. There's also businessman James Osterberg, who shares his Miami mansion with his wife Nina, dogs, cats, fish and his three cockatoos and enjoys the pleasure of an occasional glass of red wine or a game of golf.
He doesn't shy away from putting his face forward for commercials like British insurance company Swiftcover in Britain or local broadband internet provider Orcon.
But credibility is not something he cares about anymore.
He set out to be a musician 45 years ago, pioneered a sound audiences weren't ready for and kept going until he finally found acclaim.
"It was a dangerous thing to do and one of the great things about it is that I can still do it and at the end of the day there is nobody to declare me redundant," he says.
LOWDOWN
Who: Iggy and the Stooges
Where and when: Big Day Out, Blue Stage, tomorrow,
7pm-8pm
Essential albums: Fun House (1970), Raw Power (1973)
-Jule Scherer, NZPA