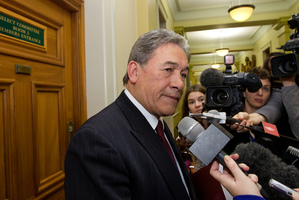 Winston Peters' timepiece has reached utu o'clock and how he is enjoying the resultant chiming. United Future leader Peter Dunne was the first to be struck and this week, Peters turned his attentions to Prime Minister John Key.
Dunne had made the equivalent of a schoolboy's confession to thinking impure thoughts by considering leaking the GCSB report, although he claimed he stopped short of following through on those. Since then he has been away presumably performing his Hail Marys. With the only man who knows the real story of the emails Dunne resigned over out of sight, the story has evolved into watching Peters and Key play blind man's bluff.
When it comes to the emails, Peters claims to know something but won't say what he knows because he has decided that it is up to the Prime Minister to say what Peters knows by finding it out for himself.
Key claims to know nothing, but is simultaneously calling on Peters to reveal the emails because Key himself would like to know what was in them, while also arguing he does not want to know because it would be unseemly to go rifling through a journalist's correspondence with a minister.
Peters kept asking Key why he had not given leak inquiry head David Henry the power to force Dunne to hand over those emails, Key kept replying that such a power was clearly not required since Peters had claimed to have those emails and could simply release them.
Told Key had claimed he was all bluff, Peters responded by saying Key was "lying on his back, talking fustian", a reference to Edmund Burke's description of William Pitt, the Earl of Chatham.
Peters has argued his sole motive is a high-minded one - he believed Dunne was leaking intelligence and security information. It is also likely there is a less high-minded motive. Utu.
In 2003, Dunne accused Peters of "betraying every last NZ First supporter" by going into a coalition with National in 1996. Mimicking Peters' campaign slogan, Dunne concluded: "Can we trust him? No, we can't." In 2005, Dunne described himself as "the antithesis of Mr Peters in everything", as "more considered, more rational, more reasonable, and more studied in my approach. I'm not capricious, I'm not egotistical and I'm not focused solely on what's in it for us."
But the worst slight was back in 2008, when Peters was squirming before the privileges committee over whether he knew about a donation from Owen Glenn. If Peters' memory had its flaws at that point, it seems to have made a remarkable recovery for he certainly remembers Dunne's was the casting vote in the 8-7 split that resulted in Peters' censure.
Peters bided his time, and then pounced. He took care to secure a denial of the leak from Dunne during a select committee, thereby giving Labour the grounds for a privileges complaint to be laid. Peters is now a member of that very Privileges Committee.
Peters put into practice his art of making a little bit of information go a long way, and making it seem he knew more than he did. As things have transpired, it was not actually how much Peters did know, but what he did with what he knew that has worked for him. Although Key had always promised to release that report, Peters has managed to give it the hue of something he singlehandedly flushed out that the Government was trying to keep secret.
This week Peters had to concede he didn't have enough to go public with. But he kept planting seeds to win time, referring in typically cryptic fashion to "five different electronic records" which would reveal all.
He teased by standing up to table documents in Parliament. Despite Key's belief Peters had nothing to table, Peters' history was enough to ensure that a thrill went through those watching at the possibility that finally he was going to call Key's bluff and present those emails. Each time, after a dramatic pause, he instead sought leave to try to table something mundane.
By yesterday even Peters was running out of puff. The most he could summon up was a theory some parts of the GCSB report that started it all were put into the classified appendices before the final report was released solely because of concerns Dunne would leak it. That would have shown great prescience on the part of the report's author, Rebecca Kitteridge, since it predated the leak of which Dunne now stands accused.
Before all this, Key had been in the process of finely dicing and seasoning a dead rat to make it more palatable to swallow. That dead rat came in the form of Key moving away from his 2005 and 2008 stance that he would not have NZ First in a coalition. That was changing: even in the immediate aftermath of Dunne's resignation, Key named NZ First and the Conservative Party as potential future allies for National. The pan was on the stove, ready to saute that dead rat. Instead, by midweek Key had completely drained his condiments and the rat was looking less palatable than ever.
Peters, however, had something far more palatable on his spoon: the delicious syrup of utu realised.