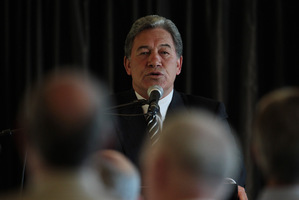 Conscience votes in Parliament are not free of partisan politicking. In fact there seem to be a lot of partisan political motives at play at the moment. John Armstrong says, for instance, that the PM's endorsement of a marriage law change is a calculated strategy: 'Wall's bill is a cost-free means of portraying National as a "modern" party. Key may have another motive - giving Colin Craig's Conservative Party some room to National's right to carve out a niche' - see: Key out to show Nats have another side. Not to be outdone in political gaming, Winston Peters is joining Colin Craig's call for a referendum and says NZ First MPs will either vote against or abstain on the bill -see: Lloyd Burr's NZ First will abstain in gay marriage vote.
Peters employs some Maggie Barry-like logic to justify avoiding having to vote on the bill. John Hartevelt reports his views: 'The public should be left to decide on the issue "rather than have people try to twist the public debate with their personal view," Peters said' - see: Peters calls for gay marriage referendum.
Representative democracy cannot cope with such issues it seems. It's also worth pointing out that recent polls actually indicate a referendum would back change by almost two to one.
Yet, NZ First's abstention will have the major consequence of lowering the number needed for a majority - to pass, the 'yes' vote will only be 57 instead of 61, which various media straw polls indicate it is close to already - see Isaac Davison's Same-sex law vote - Peters' new plan. TV3 has had another go at pinning down MPs on how they will vote - watch Round two - What MPs think of gay marriage. Also, see the Herald's excellent visual chart of How MPs plan to vote on gay marriage.
Meanwhile the Family First website set up to oppose the bill is back online after being taken down by hackers, although the US band Train apparently doesn't want their song 'Marry Me' to remain linked to the site - see: Anti-gay marriage website recovers from attack. Family First's national director, Bob McCoskrie, is still able to put their viewpoint however - see: State has no authority to reinvent marriage.
Other important or interesting political items today include:
* How to pay for Christchurch's bold new CBD plan is a big unanswered question, but the Government seems very clear that residents, one way or another, will be picking up the most of the tab - see: Lois Cairns' Christchurch ratepayers to fund big ticket items.
* Economist Eric Crampton has two interesting posts on the plan, speculating on the government's motivation for proposing the most expensive options without offering to help with the bill - see: The Plan and Poison pill. Crampton is very dubious about the wisdom and value of the covered stadium and convention centre - which are also lampooned by Danyl Mclauchlan in his post New Christchurch convention center will contain sports stadium which will contain convention center. Meanwhile, the Dominion Post editorial is almost envious of Christchurch's opportunity to re-invent itself - see: Out of the rubble a great city can rise.
* The Maori Council's water claim is 'brownmail', and the Government should simply hold back some shares to deal with any successful legal challenges and get on with the sale of Mighty River Power writes Fran O'Sullivan in IPO could easily go ahead on time.
* Brian Rudman points out that there are other dimensions that need to be considered: 'One of the main sources of dissatisfaction among Maori with the current water allocation system was "that the health and wellbeing of the water and waterways is not the first priority within these systems". Another concern is that existing water allocation processes do not take sufficient regard of the needs of local Maori' - see: Taniwha hard to put back in bottle.
* The Government has misjudged the issue all the way, and Key has no option but to change tack says Duncan Garner: 'He's softened his language. The macho man has gone all mouse. Even Maori Party co-leader Tariana Turia has dropped the tough talk. They're both playing ball'. Garner thinks it may be too late to get the Maori Council onside before legal action delays the sale - see: Clever and cunning Tribunal slows Key.
* There were always going to be rich pickings for the opposition when John Banks had to front up in Parliament after being 'cleared' by the police - see: TVNZ: Opposition keeps heat on Banks over donations. Also, today's Herald editorial, Honourable way to avoid voters' wrath, calls for Banks to step down.
* The last property boom was a disaster for middle and low income first-house buyers according to Radio NZ's Renters left behind by last property boom.
* 'But the money's so good' - that seems to be the response from local and central government, as well as community groups, as they struggle with the ethics of accepting funds from an industry where problem gambling is core to the business - see David Fisher's Moral dilemma of pokie funding spelled out.
* Labour lost its way over thirty years ago and has been running on empty ever since says Denis Welch in A dying party.
* The best coaching in the world cannot solve a fundamental lack of communication skills says Brian Edwards - see: On David Shearer, Ian Fraser and the Bespoke Art of Media Training.
* Labour's double standards over business, union and NGO lobbyists continues to be attacked and the lobbying bill's author, Green MP Holly Walker, isn't inclined to accept their suggestions - see: The latest on the lobbying bill.
* Auckland's high-density housing strategy hits the ground in Milford and, predictably, some don't want it in their back yard - see Wayne Thompson's Opinions pour in on shape of Akl high-density future.
* Finally Bob Jones and Gareth Morgan both acknowledge the growing gap between high and low decile schools. Morgan is concerned that 'white flight' is creating a social divide to the detriment of all. Bob Jones' response is, essentially, 'tough' - see: TVNZ: Sir Bob, Gareth Morgan clash over low decile schools.