Transport industry icon James (Jim) Barker - founder of the Jim Barker Group of Companies - has died.
Mr Barker passed away peacefully at his Mount Maunganui home on Sunday.
Born in 1938, Mr Barker was a coal-miner's son from Huntly.
Mr Barker and his brother-in-law, Dennis Dow, bought Otorohanga Transport Ltd (OTL) in 1963, a small general carrying company which went on to become one of New Zealand's biggest locally owned and operated transport companies and now includes Stocklines, Freightlines, Bulklines and Streamline.
After problems experienced with transporting stock across the Cook Strait, Mr Barker and partners purchased a ship in 1992, the Straitsman, and Strait Shipping Ltd was formed.
Through market research they identified the potential for an increase in demand in linehaul, bulk and general freight, resulting in the establishment in 1993 of Freight Lines Ltd.
By 2002 they had expanded the business to include a Cook Strait passenger ferry service named after his wife Bev Barker which is called Bluebridge.
Mr Barker's nephew and one of the directors of OTL group Rodney Dow said his uncle would "talk to anyone".
"Everyone was the same as far as Uncle Jim was concerned."
Mr Dow said after his father died Mr Barker mentored him in the family business.
"He was a great mentor of mine," Mr Dow said. "As far as trucking goes, he made New Zealand one country."
The shipping company Mr Barker set up meant freight could be transported more easily and at a lower cost, he said.
Mr Dow said his uncle loved travelling. "He'd drive up a road just for the sake of driving up a road."
Mr Barker was married to his wife Bev, for 56 years and had three children - Maree, Sheryl and Peter.
Mr Dow said Mrs Barker had been by her husband's side throughout his illness. Mr Barker went into hospital at the start of the year and had been at his Mount Maunganui home since.
Earlier this year, Mr Barker was presented with an Officer of the New Zealand Order of Merit by Mayor Stuart Crosby on behalf of Her Majesty The Queen.
Road Transport Forum chief executive Ken Shirle said the New Zealand road transport industry had lost a true icon.
"With three partners he established Strait Shipping, which immediately led to a massive decrease in domestic freight costs. In 2002 Strait Shipping was expanded to include a regular and popular passenger service."
In late 2007 Otorohanga Transport Group restructured, bringing about the formation of the Jim Barker Group of Companies and encompassing Freight Lines Ltd, Manawatu Transport, Stock Lines and Strait Shipping, he said.
Mr Barker was inducted into the New Zealand Road Transport Hall of Fame in 2012.
"The legacy of what Jim achieved, not only with Strait Shipping and Otorohanga Transport, but across the entire industry will be felt for decades to come.
"He was instrumental in modernising the efficient movement of freight across the country."
A service for Mr Barker will be held at ASB Arena on September 1 at 1.30pm.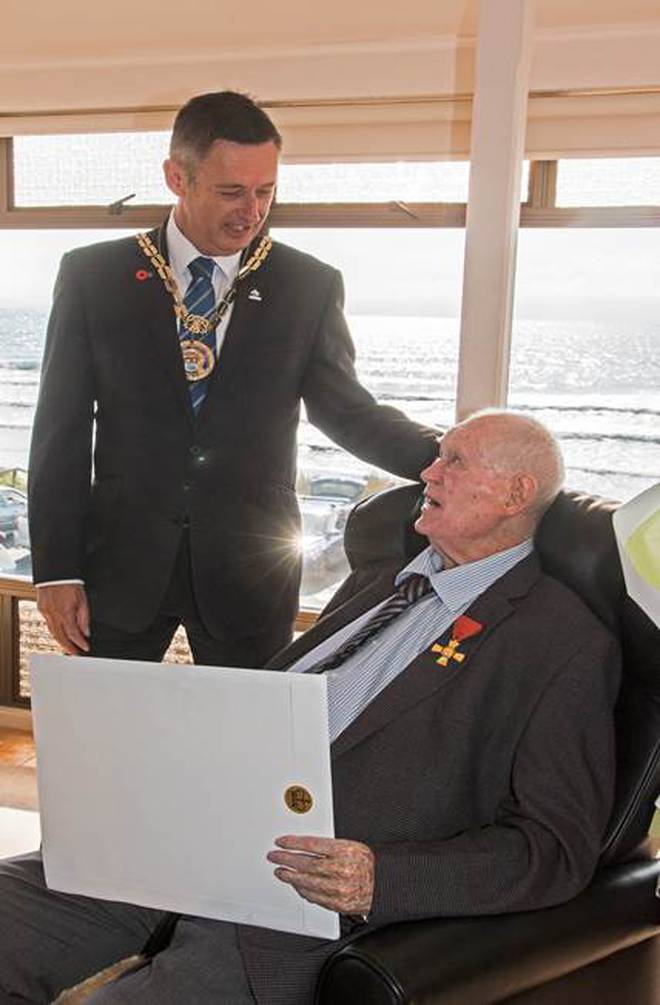 Mr Barker's contribution to his industry and community includes:
The introduction of a driver training scheme to address a shortage of truck drivers
Supporting the introduction of the iShift transmission in trucks imported into New Zealand, contributing to safer and more fuel efficient truck transport
A community support programme that contributes more than $120,000 per annum to a number of community groups