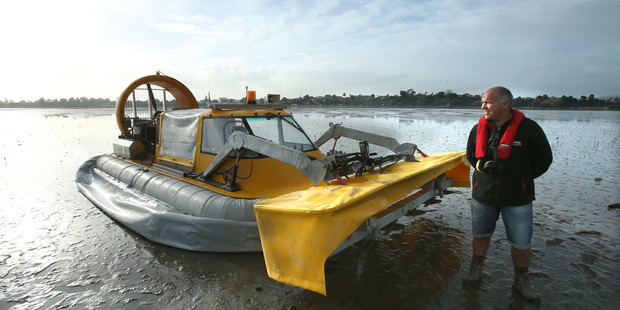 A world-first innovation to remove mangrove seedlings from 11 Tauranga Harbour estuaries is being trialled by an Auckland-based company using cutting blades attached to a hovercraft.
View video of the machine in action below
The first public demonstration of the hover-mower took place this morning on the Waikareao Estuary at Judea.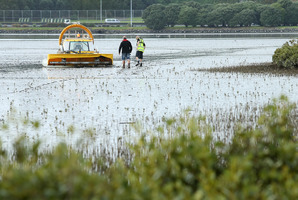 The $340,000 hover-mower has been developed by Fieldmaster for the Bay of Plenty Regional Council which wanted a technology that did leave the imprints of wheels in the mud that can remain visible for months or years.
It removes a lot of the manual cutting by volunteers and allows them to focus on other tasks like wetland restoration and planting, pest control and picking up rubbish.
Fieldmaster director Paul Ayers said the hover-mower can do as much in one run as what used to take a volunteer nearly a week by hand.
The machine that was similar to a helicopter to operate will be used to prevent mangrove seedlings from becoming established in up to 600 hectares of open water.
However volunteers will still be needed to remove seedlings in areas where the hover-mower could not operate, such as where there were large rocks or humps in the beds of estuaries.
The regional council secured resource consent, subject to a successful trial, for mechanical mangrove seedling removal in October 2013. Consented areas total 600 hectares across eleven sites in the 21,800 hectare Tauranga Harbour.
The hovercraft mangrove seedling mower will not operate during bird breeding season (September to February inclusive each year) and it will not be used to remove mature mangrove plants.
The regional council budgeted $361,000 for the hovercraft to be designed, built and tested. It is expected to cost $180,000 per year for annual mowing of mangrove seedlings at consented sites.
Key hovercraft specifications:
• 2190 kilograms unladen weight
• Six cutting blades
• 0.17 psi surface pressure on estuary bed
• Maximum travel speed 30km/hour (16 knots)
• Maximum mowing speed 20km/hr (12 knots)
• Mowing height of approximately five centimetres
• Powered by Hyundai 2.4 litre common rail diesel engine