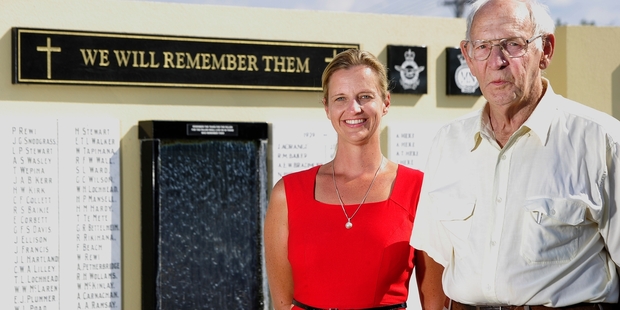 An ex-soldier and a podiatrist are celebrating a heart-warming fluke in which each won passes to the exclusive 100th anniversary commemorations of the Gallipoli landings in Turkey next year.
"It is absolutely incredible, I feel so overwhelmed," Tauranga podiatrist Anna Kendall, 37, said after learning she was one of 950 New Zealanders whose names were drawn in the ballot for passes to the World War I battlefield services.
In an amazing coincidence, a patient who encouraged her to fill in the application form, Tauranga RSA president Dick Frew, also won a double pass.
Miss Kendall said the original plan was that if Mr Frew's name was drawn, she would accompany him to Gallipoli. Now they both had spare passes for a family member or friend.
She gained one of 251 double passes drawn for direct descendants of soldiers who fought at Gallipoli, the battlefield that helped forge New Zealand's national identity.
Miss Kendall's great grandfather, William Motion, survived the appalling conditions on Gallipoli to continue his war in France and fought in the epic Battle of the Somme.
She always attended Anzac parades and said honouring New Zealand's war efforts had been an important part of her upbringing. Her 94-year-old grandfather Reginald Motion of Tauranga, was a radio engineer in the Pacific during World War II.
Attending commemorations at Gallipoli was something she had always wanted to do. "Considering how many applied, we have been extremely lucky."
Mr Frew, 78, an infantryman in the Malayan Emergency from 1959-61, won one of 149 double passes reserved for veterans.
One reason he wanted to go was to see where his Uncle Bill was shot and killed during the second wave of the April 25 attack at what became known as Anzac Cove. "A lot of good guys were left there."
It was fourth time lucky for Mr Frew because he had applied to be part of small Government-funded groups to attend Gallipoli services in other years. Like the rest of those balloted from nearly 10,000 applicants, he would pay for the trip.
Mr Frew had four uncles who served in WWI and recalled one who was gassed and spent the rest of his life in sanatoriums with damaged lungs.
The Tauranga and Mount Maunganui RSAs would hold traditional Anzac Day services this month, with big commemorations planned for next year.
The Tauranga branch was organising a display of memorabilia in its clubrooms this month and had planned a school poetry competition, while the Mount RSA would put on a park and ride service for its Dawn Service.