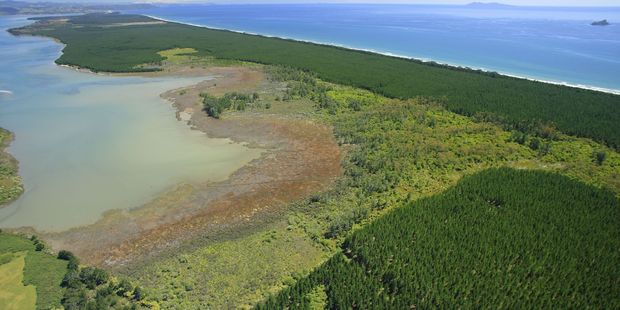 Proposed rules to loosen up development opportunities on Matakana Island have been attacked for being "skewed towards certain Maori interests".
The accusation was levelled yesterday by Cathryn Faulkner whose father and uncle bought a 149-hectare block in the 1920s and began planting pine trees.
Ms Faulkner joined another family member and former city councillor Bill Faulkner in criticism of the Western Bay of Plenty District Council's draft planning change for Matakana.
She said the family never envisaged it would have ever-increasing restrictions retrospectively applied to their freehold land. "This plan diminishes forest owners' property rights and devalues their land," she said. Ms Faulkner said there is Maori- and Pakeha-owned rural zoned land on Matakana Island. "They are in similar circumstances and yet the council has no qualms about granting superior privileges and rights to Maori."
The Faulkner family is in a joint venture partnership with Tauranga property developer Carrus Corp.
The family opposes being restricted to one dwelling per 40 hectares, which is the council's rule for rural land subdivision in the district.
Donna Poka, representing the island's hapu, said 99 per cent of the island's population was Maori and they were all connected - they were born there, lived there and died there. Few communities were left in which Maori could determine their own futures, but this was one of them. Ms Poka highlighted how when the Rena went aground, it was the island's Maori who spent three months cleaning the island's beaches.
Carrus' lawyer Vanessa Hamm said the plan was too restrictive and she sought a more permissive regime so people could apply for higher development densities, provided an overall cap of 200 lots on the forested side of the island was not exceeded.
She asked that the minimum number of houses in a cluster be reduced to 10 and that distance between each house reduced to 50 metres.
Ms Faulkner said the council had earlier been told by both the joint venture and TKC, which owns the majority of the 2140-hectare southern end of the forests, that 102 lots were not acceptable and they needed a minimum of 165 lots to be viable.
She said that even 165 lots did not come close to what was permitted for Maori under "preferential Maori-only housing projects".
Mr Faulkner said they were asking to be allowed a subdivision of up to 30 lots as a special case. "The soils are not versatile and forestry on this block has a limited economic future."
He said there had been scant reference to the landowners' perspective in reports to the council whereas Maori issues had been highlighted in fine detail.