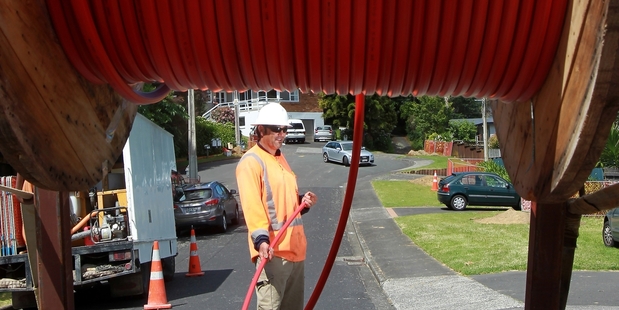 Half of Tauranga now has access to ultra-fast broadband (UFB) but fewer than 4 per cent have signed on to receive it.
Ultra Fast Fibre, the company managing the Tauranga UFB rollout, said 50 per cent of Tauranga can now access UFB, with work in the Tauranga CBD, Bethlehem and the Avenues complete.
Large pockets of Pyes Pa and Welcome Bay are also finished, according to Ultra Fast Fibre marketing manager Brett Morris.
"Mount Maunganui, from south of Banks Avenue to Girven Rd is complete, along with parts of Papamoa up to Palm Beach Boulevard."
Mr Morris said there were multiple crews laying fibre optic cable in Otumoetai and other parts of the Mount and Papamoa this month.
The company has built past 32 of the 37 schools in Tauranga, with these being the project's priority so far, he said.
"We continue to build towards the remaining schools in Papamoa and Windermere and these will be passed by mid-2014," Mr Morris said.
Nationally, 322,248 people are now able to connect to the network, according to a report released by the Government this week.
Communications and Information Technology Minister Amy Adams said an additional 21,000 users had gained access to fibre over the three months to September 30, however, the report revealed just 14,248 of the 322,248 with access have actually connected.
Ms Adams said the uptake was "in line with Government expectations and overseas experiences at this early stage of the rollout."
Exact local uptake figures are unavailable because they are "commercially sensitive", according to Mr Morris. He said that they were in line with the national average of 4 per cent.
Mr Morris denied the uptake was slow, saying 4 per cent was to be expected at this stage. He said building the network and interest "takes time".
In Tauranga, TrustPower has connected more than any other UFB provider, with more than 1000 people already using fibre.
About 150 Tauranga households sign up every week, according to the company's business manager of telecommunications, Peter Gregory.
"We have seen a significant uptake in Matua, Bethlehem, Otumoetai, Bellevue and Pyes Pa, along with the Avenues and central Tauranga," he said.
"We really are seeing pockets of activity, not everyone has cottoned on to the fact they can access this yet."
Mr Gregory said TrustPower was "punching above its weight" when it comes to sign-ons.
"Of the 14,000 or so people that are connected nationally, more than 1000 are customers of ours in Tauranga," he said.
Mr Gregory said the company would be starting a new campaign encouraging its customers to sign up to fibre, which he predicted would increase the number of connections. He said once people started using fibre they would wonder how they ever did without it.
"It is one of those things, you don't realise the benefits until you have it.
"In Tauranga we have connected a number of large businesses that are already starting to look at adopting new technology into work practices, simply because they can now.
"For residents it is simply faster and cheaper ... Fibre offers up to 100 megabits per second, that is about 10 times the speed of the average ADSL connection. With fibre the possibilities are endless."