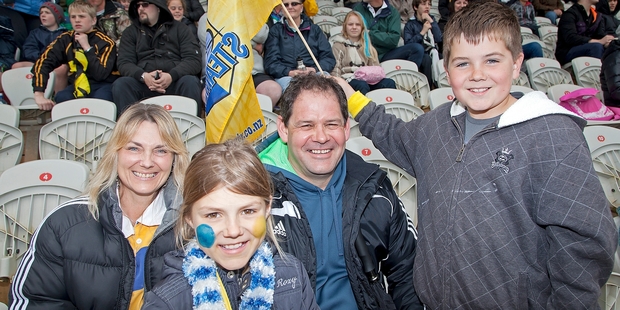 Steamers fans had full confidence in their team going into the first game of the season and they were not disappointed.
Heavy downpours in the morning did not deter thousands of fans from turning out to support their team as they took on the Hawke's Bay Magpies at ASB Baypark yesterday.
Traffic flowed freely with only minor hold-ups as fans, with faces painted in blue and yellow, began to file into the stadium an hour before kick-off.
A huge roar went up from the crowd as the Steamers ran out on to the pitch and the game got under way.
Young fans of the team poured on to the field after the Steamers' 24-20 win to get autographs from their favourite players.
The Collins family, from Papamoa, have loyally supported the Bay of Plenty side since their move from the Waikato 16 years ago and even the rain did not make the family of four reconsider going to yesterday's game.
"It's better when it rains. It's more fun. It's exciting," mum Lynn Collins said.
When the Bay of Plenty Times spoke to the family before the game they had no doubt who would win.
"They [the Steamers] will win. I don't wear this T-shirt for nothing," Mrs Collins said.
Lewis Collins, 10, said the best part of being at the game was seeing the team score a try, while sister Abby, 9, was a fan of Steamy, the mascot.
Young rugby player Izak Taula, 10, was at the match to support Kane Hames, who coached some of his ripper rugby and development teams.
Izak, who hopes to play top rugby himself one day, was confident in the Steamers' ability but had some advice for the team: "Their backs need to do more work."
Te Puke Primary School student Kenayla Edwards, 10, was lapping up the atmosphere at her first live Steamers game: "They are a really good team. I think they are going to win."
Classmate Olivia Gourlay, 10, was also excited to be at the game.
"We love the Steamers," Olivia said.
"I like seeing heaps of people. It's much more interesting than seeing them on TV because you get to see them running through the try line."
Yesterday's match was the first time Grant and Fiona Cameron had taken both their children, Ashton, 8, and Trent, 5.
"We were quite regular [at games] years ago. The kids are just the right age for it now," Mr Cameron said. "You can watch it on TV but there's certain things you pick up on being here."