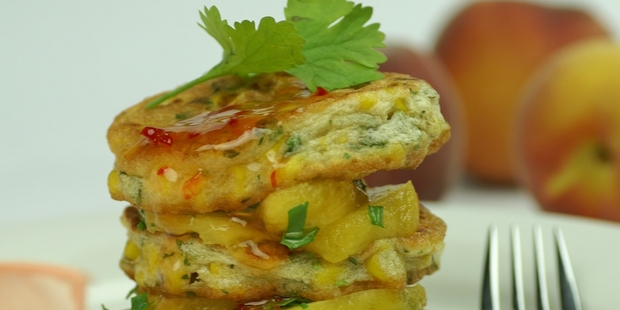 Ingredients:
Fritters:
2 cups whole kernel corn
2 eggs, separated
1/2 cup coconut milk
1/2 cup coriander leaves, finely chopped
salt and pepper to taste
3 tbsp self-rising flour
1-2 tbsp rice bran oil
Peach Salsa:
2 ripe peaches, halved, stoned, peeled and thinly sliced
1 tbsp lemon juice
2 tbsp finely chopped rocket
pinch sugar
1/2 tsp chilli paste
Method:
Blanch and drain the corn. Cool. Combine with the egg yolks, coconut milk, coriander, salt, pepper and flour.
Heat the oil in a large non-stick frying pan. Take heaped tablespoons of the corn mixture and place in the pan. You will need to work in batches. Cook on low heat until bubbles appear on the top. Flip over and continue cooking until the undersides are golden. Keep warm in the oven while cooking the remainder. You should have 12 fritters.
Meanwhile, combine the ingredients for the salsa.
To serve, place one fritter in the centre of each of four serving plates. Top with a little salsa. Top with another fritter, more salsa and a final fritter. You will have four stacks.
Great drizzled with a sweet chilli sauce. Serves 4.