Will Hudson offers the Breakers hard graft and good defence.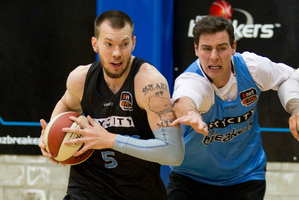 As far as nicknames go, Will the Thrill doesn't appear to fit naturally with Breakers import Will Hudson.
But that is the point. Hudson's teammates at Oakland University gave him the moniker because he was the antithesis of thrilling.
It wasn't meant to be disparaging, it's just that Hudson, the boy from the Badger State, Wisconsin, doesn't do flashy on a basketball court or, it seems, in life.
Instead, he's an honest, no-nonsense player who has found a successful formula that works well for him.
It's starting to work for the Breakers, too. The 23-year-old was brought in to replace Gary Wilkinson, the bold and brazen red-head who helped deliver consecutive ANBL titles, as one of the club's two imports.
His role is different, however.
Whereas Wilkinson was a starter who scored heavily from outside and in the paint, Hudson comes off the bench and plays back-up to centre Alex Pledger.
His numbers are solid, which is exactly how he plays. He averages 7.8 points and 3.8 rebounds a game and shoots at a respectable 50 per cent from the floor, but it's on defence where his biggest contribution comes.
It's one of the reasons the Breakers are excelling on defence and it has allowed them to get away with a stuttering offence.
"I go out there and put in my work," Hudson said. "That's what my game is about. It might not always be the flashiest, but I go out there and try to out-work everyone else.
"I'm not trying to take away from the success [Wilkinson] had but we are two different players.
"I'm just trying to do what got me here in the first place and help the team out that way.
"People are going to compare us but that's not something that I can control."
The Breakers are second on the table with four wins from five games - Wollongong lead with five from five - and hope to extend their winning streak to six when they travel to take on lowly Townsville (0-7) and Cairns (3-3) this weekend.
They will do it without guard Corey Webster, who injured his back in training last week. His spot on the roster has gone to development player Reuben Te Rangi.
The games are as close as Hudson will get to the Gold Coast, the team he played for last season before the club withdrew from the league.
He had no hesitation in signing with the Breakers when they made an approach, even though he had offers to play in Belgium and Germany.
The opportunity to remain in the ANBL, play in a country where English was spoken and at a stable and successful club were obvious draw-cards. And he will soon be joined in Auckland by his brother, who will remain here until the end of the season.
Home is important to Hudson and this is no better illustrated than by a tattoo of a map of Wisconsin on his left shoulder.
"I get to wake up every morning to the skyline," he said. "It's my peace of mind. I might be on the other side of the world but I think about home all the time."
Hudson got the tattoo while at college. His teammates were all getting them and chided him that he wouldn't have the gumption to get one too.
"I went home for a month over summer and got it," he said. "Everybody was surprised."
It seems Will can thrill, after all.
Double-header
Breakers v Crocs
tonight, Townsville, 10.30, SS 1
Breakers v Taipans
tomorrow, Cairns, 10.30pm, SS 1.
- APNZ