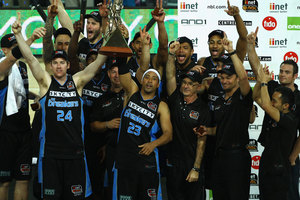 The Breakers start their bid for an historic third consecutive ANBL title on Friday night. Michael Brown of APNZ looks at five reasons why they can achieve a three-peat.
1. No change
The Breakers have established one of the most stable squads in New Zealand sport and virtually all of the players who achieved back-to-back titles last season have returned. They lost import Gary Wilkinson, largely because they want to give centre Alex Pledger more game time, and replaced him with Will Hudson, a get-the-job-done-with-no-fanfare type of player. Hudson, who has built a game around bringing down rebounds and being a general nuisance on both offence and defence, fills the second import slot but won't start.
Corey Webster also returns after serving a second drugs ban and will provide backup in the point guard position.
2. Going deep
The Breakers have long trumpeted their depth and they routinely play all 10 players in their squad. It means they can play a high-tempo game because they are all relatively fresh but also means that if one player is off on any given night there's likely to be someone else who steps up in their place. With the likes of Tom Abercrombie, CJ Bruton, Daryl Corletto and Pledger, they have scoring threats across their roster who can get the job done.
3. Home and Away
Unlike the Warriors and Phoenix, the Breakers know how to win both at home and away. During the last two seasons, they built a 31-5 record at home and a handy 20-12 record on the road. That consistency plays a massive part at the end of the season, and saw the Breakers earn home-court advantage for the last two playoffs series. They have demystified the vagaries of travel, even though their schedule is a demanding one, and this was no better illustrated than two seasons ago when they went to Perth and beat them on their home court in a must-win semifinal.
4. Hungry
Hunger, desire, motivation ... call it what you like, the Breakers have it. They are the most successful New Zealand team to play in the Australian competition - in fact, they are the only ones to win a professional competition - and want more. They want a three-peat. It wasn't that long ago, however, that they were awful and there are still plenty around, including coach Andrej Lemanis, who remember the bad, old days. With so many old pros like Bruton, Boucher and Mika Vukona, the rest of the squad won't be allowed to slacken off.
5. Action Jackson
There might have been a little disappointment at Breakers HQ when Cedric Jackson missed out on an NBA contract, but not that much. The livewire point guard has returned to Auckland for a second season and is among the most potent players in the league. He missed out on the league's MVP award last season - he was fourth in voting - and wasn't happy about it. He doesn't possess a great shot but he can still hurt teams in many ways, particularly his speed on the dribble and defensive hustle.
Play Jimungo Virtual Basketball
Compete for prize money and bragging rights in Jimungo Virtual NBL. Simply choose the winning team and margin. Sign up now.
- APNZ