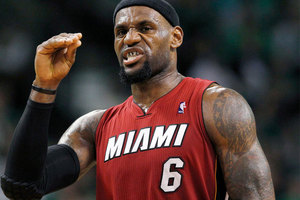 LeBron James had 45 points and 15 rebounds, overwhelming the Boston Celtics and leading the Miami Heat to a 98-79 victory today that forced the decisive game in the Eastern Conference finals.
Pushing away elimination right along with every defender who tried to stop him, James shot 19 of 26 from the field and finished four points shy of his playoff career-high while playing 45 minutes, not sitting down until the victory was long secured.
Game 7 will be played in Miami on Sunday.
Dwyane Wade added 17 points for the Heat, who need a victory at home Sunday to return to the NBA finals.
Rajon Rondo had 21 points and 10 assists for Boston. Kevin Garnett and Brandon Bass each scored 12 points, but Paul Pierce had only nine on 4-of-18 shooting.
In the site of some of James' biggest disappointments, the only disappointed ones Thursday were the thousands of fans who hoped to see a celebration but instead filed out of the TD Garden midway through the fourth quarter, just before the league Most Valuable Player called it a night.
Miami barely won Game 2 before dropping the next three games, but this one was never in doubt. James was a one-man force on what's supposed to be a Big Three, carrying the Heat in the first half while Wade made only 1 of 6 shots.
The Celtics were hoping to complete a comeback from a 2-0 deficit, as Oklahoma City did, and advance to face the Thunder in the NBA finals. But they missed 13 of 14 3-point attempts and will have to win a second straight game in Miami to play for the title.