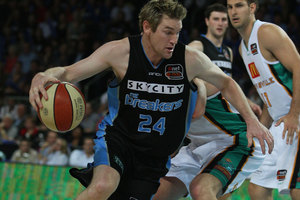 He probably wouldn't call himself a lucky charm, especially with eight stitches in his chin, but Dillon Boucher knows how to win basketball finals.
The 36-year-old Breakers forward has won eight New Zealand titles and two Australian NBL rings and can remember only a solitary defeat in a grand final series with Waikato around 2002 or 2003.
"I've started losing track of the years,'' he said.
It hasn't dulled his determination to claim another as the Breakers square off against Perth in game one of the three-game finals starting at Vector Arena tonight.
He and fellow veteran CJ Bruton, who will both come off the bench, know what it takes to win basketball and he wears the scars of that.
"It's doing what's needed for the team,'' said Boucher, who's in talks with the club about returning again next season.
"If the team needs me to stay on the sideline and wave a towel, hey, I'll wave a towel and get the bench going that way. If the team needs me to dive on a loose ball and get eight stitches in my chin, that's what I need to do. We are all prepared to do our little bit so the club is successful. That's what we did last year and what we have done so far this year.''
Boucher had his chin cut open in game two of the series against the Crocodiles when he ran into Bruton's elbow but returned later to help his side to a vital 94-83 win in Townsville.
It isn't the only scar he wears after 10 years and 288 games in the league with the Breakers (2003-05, 2008-present), Perth (2005/06) and Brisbane (2006-08) and it's the sort of commitment that will be needed if the Breakers are to win back-to-back championships.
Games against Perth are historically fiery and this series promises to be no different.
Perth are still hurting from their defeat to the Breakers in last year's semifinals, especially after they won the first game convincingly in Auckland, and want revenge.
Boucher wants another title.
It's likely he and teammate Leon Henry will be asked to play an increased role off the bench with Tom Abercrombie under an injury cloud and matching Perth's physicality will be a big part of it.
It's the sort of game he relishes. He wouldn't even mind if he needs a few more stitches if it means another championship.

- APNZ