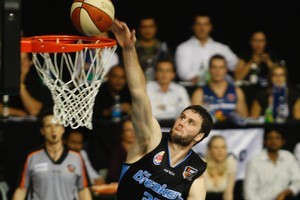 Call it the Clash of the Titans - a battle within a battle to savour when the NZ Breakers take on the Perth Wildcats in tonight's Australian National Basketball League top-of-the-table showdown.
There are three premier seven-footers in the competition this year.
Breakers centre Alex Pledger (2.13m) is one; he went head-to-head with Townsville giant Luke Schenscher (2.16m) last week and comes up against the third tonight - Wildcat Luke Nevill (2.18m).
In a sport that puts a premium on height, these encounters alone are worth the price of admission.
They're the heavyweight match-ups of basketball and while it's exaggerating to say they carry the fortunes of their teams, personal bragging rights are on the line.
"I love playing against guys the same size as me," admits Pledger. "It's a challenge I really look forward to. I've played against a few seven-footers before and that's the best way to test how good you are."
Over the past three years, Pledger (24) has shown himself to be plenty good and still improving.
In his third season with the defending NBL champions, he has been brought on gradually, but is now regarded as a key component in the league's strongest bench.
After averaging 6.1 points and 4.6 rebounds in about 12 minutes last summer, he's producing 8.0 points and 5.2 boards in 14 minutes this time round.
Pledger has already nailed down a Tall Blacks starting spot and was named Most Valuable Player in the New Zealand NBL last year.
His season numbers stack up well against those of Schenscher (24 minutes, 9.5 points and 4.9 rebounds) and Nevill (19 minutes, 9.5 points and 5.3 rebounds), who have both flirted with careers in the National Basketball League.
Schenscher played 31 games for the Chicago Bulls and Portland Trailblazers, while Nevill has spent time in the NBA Development League.
"I wouldn't say I've gone out there and owned them," says Pledger. "But for the most part, I've held my own and more often than not, we've walked away with the victories.
"They're both pretty tough players - difficult to keep out of the paint and tough to keep off the offensive boards as well. But as a seven footer myself, I know what most seven footers aren't good at and that's where I try to take them out of their comfort zones."
Last week, the Breakers held Schenscher to just eight points off 4/10 shooting. It wasn't just Pledger - American Gary Wilkinson marked up on his taller rival at the tip-off - but the contest got really interesting when the "footers" went elbow to elbow.
"Normally, by the time I come into the game, Schenscher's already played seven or eight minutes and he's a little tired," says Pledger. "But I matched up on him a bit and if he gets to that right-hand sky hook, you just have to hope he misses because, if he's on balance, it's a tough shot to defend."
This week, Nevill is a slightly different proposition. He's taller with a more rounded game.
"He's very, very good close to the basket. He likes dunking and has good hook shots with both hands; he's not going to beat anyone with speed, but once he gets down there, he takes his time and you're kind of at his mercy. If you don't push him off the block, he'll shoot a fadeway over your hand.
"Schenscher won't look to shoot outside the paint that much, but Nevill will knock down the open jumper if you give it to him, so you have to guard him out there as well."
Perhaps the area Pledger enjoys his biggest advantage is mobility and that was never better illustrated than in the Breakers' romp over the Sydney Kings at Vector Arena in January.
Grabbing a defensive rebound, the big man threw an outlet pass and began running, arriving at the other end of the court in time to slam home a half-court alley-oop pass from Dillon Boucher.
Player for player, the Breakers are an excitable bunch, but nothing gets Pledger more pumped up than plays like that - not so much the dunk as the selfless attitude that led to it.
"Everyone talks about being unselfish, moving the ball and not caring who scores all the points, but we have 13 guys who really buy into that and, at the end of the day, winning is more important than the numbers. I think that's why we're so good."
But there's a growing sense that if the North Shore-based outfit are to repeat their championship heroics, they must overcome Perth. They've shared their two games so far this season, so this one (9pm NZT) holds the key to countback advantage, if it's needed.