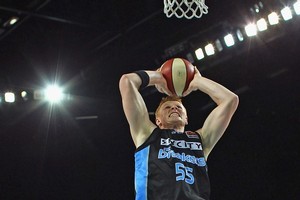 The Breakers have their eyes on back-to-back ANBL titles but they are already in planning mode for next season and want to retain their entire squad for the next campaign.
Only Tom Abercrombie, Alex Pledger and BJ Anthony are contracted for the 2012/13 season but the club are in talks with Mika Vukona about a new deal and with Abercrombie and Pledger about upgrades. Abercrombie has clauses in his contract that allow him to play in the NBA or a top European club and, given his impact over the past 18 months, he will have courted attention overseas.
Breakers' general manager Richard Clarke said they had also held informal talks with the remainder of the squad about their plans but was hopeful they would retain the entire squad, including imports Gary Wilkinson and Cedric Jackson and late recruit Daryl Corletto.
"You are always going to have challenges with guys fitting into the salary cap but our intention is to keep the whole squad together as much as possible,'' he said.
"We have a pretty good squad this year and we want to keep them together.''
The biggest question marks might hang over 36-year-olds CJ Bruton and Dillon Boucher. It had been widely assumed Bruton would retire at the end of the season but he indicated late last year that wasn't a certainty and he might look to play on.
He has won four ANBL titles with three different clubs and was long seen as the premier point guard in the competition. He missed a handful of games late last year because of a knee injury and is averaging a relatively low 8.8 points a game (he has a career average of 16 points a game) but the club see his value beyond what he offers on the court.
"We are still talking to both of them about whether they go around again,'' Clarke said. "They both still offer us an awful lot and we are looking at ways to see whether we can keep them going.
"Dillon has been doing some commercial work for us this year and he has tremendous potential in this area. He knows we have a role for him whether he's playing or in the office. It has to be when the time is right. We are not trying to rush anything there.
"CJ has to look at what he wants to do with his family and life after basketball. If he wants to keep going, we certainly want him here because he's a huge part of the club well beyond what he does on the court.''
Of more pressing concern is the upcoming playoffs, assuming the Breakers maintain their spot towards the head of the pack.
The defending champions are keen to play as many of this season's playoffs games as possible at Vector Arena and they are also looking at playing more games at the waterfront venue next campaign.
It has been a successful venture with Friday night's game against Sydney, their third of the season, likely to be close to a sellout. They have already sold more than 7000 tickets - the venue holds 8000 - and they hope to not only set a new record for a basketball game in this country but to also eclipse Sydney for the biggest home crowd in the ANBL this season.
They have block-booked the North Shore Events Centre, which holds 3900 fans, for the upcoming playoffs but, when possible, will play at Vector. There are possible clashes, with a Taylor Swift concert and the How to Train Your Dragon show on at the same time but it all depends on the Breakers' finishing position from the regular season and their opponents.
"We will try to play games at Vector when we can but we have NSEC scheduled in if we can't,'' Clarke said.
"We need to retain the event nature of the Vector games [next season]. We are working out with the stadium what the right split is but we will probably play more games at Vector but still play the majority at North Shore next season.''

- APNZ