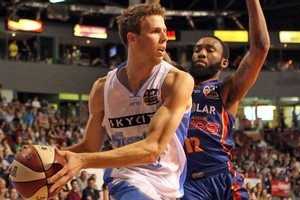 The last thing the Breakers needed on the back of two heavy defeats in the ANBL was injuries to two key players.
Import Gary Wilkinson and influential forward Tom Abercrombie both sat out training today and Abercrombie is due to have a scan on a troublesome shoulder.
Both are expected to travel to take on Melbourne on Sunday, and Wilkinson declared his readiness to play to coach Andrej Lemanis after practice, but they will need to do more than just turn up after a couple of inept displays that has seen the North Shore-based club slip from the top of the table.
The Breakers were thrashed 86-62 by the Wildcats in Perth two days before Christmas and then humbled 74-57 in Cairns last weekend when they shot just 34 per cent from the floor and turned the ball over 24 times. They are two of the hardest road trips in the competition and now take on a Melbourne (9-6) side who are finding some rhythm after the departure of NBA player Patty Mills to play in China.
Cameron Tragardh is the league's leading scorer with 19.3 points a game and the Breakers will need Wilkinson's size in the paint to help shut the 2.09m centre down.
"Gary had a back spasm on Tuesday at practice," Lemanis said. "It's better but still not well enough for him to practice so it's a day-by-day thing. We won't know until it's right... Just talking to Gary, it sounds like he's going to go.
"Tommy fell on his shoulder in Cairns. He's had a couple of spasms. It just cramped on him when he was training today and the physio said to sit the rest out.
"I would expect Tommy to travel. He will get a scan on it today and hopefully it doesn't show anything crazy."
Lemanis cut a relaxed figure at training today. After a number of years with the Breakers, he is familiar with their inclination to let their standards slip for periods in the season.
Sunday's match is an important one as the Breakers look to get things back on track but, with five home games to follow, not season-defining.
"Over the last two weeks, we haven't played at the level we want to play at," Lemanis said. "For whatever reasons we just weren't there.
"This week, though, we started to get that feel again. You can see the confidence come back in again, and the chemistry. With our group, now having been here for a few years and run the same thing for a number of years, we tend to go through periods when we are very good in our execution and others when we start getting slack. We start running things at 90 per cent rather than 100 per cent.
"When we get that period, we settle it all down and go back to basics and feel the confidence coming back in the group again."
It will help if both Wilkinson and Abercrombie are there.
- APNZ