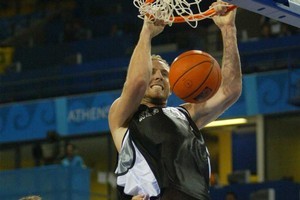 Time to pay tribute to Sean Marks, along with that small band of New Zealanders who have done so well in the highest sporting leagues overseas.
The 36-year-old Marks, the first Kiwi to make American basketball's NBA, is quitting the game, the Herald on Sunday revealed.
As things turned out, the NBA lockout led Marks to realise the time had come for him to enjoy life outside the demands of playing. Reading between the lines, there was a certain amount of writing on the wall.
The odds on making it into the NBA from this distance must be astronomical, but Aucklander Marks not only beat them, he also won a championship ring with the San Antonio Spurs.
Even those of us who can't properly quantify just how difficult this must be for a New Zealander to achieve have seen enough basketball documentaries to know that launching yourself from Rangitoto College is not high on the list of ways to make it in American basketball.
There are a heck of a lot of gifted athletes in the United States all desperately trying to find NBA stardom and riches, surrounded by basketball knowledge, fired in competitive leagues and playgrounds, and inspired by the constant references to the game in their environment.
As the documentaries show and the numbers dictate, a lot of those kids end up driving trucks, if they are lucky.
Marks was just 17 when he headed to the States, shifted around, had the odd highly active season, a few where he didn't get much court time, and kept hanging on in there.
Like a lot of New Zealanders doing the sporting OE, the 2.08 Marks flew under the radar somewhat. He didn't quite get the recognition he deserved and certainly way less than Steve Williams, who is a household name here because of his career as Tiger Woods' caddy.
We can be blase about our citizens who achieve extraordinary things on foreign shores. By my reckoning, Wynton Rufer was the most under-rated of New Zealand sportspeople. The Werder Bremen striker was among the finest footballers in Europe at a time when the English first division was all that mattered to most New Zealand sports fans, followed by the English second division.
Ryan Nelsen is closer to getting the recognition he deserves, although there may not be widespread understanding of just how hard it is to succeed to his level in the English premier league's international environment.
Then there is a character like golfer Marnie McGuire who earned a small fortune in Japan but was never in danger of getting mobbed at the local dairy, or even the local golf club.
Riki Ellison, an American football linebacker, won three Super Bowls with the San Francisco 49ers to very little fanfare. Others such as motor racer Scott Dixon get bursts of publicity on their amazing feats, but are largely out of sight, out of mind. America may be the hardest place to crack because of the competition and because we don't specialise in their major sports. But the few who do make the grade disappear in the largeness of it all.
Even our rugby players tend to get overlooked in Europe. Heading north is unfairly seen as a soft or semi-retirement option based on financial considerations, and the European competitions aren't accorded their due respect here.
Twenty20 is not everyone's cup of tea, but it has given players a star status in cricket-obsessed India beyond anything we can imagine for them here, where provincial matches attract crowds that would fit on a park bench.
There are many sporting nooks and crannies around the world so it is hard to keep up with the travellers and fully understand how sporting exports are heroes in distant parts. For instance, I was amazed to read in a book on the late, great Ian Curtis of the seminal Manchester band Joy Division that New Zealand speedway legend Ivan Mauger was a childhood hero of his.
Anyway, back to Sean Marks. Basketball is enjoying encouraging times in this country and Marks - who was part of the outstanding 2002 New Zealand world championship team - deserves significant credit for that. He was a beacon clouded by distance, yet in the back of our minds we knew that somewhere out there a New Zealander was making it in the big time, that young basketballers and the sport itself could dream the dream.
The Breakers are building on their historic 2011 NBL title with a powerful opening to this season. Something seriously good is going on in that organisation. The Andrej Lemanis-coached team is drawing packed audiences at the North Shore Events Centre.
Like Marks, the Breakers are beating the odds. Marks has played his part from afar in basketball's renaissance even if a lot of us didn't take enough notice along the way.