Aerodynamic concepts cut emissions and costs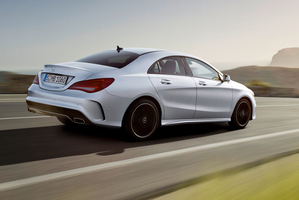 After shaving weight off vehicles in recent years, carmakers are concentrating on streamlining shapes to save fuel.
The focus is on reducing friction or drag from air, which increases with vehicle speed. Tiny changes can make a big difference.
A car's drag coefficient defines the vehicle's smoothness related to its shape. The lower the coefficient, the less energy a car needs to move.
Fortunately, the minor modifications to improve the wind-cheating qualities of a car cost little when compared to the complicated technical advances needed to make engines more fuel-efficient.
"A lower cw- [air resistance] value means less fuel used," said Professor Jochen Wiedemann of the Research Institute of Automotive Engineering and Vehicle Engines Stuttgart (FKFS). His words were echoed by Teddy Woll, who is in charge of aerodynamic development at Mercedes-Benz in Stuttgart.
"An improvement in the cw-value of 0.01 in a test cycle means a drop of one gram of C02 per kilometre."
In terms of everyday driving, which consumes more fuel, this can lead to reduced carbon dioxide emissions too - in this case around 2 grams.
Since the effect of a reduced drag coefficient increases with speed, the savings made when a car is cruising at 150km/h amount to 5 grams of C02 less, said Woll.
The VW XL1 concept shows what can be achieved in the bid to make air flow more efficiently under and over a car.
It boasts a cw-coefficient of 0.19, making it the most aerodynamic production car yet, with average fuel consumption of 1 litre per 100km.
The futuristic design features a narrower rear end and rear wheel covers.
"We pared down every detail," said Steven Volckaert, who works for VW's development team. Every gap in the bodywork was smoothed over and the underside of the car encapsulated to reduce friction.
Rear side-view cameras replace mirrors. "That alone saves a tenth of a litre," said Volckaert.
The faired-in rear wheels of the XL1 mean only a few centimetres of the tyre are visible. This can cause the rear brakes to overheat and makes changing a punctured tyre tricky, with the result that such solutions are unlikely to feature on most cars.
Mercedes has come up with what it terms "the aerodynamically optimised wheel arch". According to chief aerodynamic expert Woll it is one of the reasons why the new CLA manages a cw value of 0.22 - the lowest of any production car.
The greatest contribution to this was made by patented serrated wheel spoilers, which reduce undesirable air turbulence in the wheel arches.
BMW's similar "Air Curtain" and "Air Breather", which are being fitted to a growing number of models, function in much the same way.
"Starting with the 3-Series GT we are going to be fitting this to a lot of models," said chief designer Adrian van Hooydonk.
Ford is taking things a step further with its Atlas pick-up concept vehicle. It features Active Grille Shutters which open at low speeds, or when additional cooling is needed, but close to improve aerodynamics at steady highway speeds.
The concept is used on the wheels, too, where Active Wheel Shutters close at high speed.
Wiedemann believes this idea is not practicable for everyday use, partly because of malfunctions owing to the dirt and snow of winter. "But you don't have to go to such lengths," said the expert.
The correct choice of tyres can improve the aerodynamic qualities of a car considerably.
"The solutions being put forward promise to be very effective and are comparatively easy to implement," said the expert, with an eye to more costly alternatives such as lightweight bodywork or diesel-electric hybrid propulsion.
For example, a 10 per cent reduction in vehicle weight leads to a drop of 5-7 per cent in C02 emissions in the standard driving cycle. This equates to a drop in C02 output of more than 100kg over the life of a car at a cost of about €1000 ($1700) per vehicle.
To match such savings, average cw values would need to be slashed by 20 per cent. Yet doing so would not cost half as much, since it could be achieved using plastic panels, spoilers and subtle shape changes.
Mercedes expert Woll put it more plainly: "An aerodynamic form does not cost a cent more to make than one that is not aerodynamic. There is no cheaper way to cut down on C02 emissions."

-DPA, AAP