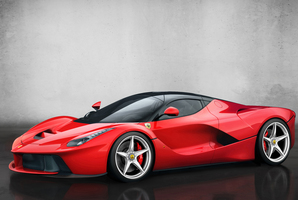 If the McLaren P1 unveiled last week was a bit confrontational in the looks department for you, then you best look away now as Ferrari and Lamborghini have taken supercar ugliness to new levels with their latest efforts on display at the Geneva motor show. With the Enzo-replacing LaFerrari (pictured), Ferrari have not only beaten the car heartily with the ugly stick, they have also endowed it with a strikingly ridiculous name. The $2 million LaFerrari boasts more power and torque than its McLaren rival (708kW/715Nm vs. 673kW/664Nm). While both are hybrids, the main point of difference is the choice of engines - the LaFerrari packs a 6.3-litre naturally aspirated V12 against the McLaren's 3.8-litre twin turbo V8. Ferrari says it will only make 499 LaFerraris, so that makes the chances of seeing one rather thankfully slim. Not content with making its new car ugly and giving it a silly name, Lamborghini topped McLaren and Ferrari by making the Veneno truly hideous. Despite packing far less power than either rival (a "mere" 552kW), Lamborghini has again managed to prove itself THE master of removing extremely large sums of money from tasteless people by only making three examples of the World's Ugliest Supercar and flogging them for a truly staggering $4.7 million each.
At least someone loves 'em ...
At least one carmaker seems to care about cyclists.
Volvo, the Chinese-owned Swedish manufacturer, has unveiled its Cyclist Detection
system. New software has made it possible for Volvo to extend its present detection and auto-braking technology to cover certain ''cyclist situations''. The advanced sensor
system scans the area ahead.
If a cyclist heading in the same direction as the car suddenly swerves out in front of it and a collision is imminent, there is an instant warning, full braking power is applied and a cyclist is saved. Well ... not as damaged as he might have been, at least.
Don't mention the war
In a move that couldn't possibly backfire in any way, Daimler has started a push to hire more foreigners and women to fix its too German image. The German company, started by Gottlieb Daimler in Stuttgart in 1890 recently came to the conclusion that it was a wee bit too German to truly thrive on the global stage. To become less German, Daimler has implemented a foreigner quota to ensure more non-Germans reach management positions. More than 30 per cent of the company's 270,000 staff work outside Germany, yet most managers are German. Daimler has been struggling to keep up with its
competitors in the US, China and East Asia, and has determined it needs more leaders from those regions to succeed. It will aim to recruit 50 per cent of new managers from outside Germany, as well as upping its female quota of recruits to 35 per cent.
Tough at the top? Don't you believe it _ the supercar makers are cashing in
European car sales dropped by 3.3 million units last year which is roughly the quivalent of Fiat selling no cars whatsoever (which is something well within the realms of possibility) and there is no doubt that Europe is still well within the grip of recession.
But if the Geneva motor show is anything to go by, then it is clear that the super-luxury segment is not sharing the mainstream car industry's pain.
Ferrari, McLaren, Lamborghini, Bentley and Rolls-Royce all unleashed new models at Geneva and are all reporting strong sales, with Rolls Royce entering its third consecutive year of record sales.
In an interview with Britain's Guardian newspaper, Rolls Royce production manager Philip Harnett said that some people were doing very well and wanted to reward themselves.
He also added that it was important for staff morale that ''high-flying'' company executives continued to buy the most luxurious cars.
Presumably that was Rolls-Royce staff morale he was talking about.
We are the world
*When you aren't wearing shoes or pants and you crash your Pontiac Grand Am into the
side of someone's mobile home you are in trouble. But Arkansas woman Jamie Jeanette Craft had a cunning plan for escape after she parked her car in some poor
redneck's trailer yell at him and steal his son's car.
Unfortunately, the man's son was a toddler and the car was a Power Wheels battery-operated ride-on toy truck. When police arrived, Craft was ''irate and very intoxicated'' and, presumably, not far down the road.
*Car names that sound great in one language and are horribly offensive in another language are nothing new the Mitsubishi Self-pleasure (which is what Pajero means in Spanish) is the most famous linguistic gaffe. Now Kia has joined the ''woops'' ranks
with its Provo sports coupe. The Korean company says the name suggests ''provocative'', but the people of Northern Ireland are reminded of the nastiest branch
of the Irish Republican Army the Provisional IRA, otherwise known as the Provo.

Number Crunching
1350 Units annually, the number of sales Mazda is projecting for the new 6.
1m Mazda6s sold in four years and one month, the fastest time for a Mazda to reach that mark.
19,802 Mazda6s sold in New Zealand since the model's local launch in 2002.
65,000 Mazda6s recalled in north and central America in 2011 because spiders nested in fuel lines.