In Brisbane on a Sunday? Take a dip and sip Pimms at a party up high in Fortitude Valley, writes Daniel Richardson.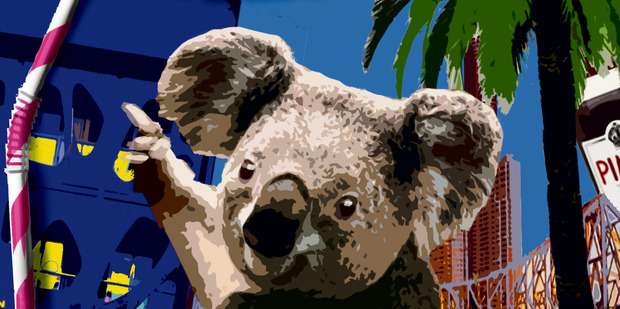 Rooftop bars - there's something very cool about them.
Whether it's the feeling of being somewhere exclusive or just having the opportunity to escape the hustle and bustle of the street, the rooftop perch of the Limes Hotel is a place worth visiting in Brisbane.
Located in party-focused Fortitude Valley, Limes Hotel Rooftop Bar sits atop the boutique hotel on Constance St and has recently been remodelled to celebrate the establishment's 5th birthday.
"We really invite our guests to come up here and join us. It's a good party up here," said Steve the barman, who is spending some time abroad from Glasgow.
The Limes has two small pools to cool off in. There, you can enjoy a beverage, with cocktails being a popular tipple among its patrons - and you could do a lot worse than getting a jug of Pimms and lemonade.
"Sunday is the pool-party day," Steve noted.
It was a Sunday when I found myself enjoying the sun at the Limes as the Pimms started to flow.
The first-floor location looks out across Fortitude Valley and you can also gaze at the heritage-listed Brisbane Exhibition Ground, where the Brisbane Bandits play in the Australian Baseball League.
There was a group of people who turned up to celebrate a friend's birthday when I was there, although too much effort had gone into some of their outfits to think about a quick dip in the pools.
"It's good on a Sunday because it's one of the few places we can actually sit outside and escape the crumbs," another punter informed me.
He was a local so he would have a better idea but I was inclined to agree, the people who turned up there seemed friendly enough and there was certainly no riff-raff.
Steve said on a Saturday night the place is usually hopping with plenty of people hoping to be seen at the Limes, with the max occupancy fitting somewhere around the 220 mark.
It has a "place-to-be-seen" vibe to it, which washes over you as soon as you walk down a dimly lit corridor via the hotel's reception, jump in a lift and and find yourself stepping into the Limes.
And, if you want to make sure you do get spotted at the Limes and need proof, there's a sign on one of the walls, which reads: "What goes on tour ... Goes on Facebook".
It's hardly a classy assessment but probably a fair reflection of the society we are part of now, where everything that is considered remotely cool needs to be documented on social media.
If you do find yourself heading to the Limes, particularly during the day, make sure you try a pizza from Alfredo's Pizzeria, located just around the corner. Alfredo's does pizzas the right way - straight out of its woodfire oven - and their ingredients taste as fresh as you can get.
CHECKLIST
Getting there: Qantas, Air New Zealand and Jetstar fly daily to Brisbane from Auckland.
Accommodation: Limes Hotel is at 142 Constance St, Fortitude Valley.
Further information: See queenslandholidays.co.nz.
Daniel Richardson travelled as a guest of Brisbane Marketing and Tourism Events Queensland.