Australia is getting fed up with the increasing power and boldness of biker gangs, writes Greg Ansley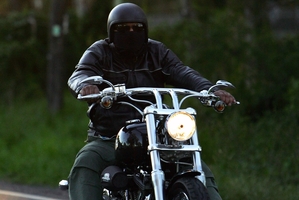 Australia is facing a growing turf war between bikie gangs as the outlaw clubs expand into each other's territory, fuelled by both domestic and international tensions that have flamed into shootings, bombings and brutal beatings.
Established gangs have now been joined by California's Mongol Motorcycle Club, which is absorbing the Finks, now under severe pressure from police in South Australia and Queensland's Gold Coast.
Violence has erupted down the east coast and in Perth, including the use of assault rifles and shotguns that authorities fear will eventually kill or injure bystanders.
Raids were launched this week against the Hells Angels in Victoria, where 700 police smashed their way into clubhouses and homes in a hunt for military-style weapons.
They failed to find the guns they were hunting, but seized other weapons, ammunition - in one raid so much that a trailer had to be used to cart it away - and drugs.
Earlier raids on Angels and Comanchero properties had also found guns, drugs and explosives.
The Hells Angels, aggressively working to become Australia's meanest, toughest outlaw club, are a key enemy for both law agencies and other gangs.
In Victoria, where they have started building new chapters, the Angels are at war with the Comancheros, another of Australia's big five gangs. Clubhouses, homes and businesses owned by the gangs have been peppered with bullets.
The Angels are also feuding with the Rock Machine, a gang their Canadian chapters fought bitterly in Quebec in a war that killed more than 150 bikies. The Rock Machine is now expanding into Victoria from its Perth stronghold.
Further tensions are being fuelled by recruiting drives in the state by the Rebels and Bandidos and by battles elsewhere between other gangs.
The violence and the rising power of outlaw motorcycle gangs in organised crime is alarming law agencies across Australia. The Australian Crime Commission says 44 clubs, with a total membership of almost 4500, are "of interest".
The commission says the number of outlaw chapters has soared by 48 per cent since 2007. Their activities include drug manufacturing and trafficking, extortion, money laundering, counterfeiting, tax evasion and murder.
They operate frequently behind complex legal structures and engage top legal counsel, challenging anti-gang legislation as far as the High Court. Many operate legitimate businesses, although new clamps are being placed on their involvement in areas such as tattoo parlours and security companies.
The gangs also have highly developed intelligence sources, including bent police and infiltration of law and other government agencies.
The largest gangs are the Rebels, Bandidos, Hells Angels, and Comancheros. Most have international affiliations. Hells Angels, for example, have affiliates in 27 countries, and the Bandidos are considered by American authorities to be among their nation's biggest drug suppliers and traders.
The latest entrant is the Mongols outlaw club. The gang, which has been fighting a long war against the Angels in the United States, has reached a deal to absorb the Finks, another violent opponent of the Angels facing legal extinction in South Australia and an unrelenting crackdown in Queensland.
The Mongols, named for the warriors of 13th century warlord Genghis Khan, are a criminal force in the US and already have chapters in France, Norway, Germany, Spain, Mexico, Israel and Malaysia.
Finks are repatching as Mongols in Queensland, South Australia and Western Australia, effectively establishing the gang as a force in organised crime in Australia and extending its international network.
South Australia Attorney-General John Rau believes the arrival of the Mongols adds another layer to the bikie threat, providing new muscle for turf wars and a larger pool of cash to fight anti-gang moves in the Supreme Court.
He has asked the federal Government to ban foreign Mongol members from the country.
Law agencies are fighting back. A new federal anti-gang task force is working with state police, and states have passed tough laws to break the gangs' power, including declaring them criminal organisations, bans on members associating with each other and the wearing of club colours, powers to destroy clubhouse fortifications, and restrictions on their involvement in business.
Moves to confiscate unexplained wealth are being introduced, but are meeting legal challenges.