Far from the madding crowd, Hamish Fletcher discovers the romantic side of the Gold Coast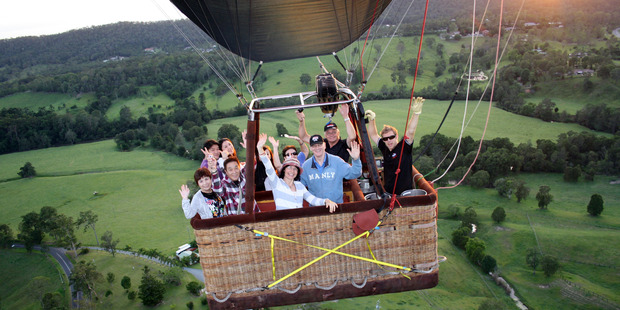 Lying on sun-soaked beaches is a hallowed ritual of the Gold Coast getaway. So it was with almost heretical arrogance that my partner and I relaxed there for a week and never once took a walk down its stretches of golden sands or dipped our toes into the Pacific.
Perhaps it was for the best; no-one would have fancied the sight of my alabaster torso among the bronzed and chiselled beach bodies. This, after all, was supposed to be some sort of romantic holiday - I didn't want the locals stealing any attention.
We didn't waste a minute of the fine February weather trapped in the region's gargantuan shopping complexes, either. Nor did we follow the footsteps of the thousands queuing for the chance to travel at nauseating speeds, barely strapped into a rollercoaster.This was a not your textbook Gold Coast holiday - it was a week where we would get as far away from the glitter strip as we could and experience some of the lesser-known gems of the Gold Coast.
The first part of this road less-travelled saw us mingle with Queensland's rich and famous. Well sort of. We didn't actually meet anyone from high society, but we did bask in the shadows of their palatial mansions, which look out on to a serpentine network of waterways.
Duffy Down Under Gold Coast Boat Hire - based at the Main Beach marina - let the inexperienced but eager skipper command their own electric boat up and down the waterways. You don't need a boating licence, but if you really want to make a splash and turn heads along the canals, Duffy also hires out what it calls the "limousine on the water" - complete with mini-fridge, on-board toilet, beds and a skipper to steer the vessel.
There's a lot of to explore in these boats, but you don't appreciate the immensity of the Gold Coast's waterways until you're looming above the 900km network of canals, as we did the following day.
Light had only just started to soften the early morning darkness as the gas burner roared into life and gently floated our billowing hot-air balloon 500m into the dawn sky.
As the Surfers' high-rises shrunk into the distance, our journey with flight operator Balloon Aloft took us north, past the the golf-courses, resorts and marina-village of Sanctuary Cove. With the sun barely kissing the sky, it would have been the perfect occasion for a proposal ... were it not for the 15 other tourists in the basket with us.
It wasn't the first glimpse my partner and I had seen of the region's mountains and hinterland. The day before we had escaped from the tourist bustle with an intoxicating tour of Mt Tamborine wineries. Less than an hour's drive from Surfers, this area is home to a string of artisan shops and boutique wineries.
Cheryl Brennan, who runs Mt Tamborine Wine Tasting Tours, offers a hotel pickup and return service, which left us free to sample every drop that was put before us.
The highlight was not to be found at the bottom of a glass of Queensland Semillon, but in shots of flavoured liqueur. Stepping into Tamborine Mountain Distillery, a family-run business operating out of a fairytale house, we found an alcohol candyland. Behind a wooden counter is a wall of brightly-painted bottles holding delights like wattle toffee liqueur and caramel vodka.
On our last evening we discovered a treasure hiding away in the suburbs. In a string of warehouses, Rabbit + Cocoon is a precinct of artists, musicians, filmmakers, writers and fashion designers. Hosting regular performances, this hub comes alive once a month for Studios Uplate, an event where the community can meet the creatives-in-residence, attend art classes, yoga sessions and listen to live music.
Studios Uplate also features a market with food and drink stalls, locally-made clothing, art, furniture and jewellery. Our only disappointment was that we hadn't discovered Rabbit + Cocoon sooner, or at least hadn't been so quick to empty our wallets earlier in the week.
Further details: For more information on Gold Coast destinations visit online.
* Hamish Fletcher was a guest of Gold Coast Tourism Corporation.

Getting There
Fly there with Air New Zealand Book now
Find out more at Australia.com