Donna McIntyre ditches the demands of children and family life to give herself a long-dreamed-of invigorating break at a luxurious health retreat.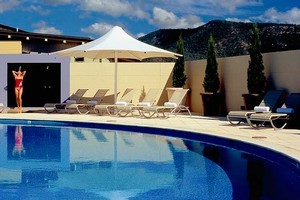 Giving up coffee and alcohol, rising at dawn and exercising up to four or five hours a day is not everyone's idea of a holiday.
But it was a dream of mine to go to a health retreat. Like many people I think I have a good idea of what to eat, how much exercise to do. But it's all too easy slip into bad habits and reach for the nibbles and wine instead of a salad, and defer that jog to tomorrow.
I know I am having too many second helpings; sitting hunched over a laptop when I could be lacing up running shoes. But I am not aware that some of what I regard as "healthy food" isn't that great a choice; nor that by running myself ragged looking after my family and all their needs, I am doing both them and myself no favours.
Once you take the plunge and book into a Golden Door retreat, you're sent guidelines suggesting you go easy on the caffeine, alcohol and tobacco in the week leading up to your stay. I show a couple of friends a typical day's itinerary.
"Crikey, Donna," says one, "You're going to be buggered by the end of the week. I hope it proves cathartic rather than colonic."
Another friend asks whether I realise I have to detox during my stay. I mean, how hard can that be?
Golden Door has retreats in Queensland and New South Wales. I choose the latter, called Elysia, which is sited, rather ironically for an alcohol-free venue, in Hunter Valley wine country.
From the moment you push open the 4ha retreat's symbolic and weighty golden entrance door, you are cocooned from the stresses and temptations of everyday life. Home for five days is a beautiful suite with rural views, to enjoy between your body and soul being nurtured with a combination of exercise, relaxation and nutrition.
The first afternoon, a Sunday, you're encouraged to take things easy after travelling. There's a wellness assessment and a chance to check out the facilities.
The next morning starts, as does every day, with tai chi on serene Meditation Hill. Kangaroos check us out as we make our way up a curving path flanked by lavender bushes. The session starts with a treat as you stand in line and massage the shoulders and back of the person in front. As you learn the gentle moves, the sun is rising and, if you're lucky, you'll see hot air balloons.
After tai chi there's a choice of a walk or deep water running before breakfast. Fed and watered, a stretch class and more exercise options such as interval training or indoor hockey or volleyball follow with a break for lunch. But there's never any pressure to do anything - and if it does all get too much you can retreat to your room or head to the wellness centre or the spa for treatments and sessions. Each day also includes at least one motivational talk on subjects such as breathing, the psychology of eating, physiology of exercise and stress management.
It may all sound a bit Hi de Hi! and certainly the structure will not appeal to everyone. But as a working mum I enjoy having the tables turned and being organised by someone else, and I suspect a lot of other mothers would, too. I turned off my control switch and had my meals cooked for me and my room cleaned while I was out exercising. And if I didn't fancy a scheduled talk or exercise, I didn't go. I even escaped the perimeter one morning for a walk on the "outside".
I embrace the opportunity to try boxing (loved it) and spin class (not so sure). Deep-water running in the 25m pool became a daily passion, as did returning each evening for a wind-down 20 lengths to practice my style after attending a stroke-correction class.
One massage, a wellness consultation and a beauty treatment are included in the price of a five-day programme. For these, I step a little outside the square and opt for igniting my inner spirit, a trigger point therapy and a collagen booster facial. I also add a visit to the naturopath and tarot card reader after hearing other guests extol their skills.
At the naturopath, I learn my diet isn't as healthy as I thought. And it isn't coffee which is overloading my nervous system but the black and green teas I sip through the day. Another surprise is that two pieces of fruit a day is enough for this sweet tooth who can happily munch through six mandarins in one sitting.
One thing I had been nervous about was what type of people the guests would be. I don't know if I just strike it lucky during my stay but my group consists of people with a zest for life, great senses of humour, all with differing reasons for wanting to kick-start a healthier lifestyle.
I'd arrived at Elysia with achy joints which I had put down to ageing, plus the occasional headache. During detox, for the first two days, the dull headache sticks around.
But by Wednesday, the stiffness and headache disappear and I have energy to burn. When a few of us comment on how great we feel, operations manager Mel just says "Wednesday" and smiles.
By the end of the week I feel like a million dollars ... full of energy and determination to cut out the rubbish from my diet and up the ante on exercising. Funnily enough giving up caffeine has been easy. Much harder is giving up the Golden Door detox tea with its delicious fennel and licorice. Move over caffeine, I have a new addiction.
By the end of five days, I am ready to leave and introduce what I had learned back into my everyday life. Golden Door's embrace of health and wellbeing is an indulgence, not just because of its price but also because you have the luxury of not having to work, cook, clean, ferry the kids about. It doesn't come cheap but you do have amazing facilities, tuition and expertise all on tap.
The challenge now is to take a little bit of what I have learned and gradually thread it into my daily life. And as for those cups of tea ... I'm still drinking them but I make sure they're caffeine free.
Survival tips:
* Pace yourself. You don't want to burn out in the first few days. The retreat is as much about relaxation as it is about exercise.
* Listen to your body and drink lots of water. Book for the smaller classes as they fill up fast. You can always cross off your name later and let someone on the wait list in.
* Embrace the opportunity and step outside the square. If you never try it, you'll never know if you like it.
* Ask to try the dandelion substitute to coffee. It's actually not too bad - I've had worse-tasting cups of coffee.
* If you don't like huge fluffy pillows, take your own with you.
* Staff love to tell of the people who try to cheat the detox. They have had pizza deliveries turn up (not allowed in) and cleaning staff tell of finding empty wine bottles and chocolate wrappers in the rubbish bins. It's the customer's choice but it defeats the purpose of being there.
Deals on offer:
The five-day Optimal Wellness programmes costs approx A$2840 ($3560) for a one-bedroom villa. There are special deals and bonus nights at certain times of the year if you book in advance. Three-day and seven-day packages are also available.
More information: See goldendoor.com.au. New Zealanders travelling to Elysia can fly into Sydney and take a shuttle transfer.
Donna McIntyre was a guest of Golden Door Health Retreat - Elysia.