As Auckland merges to create a supercity, the Herald looks back at how Auckland has changed over the years. Click here to view the full series.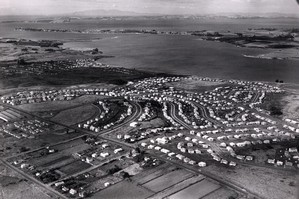 In the middle of 1916 a young Scottish builder and his brother made the three-day journey by train and ferry from Dunedin to Auckland.
James Fletcher's written recollections do not explain why he and Bill made that fateful journey. Their building business was going well in the south. The trip may have been to help William recuperate from a recent injury. Or it may have been speculative.
The day they arrived, James records, they went to sit in the Domain where he read that day's Herald and saw a notice placed by the Auckland City Council inviting tenders to replace the fish and fruit market buildings at the bottom of Nelson St.
Leaving Bill to rest in the park, James went to the Town Hall in Queen St and checked the specifications. Returning to the Domain he told his brother the holiday was over and he had to engage subcontractors.
The Fletcher Bros' bid was the lowest and they were awarded the contract. Their bankers were less than impressed when James Fletcher told them he expected no profit from the job.
It was wartime, labour was scarce and they had little experience in reinforced concrete construction but they got an overdraft. They established a branch office in Auckland and soon won another contract, to build a new Whitcombe and Tombs in Queen St.
More work was to follow - the Milne and Choice department store in Queen St, Lister Building in Victoria St, Courtville flats in the
colonial-era government precinct at the corner of Wynyard Cres and
Parliament St, and the arts block of Auckland University College with its distinctive clocktower, completed in 1924.
They missed some big ones - the War Memorial Museum and the new Auckland Railway Station in 1928 - but they did win contracts for the Dilworth Building at Queen and Customs Sts, Colonial Mutual in Queen St, South British Insurance in Shortland St, the Auckland Electric Power Board building and Queens Arcade, among others.
In 1929 they built the city's grandest cinema, the Civic Theatre, for the latest thrill in entertainment, talking pictures.
Then the world crashed. On March 24, 1930, James Fletcher made a speech to the Auckland Rotary Club urging the Government to reflate the economy with job creation schemes. He made little headway with Finance Minister Gordon Coates and in 1935 approached Labour's finance spokesman, Walter Nash.
A Government housing survey had estimated a shortage of 20,000 dwellings in cities where 19th century suburbs had deteriorated to slums.
Labour came to power in November. Within weeks Fletcher took a call from Michael Joseph Savage's secretary asking him to meet Savage, Nash, and deputy Prime Minister Peter Fraser.
It was the beginning of a partnership that would transform, for better or worse, the landscape of parts of Auckland and other cities.
Savage, who said the Public Works Department "could not build a fowlhouse, let alone a £5 million housing scheme," several times offered to buy out Fletcher Construction and make Sir James, as he later became, head of a new housing construction department.
Fletcher declined but his nominee, Arthur Tyndall, was appointed the department's director.
Labour's 1936 Budget allocated £3 million to build 5000 rental houses. Fletchers received contracts to build about half of the 400 houses in the 1937 programme.
Orakei was the model state suburb in Auckland and in December 1937, the first rental house was handed over to a young union secretary, Tom Skinner, and his family.
Savage rolled up his sleeves and helped carry in furniture for the future boss of the Federation of Labour.
Smaller state house contracts were let to builders in Ponsonby, Otahuhu, Devonport and Bucklands Beach and bigger projects followed on the Wesley Estate near Three Kings and in suburbsas different as Sandringham and Meadowbank.
Fletchers soon found they were losing money on the contracts. The Labour Government's mandatory 10 per cent wage increase had wiped out the profit margin and put up the cost of subcontracts and materials. There were also shortages of roofing, interior linings and doors and
delays in the kiln drying of high resin timber.
Fletcher went to Savage and Nash and told them he was getting out. They agreed to guarantee the company a £200,000 bank overdraft so state house building could continue.
State rental housing became a permanent feature of the urban landscape, changing in form and philosophy under different governments, but giving the less well-off a place to call home.
Reference: A History of the Fletcher Construction Company, by Peter Shaw, 2009