As Auckland merges to create a supercity, the Herald looks back at how Auckland has changed over the years. Click here to view the full series.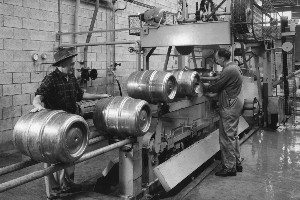 If ever there was a symbol of Auckland's emergence from the gloom of the 19th century it would be the bay villa. These awkwardly designed houses, more suitable for a dry Californian climate than a wet Auckland one, survive in suburbs as far apart as Devonport and Ponsonby.
They are not just a reminder of the aspirations of an emerging middle class; they are the epitome of Edwardian consumerism - New Zealand's
first mass-produced homes.
They remain a potent reminder of the return of business confidence to Auckland. Under Premier Richard Seddon, New Zealand was strong enough to resist joining the Australian federation and confident enough to develop its own special relationship with Britain. Nowhere was that
strength and confidence more apparent than in Auckland.
The sepia tones of photographer Henry Winkelmann capture a bustling Auckland port that looks much like any other Western maritime city but remarkably unlike the ordered colonial settlements of Christchurch and Dunedin and much of the rest of the country.
By 1900, few Auckland buildings remained from the early colonial era - most had been sacrificed in the interests of business expansion and
speculation and more would be surrendered to foreshore reclamation and wharf development.
This was the start of 20th century Auckland, where trade and commerce came first.
Aucklanders were first to benefit from the economic upturn. The open business climate attracted entrepreneurs from around the country such as Central Otago shopkeeper Robert Laidlaw who, in 1909, opened a mail-order warehouse in Fort St along the lines of US companies Sears
Roebuck & Co and Montgomery Ward. This would, at a later site in
Hobson St, become the Farmers' Trading Co, the dominion's first true department store.
The Edwardian era and the war that followed were good for business but not if you were a brewer. The huge no-licence poll in 1908 closed many hotels throughout the country, including 17 in Auckland belonging to Hancock & Co.
The company's owners, Moss Davis and his sons Ernest (later Sir Ernest) and Eliot were devastated and faced the prospect of losing the business altogether if the country voted nationally for prohibition.
This happened briefly in 1919, but Moss Davis persuaded New Zealand soldiers in London to vote wet and the wowsers were narrowly defeated on the final vote count.
However the threat to the liquor trade was far from over, and in 1923 Ernest Davis was the prime mover in the creation of New Zealand Breweries, a combine of 10 brewers set up to fight possible nationalisation of the industry.
By this time the fruits of victory after World War I had dried up. A recession started when commodity prices tumbled in 1921 and Auckland, servicing the largely agricultural Auckland province, felt the pinch.
Luckily the city was blessed with a businessman of extraordinary ability, former ironmonger William (later Sir William) Goodfellow, who reorganised dairying in 1919 by forming the New Zealand Co-operative Dairy Co and helping create the Dairy Produce Control Board (the future New Zealand Dairy Board) five years later. He was more than 70 years
ahead of his time in recognising the importance of New Zealand having a strong, unified dairy industry.
Another entrepreneur was Scots-born James (later Sir James) Fletcher who had the sense to move the family building business, the Fletcher Construction Co, to Auckland in 1925. It would become the nation's most
successful builder, forming the genesis of listed Fletcher Holdings
in 1940, Fletcher Challenge in 1981 and Fletcher Building today.
Auckland business was not helped between the wars by the antics of the Kelly Gang, a group of self-serving bankers, insurers and lawyers who declined to support new ventures such as forestry and deliberately starved those who were not part of their elite circle of the capital to expand.
One of the gang's victims was Canadian-born forestry promoter and junk-bond issuer John McArthur, who in 1931 set up a rival stock exchange to fight the establishment.
McArthur's practices were highly suspect, if not criminal, but the attack from the Kelly Gang, which had strong links with Coalition Finance Minister Gordon Coates, seemed motivated by malice. McArthur was investigated by the Government under special legislation - the first
case of its type - forced out of business and bankrupted. But the
Kelly Gang, whose members were regulars at the Northern Club,
won few friends by their action.
The election of a Labour Government in 1935, viewed as Bolshevik by many in the business community, coincided with an upturn in the economy. Business soon adjusted to the new order but the honeymoon came to a halt in December 1938 when a foreign exchange crisis persuaded
Finance Minister Walter Nash to impose draconian import and exchange controls.
These allowed Labour to advance its plans to reorganise industry.
The controls were initially opposed by business but companies soon realised that state intervention had its advantages. Whiteware importer Fisher & Paykel, formed in 1934, had no choice but to manufacture refrigerators and washing machines locally and other companies such as manufacturer Alex Harvey & Sons and foundry operator Mason & Porter
(Masport) became the unwitting beneficiaries of this pioneer New
Zealand-made policy.
Even the dominant brewers, New Zealand Breweries and Dominion Breweries (DB), came to see that state intervention guaranteed their market share by restricting newcomers from entering the liquor trade. They discovered, too, that the price control that followed gave them bigger profits than could be earned under the free market.
COLONIAL ECONOMY
1901: Auckland Provincial Employers' Association formed.
1903: Preferential and Reciprocal Trade Act gives preference to Britishmade goods.
1904-07: Economic upturn.
1908: Regular services start on the Main Trunk rail line between
Auckland and Wellington.
1908: Strong no-licence vote on election day leads to closure of many
Auckland hotels.
1909: Robert Laidlaw forms Laidlaw Leeds mail-order warehouse (later known as the Farmers' Trading Co).
1913: Wharves affected by 58-day national waterfront strike Massey's
Cossacks (farmer special constables) in action on Quay St.
1914-18: Boom because of wartime demand for exports but business
activity is also affected by regulation and shortage of manpower;
hotels forced to close at 6pm as a wartime efficiency measure (it
lasted until 1967).
1919: William (later Sir William) Goodfellow forms New Zealand Cooperative Dairy Co.
1919-21: Post-war boom and farmland price bubble.
1921-23: Recession after dramatic fall in commodity prices.
1923: Ernest (later Sir Ernest) Davis helps create New Zealand Breweries
to stop possible nationalisation of the liquor trade.
1924: Chattels Transfer Act extends hire-purchase and credit-buying
to the masses, leading to an expansion of retailing.
1925: Fletcher Construction Co moves to Auckland.
1927: Auckland Provincial Industrial Association becomes the Auckland
Manufacturers' Association.
1929: Wall Street crash has no immediate effect on New Zealand.
1930: Depression takes hold after fall in commodity prices
1931: Wages cut by 10 per cent; farm incomes slump and national
unemployment surges.
1933: Reid New Zealand Rubber Mills founded in Penrose by Australian
Ward Reid.
1934: Fisher & Paykel founded as a whiteware importer.
1935: First Labour Government elected.
1938: Foreign exchange crisis leads to draconian import and exchange
controls; preference and protection given to local manufacture.