On Lantau Island off Hong Kong, Duncan Gillies sees Snow White and an extremely large Buddha.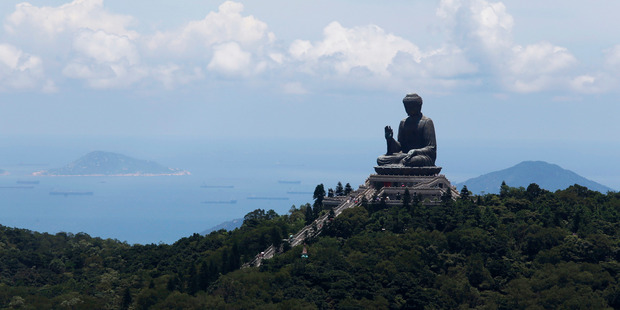 Ms Thomson, if you are out there, you'll be happy to know Snow White is doing fine, although she is still single. It seems her handsome prince hasn't yet found Lantau Island.
How exactly she ended up here I can't say and, going by the sign alerting passers-by to her availability, I don't know how long she's prepared to wait for a royal wedding.
"Spouse Wanted," reads one sign while, at the top of the caged enclosure where Snow White waits with seven slightly crazed-looking dwarfs, there is another sign that thanks Mrs Thomson from New Zealand for sending the statue.
And so she waits for love, like an out-of-place detail in a dream, a link to home that isn't much of a link at all.
It is an unexpected sight among the small shops and stilted houses of Tai O, a fishing town on the western side of Lantau Island, Hong Kong. The town still trades on its fishing village traditions and its markets are full of sights and smells which, depending on the individual, delight or challenge the senses.
Among the fresh fish stalls, large dried fish hang in store fronts and shrivelled sea creatures can be bought by the bag like beads from a craft shop. Visitors can feed on delicacies ranging from charcoal-grilled squid to boiled sea snails with spicy sauce. The town is also famous for its shrimp paste, which can be bought by the jar from a nearby house, where outside recently prepared ingredients bake in the sun.
The main market is a maze of partly covered alleys that provide shelter from the midday heat. But there is no way to hide from the sun as I try to find out who is trying to marry off Snow White. Almost every property along the narrow street is a small home that opens out into a shop front but inside Snow White's house all is quiet.
Maybe the owner has closed up shop to escape the sun. It is the kind of heat that seems to silence the world with its stillness. Dogs too tired to find shade lie in the dust, open their eyes as people pass but lack the strength to raise their heads. Even the insects that sing through the day seem to be conserving their energy. The only sound and sign of life is the clack-clack-clacking of a mah jong match being played in the house next door. A grey-haired woman appears to be making easy work of her opponents, a bunch of men, all much younger than her and, going by their relaxed dress, all locals. I stand and watch but it is as if I am not there. And that's OK. This is a town that relies on tourists but retains its slow-paced village charm.
It is easy to forget that the manic hustle and bustle of downtown Hong Kong is little more than a half-hour's drive away.
In the morning, when we left our hotel, the Harbour Grand Kowloon, with its amazing views across the water to Hong Kong Island, the weather was warm but humid. The haze was already clearing by the time we made our first stop on our visit to Lantau, at Ngong Ping to see the bronze Tan Tian Buddha. Instead of the strenuous and more time-consuming walk, we took the leisurely and just-as-scenic 5.7km gondola ride, which offers panoramic views that take in the surrounding islands, including the international airport that opened in 1998 on a largely man-made island annexed to Lantau.
Perched among hill forests where wild buffalo still roam, its eyes closed and said to be visible from Macau on a clear day, the Buddha is an image of tranquillity. At a height of 34m and weighing 250 tonnes, the Buddha was, until 2007, the world's tallest outdoor bronze seated Buddha. It may not be an ancient monument - it was completed in December 1993 - but it is still an impressive sight. A string of souvenir shops and restaurants leading up to the final set of steps that climb to the Buddha suggest most visitors are on the tourist trail rather than the path to enlightenment. But the nearby Po Lin Monastery, built by three Zen masters in 1920, with its vegetarian cafe, offers the lay visitor an insight, as well as a taste, of the Buddhist way of life.
Those interested in taking in more spiritual attractions can take a short walk from the Tan Tian Buddha to the Wisdom Path, a series of wooden pillars inscribed with ancient texts revered by Confucians, Buddhists and Taoists alike.
Lantau, though, is not just an island for those wanting to take a trip back in time or to contemplate on life. It has also become a shopping destination, and is home to Hong Kong Disneyland. The old Tai O police station, now a boutique hotel with the sort of views that once allowed officers to keep an eye on any suspicious activity at sea, is another attraction, allowing visitors to get a glimpse into the building's past while offering meals and unique accommodation.
Redeveloped under a Hong Kong Government scheme which aims to preserve historic buildings while finding new uses for them, it is also an example of the commitment being made to protect the past of a region renowned for its modernity.
I can't imagine the owner of Snow White had any official help in setting up his display, though.
The owner is known as Mr Lu. In his 80s, he has lived most of his life in Tai O and decorates his shop, known as the Tokyo Store, with calligraphy and paintings he does himself that relate to the current Chinese calendar year. However, I can't find any reason for Snow White's presence. Which, in its own way, adds to the charm.
By the time we leave Lantau, the weather has taken another turn. The sky has clouded over, rain is starting to fall, and the wind has picked up, meaning a bumpy ferry ride to Hong Kong Island on a stretch of water already chopped up by the passing of other boats.
It's been an entertaining day, and I wonder what visitors to Tai O might think of New Zealand after seeing the Snow White display. "It's like something out of a fairytale, with beautiful young women and short men who whistle while they work. Just be sure not to eat the apples."
Duncan Gillies travelled as a guest of the Hong Kong Tourism Board, the Grand Harbour Kowloon and Cathay Pacific.

Checklist
Lantau
Getting there
Cathay Pacific offers up to three non-stop flights each day from Auckland to Hong Kong. To celebrate Chinese New Year and the Year of the Snake, Cathay Pacific is offering a special airfare of $1610 return economy class. Tickets are on sale until February 25. For full details and reservations check www.cathaypacific.co.nz
Further information
Ferries run throughout the day from Hong Kong to Lantau.