A series of larger-than-life photographs confront and provoke thought.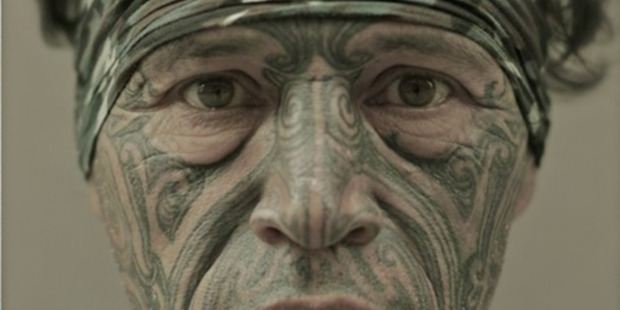 Photography, painting and sculpture all have their place in art shows this week. The photography is the most gripping. The exhibition Still, a first show by Nigel Swinn at FHE Galleries, has only six extremely large images. The size is not exceptional in itself as over-life size photographs have become familiar, but here the size makes them both confrontational and meditative at the same time.
Three of the photos show men with moko. Two show full-face traditional tattoos, while the other face is in profile and the tattoo is a more modern style.
The most initially striking are the two images of Tipene, a street activist with a full-face moko. One shows him with open eyes and a slightly open mouth. The blue of the tattoo and the colour of the skin are matched by the bandana wound around his head. The tattoo, which follows every line of his face under the eyes and around the mouth, is assertive, but the expression has a sense of puzzle at the world. In the second photo, Tipene's eyes are closed and the expression turns inward.
Not only is the detail of the face absorbing but together the works explore the complexity of a troubled but dignified individual.
The profile portrait of musician Tiki Taane shows the way the tattoo follows the line of the chin and involves the folds of the ears in a fascinating way. The profile emphasises the stillness that is part of all the work and relates to the adjoining picture of his father, Eukaha.
The quiet dignity of these men is contrasted with the image of a boy, Finlay with Open Eyes, freckles and all. It is not a pretty studio portrait but emphasises the complex interaction between the frank blue eyes and the push of the lower lip.
Larger-than-life portraits are a modern genre but this impressive series, special to New Zealand, is a splendid example.
Charlotte Fisher, whose exhibition Stardust is at Bath Street Gallery, has had a long career that has involved a number of public commissions. Her sculpture usually features wood, often as logs. There are examples in this show such as C, See, Sea, a letter C on top of a stone mounted on a solid pine trunk, and Stack, a tower of short logs in a stack made possible because of an unseen steel rod. Both have weight and presence.
In today's economic climate there is pressure on artists to vary their styles to accommodate different mediums. There is an element of wit when Charlotte Fisher makes We're Building a Better Life where she mounts on top of a pedestal a goatskin curved in a way she usually carves in wood. It seems ill-matched.
The wit extends to re-Klein-er, a big pillow referencing Yves Klein's famous International Blue accompanied by a brown furry object as footstool. The work cannot really sustain the witty reference in both colour and title.
A second artist at Bath St also explores new media. Tony Bond calls his collection of sculpture Clutch, that immediately evokes eggs. There is some aptness in the title because the show is almost three dozen small ceramic sculptures mounted on little brackets along one wall. Some have rounded ends like eggs but they also have a variety of lobes, holes, slots, crests and other excrescences. What they all have is an immaculate shiny surface in shades of pale pink, green, red and blue.
The variety of shapes show considerable invention and the objects have a curious life, like obscure sea creatures, but their power of suggestion is limited.
Another artist with a varied career is John Oxborough, whose work has often been figurative and about human relationships. In this show he turns his attention to landscape derived both from his present life on the North Shore and memories of his time in Otago. Both are recollections transformed by memory so they take on something of the quality of dreams.
The work is characterised by unusual harmonies of colour, which make them rich and atmospheric. The quality of memory is emphasised by the brushwork, which is free and seemingly spontaneous. Each touch reflects the mental state of the artist and is unrelated to natural colour.
This makes Brown's Island from Highbury tumultuous as the gestures lap into the sky. The series of works called Hills to Highcliffe are strongly painted landscapes, all with a valley sometimes marked as a road by a splash of paint.
The method does not have the rhymes and chimes that would weave a unity beyond the colour and the conventions for trees are particularly irregular.
As long ago as 1971 the cover of one of the first books on New Zealand art by Gil Docking featured a watercolour of Milford Sound by John Buchanan (1819-1898), a Scottish draughtsman who migrated to this country and became an accomplished scientific illustrator.
His dry topological drawing of the sound became iconic and has been in almost every history since. A comprehensive exhibition at the Gus Fisher Gallery accompanied by an excellent monograph by Linda Tyler tells all that is needed to know about the rest of his work.


At the galleries
What: Still, by Nigel Swinn
Where and when: FHE Galleries, 2 Kitchener St, to April 30
TJ says: A small group of large colour photographs that capture personalities, some with moko, in prints with subtle beauty of tone.
What: Stardust, by Charlotte Fisher; Clutch by Tony Bond
Where and when: Bath Street Gallery, 32 Bath St, Parnell, to April 27
TJ says: Contrasting styles of sculpture: one with large works in wood, stone and coloured cloth; the other small, ceramic, shiny with auto lacquer.
What: Landscapes, by John Oxborough
Where and when: Sanderson Gallery, 251 Parnell Rd, to April 27
TJ says: Landscapes of memory done with appealing combinations of colour.
What: John Buchanan: Art in the Service of Science
Where and when: Gus Fisher Gallery, 74 Shortland St, to April 27
TJ says: 19th-century illustrator who entered all the histories of art in New Zealand with one image of Milford Sound has the unknown rest of his work explored. John Oxborough's acrylic on canvas From Hinemoa Street; Charlotte Fisher's Stack.