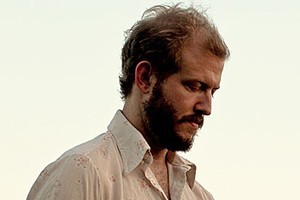 From folksy hipsters to cult indie bands, crazy circus freaks, martial arts dance troups and mohawked accordionists, there's something to please everyone one at the New Zealand International Arts Festival.
The event, which kicks off today, is taking over Wellington for the next three weeks, with performances held throughout the day and into the evening.
Here are nzherald.co.nz's top five must-see acts at the festival:
1. Bon Iver
Scoring folky singer-songwriter Justin Vernon and his band Bon Iver is a real coup for the festival. The Holocene singer's first New Zealand shows are both sold out, and tickets have been going on Trade Me for up to five times their face value. Expect to see plenty of swaying, lighter waving, scraggly beards - and possibly a cardigan or two when the falsetto king hits the stage next Monday and Tuesday.
What: Bon Iver
Where: Wellington Town Hall
When: February 27 & 28
2. Circenses
You've seen a circus before, but you've never seen one quite like this. Belgium's Circenses is described as an "entralling and eye-opening" experience - but this is definitely a show of two halves. The audience is split into two with each half seeing completely different shows, before swapping over during the interval. And this is one circus that's in demand - the first five shows are already sold out.
What: Circenses
Where: Waitangi Park
When: Febraury 29 - March 4, March 7-18
3. Tinariwen
If you only see one Grammy-winning desert blues band formed in Libyan refugee camps, then check out Tinariwen. They've been going for 30 years, recorded five albums and have received high profile praise from the likes of Thom York, Henry Rollins, Stephen Colbert and members of TV on the Radio. And if that's not enough, last year's album Tassili just won the Grammy for Best World Music Album.
What: Tinariwen
Where: Wellington Town Hall
When: Tuesday, March 13
4. Kimmo Pojhonen
Finnish accordionist Kimmo wants to change attitudes towards his favourite instrument - so he pushes boundaries by sampling weird and wacky sounds (his last show included a tractor), then looping them to create "musical storms". He told nzherald.co.nz his show would be super loud with a surround sound speaker system, so ear plugs could be a good investment.
What: Kimmo Pojhonen
Where: Telstraclear Festival Club, Odlin's Plaza
When: March 3 & 4
5. Death Cab For Cutie
Any indie kid worth their weight will be hanging out for Death Cab For Cutie's show next Wednesday. The Washington alt-rock act have been going for 15 years but in another coup for the festival this is the band's first New Zealand performance. Known for heartwrenching tales of failed romance, the band promised nzherald.co.nz they'd be playing for as long as they can, with their set including older songs and tracks from last year's excellent Codes and Keys.
What: Death Cab For Cutie
Where: Wellington Town Hall
When: Wednesday, February 29
* For more information on the festival and what to do in Wellington, visit wellingtonnz.com and festival.co.nz.
- Herald online