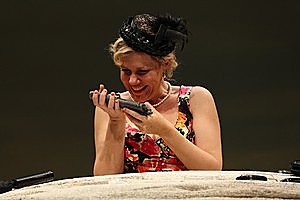 A seldom-produced work by one of the 20th century's most influential writers affords an opportunity to experience the genius of Samuel Beckett in its most minimal form.
The play is essentially a monologue from a middle-aged woman who is slowly sinking into a mound of earth.
She faces up to this existential nightmare with a chirpy "can't complain" optimism - constantly grasping at the mundane things that let her enjoy her "happy days".
As to what it all means - critics must tread carefully. The programme notes remind us Beckett was scathing about any attempt to discover meaning in his work. He advises a simple recognition that the thing is what it is.
On the other hand, every aspect of the play seems specifically designed to provoke the audience into asking what is it all about? A way out of the conundrum is suggested by Beckett's fondness for the word "perhaps" which encourages each individual to spin his or her own meaning out of the play's potent ambiguities.
Robyn Malcolm's brilliant interpretation makes it clear that the true horror of her situation lies not in loss of mobility, physical discomfort or even the prospect of her approaching obliteration.
What drives her to despair is isolation - the fear that no one will respond to her voice. And her moments of joy come whenever she manages to coax a flicker of recognition from her aloof and infuriatingly self-contained husband.
Malcolm's performance is an absolute marvel. The play's restricted movement highlights the qualities that make her so compelling in the small screen close-up. Her smile lights up the whole theatre while moments of anguish bring forth real tears.
Cameron Rhodes has few lines but he uses them superbly to build a convincing portrait of a man who has retreated into a bleak cave of self-sufficiency.
A play of this kind will never be everyone's cup of tea. But it is impossible not to be impressed by how Beckett's acceptance of a life without purpose leads to a profound affirmation of our shared humanity.
Ironically Beckett conjures up his godless, indifferent universe with such rigour that his vision is likely to pose a greater challenge to the glib certainties of the new atheists rather than to those of us who hold a religious faith.
What: Happy Days.
Where: Herald Theatre, The Edge
When: Until September 18.