The young people of post-war Germany had no poppy to lighten a collective guilt.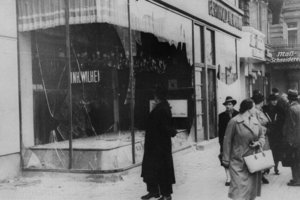 On Anzac Day people in this part of the world commemorate the cost of war, loved ones lost, families ripped apart and lives forever changed. They wear a simple, red poppy flower on the lapel to show solidarity with those millions whose lives were cut short, whose unmarked graves lie hidden beneath the poppy fields of the world. The humble flower with its blood red petals has become a symbol of remembrance and the renewal of life.
Growing up across the frontline in post-war Germany, remembrance lacked this spark of colour. It was like living under a shadow. Germany had become the leper of the world. Defeat floated like a fog in the air, though the physical scars had been repaired by my time. The atrocities of the Holocaust and the Russian front hung over us like a festering injury. Looking back as an adult years later, it seems everyone lived bent down under an enormous, invisible corporate burden.
Our once proud nation was now marred by a frontline of landmines and barbed wire, an ugly scar splitting the country. The heart of its renowned capital, cruelly cut in two by a wall, lay isolated between opposing ideologies, stripped of capital status. Germany deprived of a national identity, was caught in the no-man's-land of history, reduced to shards, like our national anthem. How do you recover from that?
Though our tiny rural village had escaped the ravages of war itself, our families had not. Most of the men I knew never talked of what had happened to them on the front, but the scars they carried were all too visible. Of 15 cousins in my Dad's family, only three returned home. My Dad's youngest brother was lost at just 17 years of age. No one in my Mom or my Dad's family had been politically active or members of the Nazi party, but that didn't matter now, we were still all German.
During history lessons in school, the subject of the war was barely touched on but for a brief outline of dates and facts, a mere skeleton approach, theoretical rather than personal. How and when I learned about the Holocaust, I can no longer remember. The reaction of most adults was to point out that they had not known anything about the atrocities till after the war. For most, it was too close to home.
What snippets sank into my memory, of life during the Third Reich, originate mainly from my Mom, her experiences as a teenager under the Nazi regime, what her three older brothers had shared, and what she overheard from adults.
The most vivid of these is her recollection of what became known as "Kristallnacht". She was 15 and working as a maid on a farm on the outskirts of town. She had been visiting with her family that day and was walking back to the farm accompanied by the spinster sister of the farmer's wife. By the time they closed in on the town, night had fallenand they saw a fire raging in the town centre. They worked out that the building aflame was the local synagogue. It was obvious to the woman that the rising anti-Semitic rhetoric had boiled over into violence. As they stared in horror, the lady by her side, a deeply pious woman, uttered a statement that is still with my Mom to this day. She said: "Lydia, mark my words, the way you now see the synagogue burn, you will see the whole of German go up in fire and flames."
I cannot say if I was the only child who felt the cloud of doom or what caused me to notice this sense of shame and guilt that seemed to engulf us. Maybe I picked up on the feelings of the adults in my family and it shaped my identity. Though I could not have put words to what I was feeling, I detested being German. So strong was this sentiment that I was always pleased when I was mistaken for being Dutch or Scandinavian by the foreigners I mixed with. The massacre of the Israeli Olympic team at the Munich Games in 1972 only reinforced this. How could we have allowed it to happen - again?
The confrontation of my inner conflict eventually came when a close friend invited me to join her on a trip to Israel. The uniqueness of the land, the depths of history visible at every turn and the vibrancy of its people surprised me. How could so much life and beauty grow out of the ashes of something as heinous as the Holocaust? Every tour to the Holy Land takes you to Yad Vashem, the Holocaust memorial in Jerusalem. I remember walking into the hall of remembrance, cool, windowless, lit only by the flame burning permanently in its centre. The feeling of utter desolation and despair was tangible.
On we walked through the adjoining museum, wall after wall covered with faces, scenes of the unthinkable horrors perpetrated by my people. Never had I felt so German and so utterly naked, dripping with guilt, a million unseen hands pointing at me. There were no words, as I allowed the awfulness to wash over me of who I was and what my nation had done. The heaviness and shame of this experience was to stay with me for years.
Yet Israel drew me like a magnet. I had to go back, perhaps to find the answer to who I was as a person of German heritage. Two years later I returned with some friends to work on a kibbutz near Haifa. Most of the families there were German-speaking immigrants from Eastern Europe, many of them survivors of the Holocaust. To my surprise they were happy to see us German girls and we became good friends with some of them. To my question of how they saw us Germans, they unanimously agreed that they had no issues with us younger ones, that we could not be held responsible for the deeds of our elders. Though I appreciated the distinction, it did little to alleviate the burden I carried, nor did it resolve my identity crisis of what it means to be German. But at least I could do a small part to help rebuild the land, my own private bit of restitution.
Later that year a friend took us to the city of Ashqelon for a holiday. During this stay she introduced us to one of her neighbours, Rachel M., a German Jewish Holocaust survivor, the only member of her family to have escaped. I do not know if she sensed the load weighing me down, all I remember is Rachel's eyes seeking mine and her voice telling me "I forgive you as a German for what your people did to my people". I can only speculate what pain she had to overcome to utter those words, but there was no bitterness nor any sign of resentment in her eyes, just love and compassion. She would repeat the same words to my sister and brother in law, who I introduced to her some weeks later while they were visiting me in Israel.
Rachel's profound act of forgiveness set me on the path of accepting who I am as a German. It set me free to look beyond the failure of my people and embrace our rich history and realise the numerous positive contributions Germans have made to the world. I also discovered that my personal journey was shared by many of my generation, who like me received forgiveness on behalf of themselves and our nation by other Holocaust survivors of Rachel's stature and grace.
Days of public repentance were held in Nuremberg, participated in by Christian leaders from all over Germany, who confessed their guilt in the Holocaust and asked for forgiveness from the Jewish people and the world for atrocities perpetrated against them and other minority groups and ethnicities during Nazi rule. In an unprecedented act of humility the first democratically elected Parliament of the German Democratic Republic issued an acknowledgment of guilt for their part in the Holocaust and World War II, as well as their attitude towards Israel and its people while under the communist regime.
Today Germany is no longer divided. The world watched in awe when men and women from opposite sides of the German divide crossed the frontline and embraced each other over the Berlin Wall. The excitement of this momentous event send shock waves around the globe that would see the Iron Curtain crumble in its wake and communism fall. Yet few caught up in the spectacle were aware of the poignant manifestation of forgiveness underlining this historic event. The day was November 9th 1989, the 51st anniversary of Kristallnacht!
Ulrike McCullagh was born and raised in a tiny rural German village in the hills west of the Rhine Valley. She met her Kiwi husband in South Africa, moving with their family to New Zealand seven years ago.