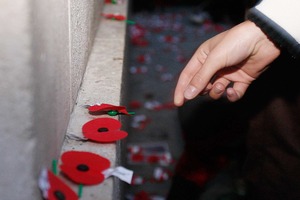 Fragile old letters are the lasting reminders of a young wife's lonely wait. Andrew Stone tells her story
The notepaper, 70 years old, feels soft and fragile. Time has yellowed the pages but the handwriting survives - along with the intimacy that makes the correspondence both sorrowful and captivating.
Here is Roy Herrick, at war in Crete, writing to his new wife Dorothy half the world away in the Auckland suburb of Ellerslie.
The date is May 8 1941. Roy - Second Lieutenant R.S. Herrick, 4th Field Regiment - settles down for the night "with one blanket and an anti-gas cape" and admits to feeling a bit "downhearted".
"I often think," he writes, "when it rains a bit and things get pretty damp that probably one of these days you'll have a bad-tempered husband with sciatica or lumbago as a result of this little show when all these months I could have been nice and warm in bed with you to pet and cuddle and to feel all pink and warm and inviting."
The 26-year-old reached Crete with thousands of other Allied soldiers after they fled Greece before advancing German forces.
Anzac troops, reported Herrick, were "bombed and machinegunned to hell by the dirty Hun who shot down surrendering troops out of ammunition and killed our wounded on the field."
After engaging the Germans in Greece, Herrick had come to loathe the enemy. "I would not now dream of taking a Hun prisoner, even if he were the father of 12 children," he told Dorothy. "We are determined to fight till they are wiped off the face of this earth and the air is clean to breath again and not contaminated by such scum."
Herrick came to love Greece and admire its people. There were no "conscientious objectors or shirkers", he observed , but the "old white-headed men" defended their nation only to be "mown down by the ruthless and mighty German war machine and now the country is enslaved to those Nazi beasts."
He was lucky to survive a pounding in the winter snow high on Greece's Mt Olympus, when a shell exploded "10 feet away", killing one gunner, wounding another but leaving Herrick unscathed. "I'll tell you about that little battle sometime when I feel in the frame of mind to write about it," he promised Dorothy. In one note he enclosed a rose, one of three given to him by an old man in Athens, as the New Zealanders were leaving the country.
Wrote Herrick: "I put them in my gas-mask haversack for safekeeping. I will send them one at a time to you for souvenirs - perhaps they will still have their fragrance when you receive them though the red will have aged to old gold. Fondest love, Roy."
ROY HERRICK grew up in Wellington and was dux at Wellington Technical College. He moved to Auckland and became an Auckland City Council traffic officer before enlisting for service.
In the Army, the bombardier wrote almost constantly to Dorothy, and dreamed of the day when the war would end. "When I return," he concluded in one note, "we will have to start right back from Dec 1939 and gee, won't we move fast. "
He promised, in a note sent from Wellington on January 3, 1940, to compose a page a day, and asked that his dispatches be kept as a diary.
He was a little tipsy when he made the request, because the letter - addressed to 'My Dearest Little Wife"-
is not as careful as his exchanges from the battlefront. "To tell you the truth, " he confides, " I had several drinks in the Sergeant's Mess to try and drown my sorrow." It didn't work: "I find that it is too deep-seated a love for you to be temporarily quelled by vulgar booze."
When he farewelled Dorothy, the couple had been married barely two weeks. They tied the knot at Greenlane Congregational Church on December 15. A week later, Herrick told a white lie to his commanding Army officer when he sought permission to wear civilian dress for four hours on December 23.
"I am to be married on that date and as it is to be a dress wedding I would be most grateful if you will grant me the necessary permission."
Between the first ceremony and the family party, the young couple, both trampers, stayed a couple of nights in a hut in the Waitakeres. At Christmas the newlywed Roy Herrick was back in camp in Ngaruawahia, his young bride at home in Ellerslie, where they lived with her parents.
A day or so later, Herrick caught the train to Wellington and sailed with 6175 troops and 354 officers in a convoy for the Middle East.
The soldiers, part of the Second NZ Expeditionary Force, reached the Suez on February 12, and headed to Maadi Camp near Cairo. More than 70 letters from Herrick to his wife made it back to New Zealand before they stopped coming. The last treasured envelope to reach Dorothy held the five-page note of May 8, 1941. But after that, nothing.
Dorothy filled the emptiness with desperation as she pleaded with military authorities for news of her husband's fate. In mid-1941, the Minister of Defence, Fred Jones, sent a telegram advising with "much regret" that Roy Somerville Herrick, serial number 1498, had been reported missing. Knowing that hundreds of defeated New Zealand soldiers on Crete had been captured by the Germans, Dorothy made inquiries with the Red Cross in Geneva, the clearing house for information about prisoners of war.
The reply, dated February 2, 1942, contained the bleak news that "our records contain no information that might be of interest to you". A year later, after letters Dorothy had sent to her husband were returned, she heard from defence officials at the NZ Military Forces Base Records in Wellington. There was still no word of Roy but equally "no information which would justify Sergeant Herrick being regarded as other than missing."
In August 1943, the records office provided a glimmer of hope, advising that the NZ High Commission in London had been given a German list of British soldiers' graves in Crete. One grave had the number 1490 and the name "Roy Herryck".
The letter went on, in its numbing bureaucratic tone: "The number and name could refer to your husband, but due to the discrepancy in the number and spelling of the surname and, in view of the fact that the name and number of at least one New Zealand soldier who has since been reported safe are also given in the list, the information contained therein cannot be accept(ed) as official."
For the rest of the war, Dorothy lived in dreadful suspense, with nothing for comfort but her cherished cache of letters; clinging to the faint hope that Roy had somehow survived the disastrous Battle of Crete. As late as December 1945, three weeks before Christmas, and long after Germany had surrendered, Base Records still listed him as missing.
On April 24 1946, Defence Minister Fred Jones sent a hand-written telegram to Dorothy. It contained the news she had feared: "Deeply regret to inform you it has now been established that your husband 2/Lt Roy Somerville Herrick was killed in action Crete Second June 1941."
Herrick died at Galatas in north-west Crete, trying to turn back overwhelming numbers of Germans. His final action is cited in the NZ Official War History, where the date is given as May 25. There were five soldiers so caught up engaging enemy snipers that the advance of hundreds of enemy troops through a vineyard caught them unprepared.
Three survived, the war history reported. Roy Herrick and Warrant Officer Leslie Harding were killed.
It took nearly five years for the painful news of Herrick's death to clear the fog of war and reach his patient wife Dorothy on the other side of the world. She knew, finally, the reason that his letters had stopped arriving.
Roy Herrick
Roy Herrick's service is commemorated in two places. His military history is on the Cenotaph Database at the Auckland War Memorial Museum, the massive record of more than 120,000 New Zealanders who have died serving their country. His name also can be found at the Phaleron War Cemetery in Athens, inscribed on face 12 of the Athens Memorial. The cemetery honours nearly 3000 members of the land forces of the Commonwealth who lost their lives during the campaigns in Greece and Crete.