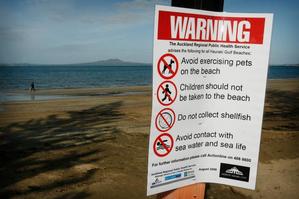 Public health warnings remain on Auckland beaches after scientists found the toxin which killed a dog on the North Shore could kill people as well as animals.
Analysis of vomit of the dog which died after visiting Narrow Neck Beach showed it died of tetrodotoxin, a poison found in tropical puffer fish which had also been found in a sea slug sample taken from the beach.
"This substance is extremely toxic and potentially fatal to humans and animals," a statement from the Auckland Regional Public Health Service said.
"It is not known how the slug came to contain the toxin and investigations are continuing.
"While evidence of the toxin has not been found on other beaches it is too early to rule this out. This may also be the toxin that has affected other dogs."
The service said dogs and children should not be taken to Hauraki Gulf beaches. People should not handle any marine life, especially dead marine life or birds, nor collect shellfish.
It also said people should not swim from beaches, but that swimming off boats was seen as safe and it did not advise any ongoing restrictions on recreational fishing.
Anyone who develops illnesses within an hour of exposure should seek medical help and they should contact vets if their pets become ill.
Tests done by the Cawthron Institute found the tetrodotoxin in the vomit of the deceased dog was also in a sea slug sample taken from that beach.
However, monitoring of Hauraki Gulf beaches found the dead sea slugs only at Narrow Neck Beach and neighbouring Cheltenham Beach.
"This tends to suggest that the issue could be localised," Auckland Regional Council spokesman Andrew Bristol said.
Mr Bristol said the council would continue monitoring the beaches for sea slugs and would test any samples for the toxin.
Deaths of pilchards, penguins and dolphins in the area were still being investigated.
ARC chairman Mike Lee said the Hauraki Gulf was a national icon and marine park and that Aucklanders must be vigilant to maintain the gulf's health and vitality.
- NZPA