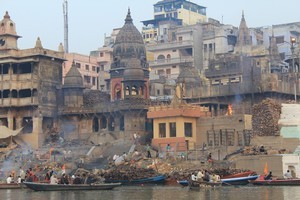 When I first came up with the idea for this overland trip home, I wanted to go through Azerbaijan after Georgia and then cross the Caspian Sea to Kazakhstan and reach China at its most western border.
However Kazakhstan would only approve visas for us if we had a China visa. It seemed easy enough on paper, but we hadn't taken into account China's paranoia about letting journalists within its borders.
Charlotte and I have both been working for BBC World News in London for the past few years as journalists. So when we applied for three-month tourist visas to China in the UK, we were told we couldn't get a visa for more than a month because of our occupations - and that month would start as soon as the visa was issued.
So that was our dilemma. China was meant to be a major part of our trip, and if you look at a world map it's a vital part of a route home unless you enjoy regimes and war-torn countries and don't mind dealing with roadside bombs and the Taleban.
I guess we could have headed to Moscow, jumped on the Trans-Siberian train and then tried to race through China to Laos - our entry point into South East Asia. But that seemed too much of a stretch in four weeks, and in winter would be one hell of a slog.
After extensive research and calls and emails to embassies, our only viable option was to fly to India and get the China visa there. It was the only place close enough to allow us to get in and out of China within a month.
We decided that we'd fly into Shanghai, and then travel southwest until we linked up with our original route.
It was still such a shame, because we really wanted to see Central Asia and our dream of an overland-all-the-way journey home was out the window because of red tape. If you ever try a trip like this yourself and aren't a journalist though, you'll be fine.
So Delhi it was and we begrudgingly jumped on a plane for the first time in our trip. Once we landed we immediately headed to the China visa application centre and all went well with the application.
We had a few days before our flight but we definitely didn't want to spend them in Delhi. Charlotte had been here before, I'd been twice before - for work and play - and travelled throughout the country.
It's a big hive of frenzied madness. If you want a taste of what happens to a city when its population spirals out of control, then this is the place to be. Add some sickening pollution, a big wad of corruption at all levels, chuck in a ridiculous and ever-widening wealth gap and what you have left is India's capital.
I'm being bleak but don't get me wrong: it's a place everyone should come to realise just how good we have it in New Zealand.
We decided make a quick dash to Varanasi a place we both hadn't been before, but Delhi wasn't going to let us escape that easily.
Charlotte came down with a severe bout of Delhi belly. It first hit her on the overnight train where we were sharing a small cabin with a couple of Indian blokes. The poor thing had to endure one of her worst nights ever, dealing with constant visits to a less-than-average rocking toilet.
To make it worse, the train ran three hours late, so the overall journey took around 15 hours. She was a trooper though and had to be - it was only going to get worse for her.
Varanasi is one of India's oldest cities and lies on the banks of the river Ganges. Both the city and the river are considered sacred by Hindus - and those of other religious persuasions too - because of its integral role in their lives - and deaths.
This is where people are cremated. Groups of men carry bodies on their shoulders through the city to the river bank. The bodies are cleaned in the water and then burned out in the open.
Charlotte had slept most of the day, she was feeling very weak. She only left the room once to join me for some tea on the top of our hostel.
We were only there for five minutes before one of the hostel workers came up asking: "Are you room 208?", which we were. He said: "Monkey in room."
So down we ran, but monkey was gone, monkey was on the balcony looking at me whilst taking a pee. Then I swear he gave me a grin and ran away. We saw he had been in the room, he'd taking a liking to Charlotte's toilet bag and was fascinated with feminine products. We hadn't been warned that the monkeys around here are like gangs and think they own the place.
Later that evening Charlotte felt a lot better and thought she was up for a look at the cremations. Not quite knowing what to expect, we ventured along the river bank and soon saw smoke rising from a platform above us.
A man, obviously in charge spotted us and came down. His eyes were wild, his teeth and lips stained red from chewing on Betel leaf and Areca nut - a type of drug he was obviously high on. He asked if we wanted to have a look.
Charlotte said she was up to it, so he pushed us through crowds of locals who were chanting, drumming, loitering and took us up some stairs to the platform. We got to within five metres of where the cremations were taking place. He wanted to take us closer, but I said that was far enough, thanks very much.
And there they were, six bodies, in full flame. There was absolutely nothing left to the imagination here.
Not being used to this, I felt like I was doing something very wrong watching someone being burnt. But when I looked around and saw that to the locals this was just a normal everyday occurrence, I just had to deal with it. There was something in me though that kept making me looking away. I found myself just taking peeks, not wanting to be a voyeur.
The guy in charge was right in front of us, red saliva kept spraying on our faces as he explained to us the process, and that he needed donations for the wood for the pyres.
I realised I hadn't checked on Charlotte who was just behind me, and the poor girl was green. With the hyped-up guy in her face, the smoke of burning bodies wafting over her, the fact she hadn't eaten all day and her belly already in a state, she was going downhill quickly.
I grabbed onto her as she was about to faint and had to help her down and away from the madness. The rabid guy kept shouting at us all the way down, demanding money.
Early the next morning we were in a boat to see the sun rise on the Ganges. Charlotte had slept well after her ordeal and assured me that she was strong enough now to deal with a cruise past where all the bodies were still smouldering.
The banks come alive as the sun comes up, a real spiritual and important daily event for the locals. It was beautiful, tranquil and an amazing setting with the temples all along the riverbank surrounded by colourful locals as they bathed themselves.
Even though they're surrounded by sewage and stinky rubbish, it's still sacred to bathe in the holy water. Officially the river is one of the most polluted in the world, the water is at toxic levels.
Then the boatman said to us, "there's a body".
Right there, floating slowly past us, only a metre away was a rotting, bloated corpse. Its contorted face looking straight at us with a decayed grin.
I can't describe the smell to you, and I won't. It was then we found out from the boatman that not all people are cremated. Many bodies - for reasons ranging from illness to stature to a lack of finances - are simply floated into the river.
Already shocked at the people bathing only metres away, we had to put their actions into a whole new perspective. Yikes!
Next up we're facing a dash back to Delhi and then we're off to the Far East and the thriving and futuristic city of Shanghai.