How did an evening out on the town with workmates lead to the violent assault and death of Sky TV employee Billy Dawson?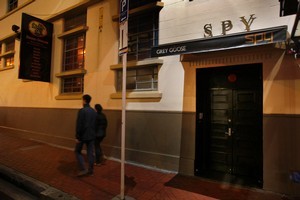 When Billy Dawson left a bar at Auckland's Viaduct Harbour in the early hours of the morning he passed a group of young men he'd never met before - but their collision would change all their lives forever.
It was a typical scene from what could have been any ordinary night out. Even the drama that followed is one often repeated at nightspots throughout the country: strangers meet, something triggers a fight, punches are thrown and then everyone moves on.
Except last Friday morning Dawson, 34, couldn't move on. With a single punch he was knocked to the ground and died hours later from severe brain injuries in hospital.
The death occurred close to Party Central at a time when Auckland is full of Rugby World Cup tourists. It's the side of New Zealand's drinking culture that Cup organisers wouldn't want the world to see in what has so far been a largely trouble-free tournament.
A senior police officer this week said there had been plenty of disorder in the central city but no major increase in crime.
The World Cup was the reason Dawson and his co-workers found themselves at the Viaduct last Thursday evening.
The group was unwinding after a relentless schedule covering the matches up and down the country and had a barbecue together before heading into the city.
At some point Dawson wandered off from the group and went to Spy Bar by himself. No alarm bells were raised - one friend told the Herald it was quite normal thing for him to "go on a mission" by himself and it was no great surprise when he suddenly disappeared. There was an expectation he would either return or would be all right by himself.
A number of people were heartbroken they couldn't be there for him when he needed it, said another friend.
Police are still combing through CCTV footage so his exact movements are unclear. What is known is he had been at Spy Bar for over an hour, by himself, chatting to staff near the bar. His behaviour hadn't caused any alarm bells there with reports he appeared to be a "normal, good-mannered guy, nothing wrong" and no hint of what was about to follow.
It was the same mood his friends last saw him in. Dawson walked away from his mates; the next time they would see him would be lying in hospital hooked up to machines that were keeping him alive long enough for them and family to say their goodbyes.
As the night went on there was an awareness from the group that Dawson hadn't rejoined them.
Some are believed to have tried contacting him, through phone calls and text messages, but there was no reply. At Spy Bar Dawson finished chatting to the staff and set off, walking out of the bar past a crowd near the door.
No one knows where he was going. Had he had enough and was calling it a night - he was due to be back on duty at Sky in only a few hours time - or was he going to find his friends elsewhere on the waterfront?
Whatever his intentions, he left the bar and somehow clashed with at least two young men standing near the bar.
It seems likely, given Dawson's reported good spirits, that it was an accidental stumble, or mistaken shove or maybe a quizzical look, but tempers flared and there was some form of altercation.
Brother-in-law Coen Lammers this week said the incident was "totally random" but the danger always existed when people had drunk too much. Lammers - who had known Dawson for more than 20 years - described him as happy drunk, and said there was never any aggression.
The stoush outside the bar didn't last long and he'd started to walk away but was reportedly followed by one of the group.
Friends and family of Dawson had both heard he'd said something to the pursuer as he walked away, but what followed next will form part of the prosecution case against the arrested men.
The Herald understands he suffered a brain injury caused by the force of the punch to his face. The back of his head was also badly damaged in the fall.
Police have charged three men, Kit John Murray, Mona Christo Feterika and Antoni Te Moko Rogers with assault but more serious charges are likely to be laid next week.
In court this week Murray, who police believe threw the fatal punch, sought to be released on bail.
The application was denied but the court was told he was at the scene.
"The defendant, when interviewed, has placed himself at the scene, has placed himself in some confrontation with the victim," police prosecutor Sergeant Paul Wightman said.
Asked to comment on what could have led to the the confrontation, Lammers said: "One of his friends said [Dawson] could act like a kid at times so maybe he felt a bit too safe in his big body."
Despite that, it was a great comfort to the family, his sister Suzi, brother Sam and parents Hector and Lee, that he had been well-behaved and wasn't a "blubbering, drunken mess" prior to the altercation.
Lammers said Dawson was "no saint" - he loved his poker and could be disorganised - but was always there for his mates and his family.
"He never really let them down ... he was always the first guy someone would go to if you needed help. Even if he only had five bucks in his pocket he would still buy someone else a beer first. He was that kind of guy - so this is totally unfair."
It was this point that was proving most painful for his workmates who lost track of him while they were out.
Lammers said they were struggling with that. "It's unfortunate all his work colleagues are feeling guilty and cut up about the fact they parted ways."
Sky Television's Tony Raynor said a number of staff were taking a break from their Rugby World Cup semifinal preparations to fly to Christchurch for the funeral.
Raynor estimated most of Dawson's friends in Auckland were his Sky colleagues, which he attributed to the factors of working in a close team environment and shift work.
Auckland City police Detective Inspector Scott Beard said the three men didn't flee the scene as such - "How often does this happen at the Viaduct?" - but were quickly found by officers in a bar in town.
Reports of the death and its alleged links to drinking and casual violence are disturbingly familiar in this country and across the Tasman. Queensland police launched a campaign in 2007 called One Punch Can Kill in an effort to curb violence among young males and remind them of the consequences of seemingly simple acts of violence.
In 2009, a Law Commission report suggested a raft of changes to drinking laws to try and rein in New Zealand's culture of binge drinking. These included more taxes on alcohol, bigger restrictions and powers around licensing, shorter opening hours for pubs and changes to the purchasing age.
As part of their research in compiling the report, commission president Sir Geoffrey Palmer visited pubs and clubs to get a first-hand glimpse of the late-night party scene. He was shocked.
"There were scenes of chaos and disorder. I was surprised by it. We all were. I did not realise the extent of the disorder and the burden on police resources."
The scenes were not ones "any civilised society should relish" he said at the time.
In response, the Government's Alcohol Reform Bill include a split age of 18 and 20 for purchasing alcohol, greater powers for local communities in determining the numbers of bottle shops in their areas, and cracking down on the supply of booze at parties including after-ball functions. That move would mean "reasonable consent" of parents would need to be obtained for under-18s, even in private homes.
Yesterday, Billy Dawson was farewelled at a moving funeral service in his home city of Christchurch. Despite the circumstances of his death his family do not know who was involved, preferring to concentrate on him.
"People have said to us, 'who are these guys, what happened?'," said Lammers. "But we're just totally focused on him."