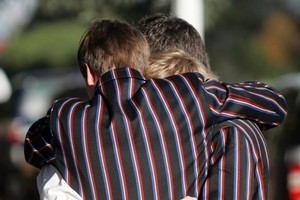 When a tragedy occurs, our impulse is to demand answers, to want something - anything - done to stop it happening again, to pin blame.
In the wake of David Gaynor's death, fingers are being pointed at King's College. Paradoxically, the school is being attacked for its exclusivity and for failing to cocoon its pupils from the outside world.
King's today is a different school to the one I attended, but I suspect it's now a closer reflection of the wider community than when it was essentially an English public school transplanted to Otahuhu.
Auckland has changed; the country has changed. Back then conspicuous consumption was frowned upon and, anyway, our economic settings weren't conducive to it. Now our economic settings encourage it and the consequences, good and bad, are plain to see and hardly confined to Auckland's plush enclaves.
As a private school detached from its eastern suburbs catchment area, King's is better placed than most organisations to quarantine itself from the community and resist social and cultural trends.
If King's sought to do that, it might provide some comfort to anxious parents in the short term but, long term, it would make the school irrelevant: a hot house producing exquisite flowers that would wilt on exposure to the outside world.
There have been calls for the drinking age to be raised to 21. While there may be good grounds for this, they haven't been spelt out. Thus far we've just had sweeping assertions that it would prevent similar occurrences and reduce the social ills associated with young people and alcohol.
There are obvious counter-arguments. The law as it stands didn't prevent this tragedy and prohibitive measures often produce the outcome they're intended to prevent. Then there's the anomaly that much of the responsibility for enforcing the change would fall on those who make their living selling alcohol.
It would take us back to a situation where you can be old enough to vote and be sent to a war zone, but not to go into a pub. And, of course, there's the fact of life that telling teenagers they can't do something has the same galvanising effect as red rags on bulls.
Parents who serve alcohol at pre-ball parties also came in for criticism. "Don't people know," asked the Herald's Garth George, "alcohol is a powerful tranquilliser, a mind-altering chemical, a brain poison and a highly addictive drug?"
Well, yes, but that's like saying capitalism is an economic system that treats greed as a virtue, creates socially destabilising and morally indefensible inequalities. Or that the car is a people-moving device engineered to travel far faster than the speed limit, killing hundreds and maiming thousands each year. It's only telling part of the story.
Alcohol may be all those things, but it's also an immensely popular, legal recreational drug that's present at most social gatherings and, for the most part, used responsibly.
He went on to advocate substantial penalties for any person who supplies liquor to anyone under the age of 18 in private "since it is obvious that many parents cannot be trusted to keep their children safe from the depredations of alcohol".
Another way of putting it is that many parents can't be trusted to keep their children under lock and key.
My impression is that most parents go to some lengths to educate their children about the risks of alcohol. Short of chaperoning them everywhere, or not letting them out in the first place, it's difficult to ensure they never suffer a bad experience with it.
Do we really want parents copping "substantial penalties" for letting 17-year-olds have half a glass of bubbly at a family celebration?
That would amount to punishing the blameless majority to deter the brainless minority - who wouldn't take any notice of the legislation anyway - and make us a society in which children are encouraged to inform on their parents. Incidentally, those were two of Garth's objections to the anti-smacking bill.
Do we want to turn the clock back? In the days when we learned to drink in pubs, as opposed to family and social settings, and the web of restrictions and regulations surrounding booze gave it a black market allure, the complaint was that we lacked Europe's worldly attitude to alcohol.
The wisest comment in this heartbreaking affair came from David Gaynor's father who said his son's death "is a terrible reminder of human frailty and how it can turn badly ... in a few minutes, hours or days".