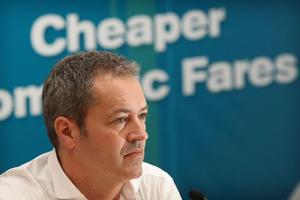 Air New Zealand says the decision to opt for Airbus A320s to replace its domestic jet fleet came down to the wire.
Both Airbus and Boeing were in the running until last week in what has been described as a robust battle between the rivals.
Air New Zealand announced yesterday it had won a bargain deal on 14 new Airbus A320 aircraft which at list prices are worth about $1.4 billion.
The deal is the latest heavy capital spending commitment by the airline which will see the composition of its fleet transformed over the next five years, costing billions of dollars.
Its fleet of 15 ageing Boeing 737-300 aircraft used on domestic routes will be replaced by the European-made planes from 2011. As part of the agreement the airline also secured purchase rights for a further 11 aircraft.
Air NZ's group general manager short haul airline Bruce Parton said: "This really big downturn has helped us a lot. It's a good commercial deal that should keep us [going] for 10 to 20 years."
Slightly better fuel economy, the quality of the aircraft and the price had swung it for Airbus, Parton said.
The A320's fuselage is also 40cm wider than the 737's which could allow for wider seats or a wider aisle.
"All of these little things added up to create a really positive spin for the A320."
The A320 has 171 seats, compared with the 133 seats on the existing 737 fleet.
The larger aircraft would enable increased capacity on routes that were beginning to face constraints.
Air New Zealand's existing fleet of 12 A320 aircraft is used on the short haul international network. Moving to one single-aisle jet aircraft type across both domestic and short haul networks would deliver efficiencies in maintenance, training, spares holding and fleet management.
Parton said it was possible the new aircraft would be used on international routes.
"We want to know whether we get better economic benefit by flying those for longer - in essence across the Tasman."
Rival budget carrier Jetstar uses A320s flying domestically in New Zealand and across the Tasman.
Parton said his airline was not looking to emulate the low-cost model and would retain the seating system that allows more space for higher-fare passengers and frequent flyers.
The airline has eight Boeing 787-900s on order - the first of which was due next month but is now subject to a three-year delay - and four 777-300s.
The win is particularly sweet for Airbus as it takes rival Boeing out of the domestic and short-haul market.