Aramoho Bowling Club's Gavin Scrivener lifted St Johns Club men's singles title on Saturday, but did not have as much luck in his team events on a busy Bowls Wanganui open finals weekend at the St Johns Bowling Club.
Scrivener was flat out as he appeared in all four men's championship games – singles, pairs, triples and fours – as well as a victorious semifinal for the Ryman Healthcare Open Triples.
It was the third time Bowls Wanganui have used the format of taking the finalists from their centre tournaments throughout the season and playing the final games at the same time and location.
The centre's flag was flown at half mast on Saturday in memory of the victims of the Christchurch shootings.
Competition started with the Triples semifinals – needed because the February 23-24 tournament was disrupted by wet weather.
In the women's draw, Wanganui East BC's Marlene Foster-skipped team with Judy Johnston and Ann Morgan beat clubmates Joan Raymond, Debbie Wildermoth and Wendy Black 23-16, while Wanganui BC's Pam Burgess, Dot Bellis and Denise Taylor defeated Wanganui East's Claire Ellen, Maria Klitscher and Bronwyne Gabby 20-16.
In the final, Foster's team beat Burgess 21-11.
For the men's draw, both semifinals were Aramoho vs Wanganui BC, as skip Phil Corney, Scrivener, and Selwyn Prescott won 16-8 against Greg Horne, Laurie Hocquard and Gavin Couch, while the Sean Johnson-skipped team with Keith Slight and Kevin Coombe beat Ray Savage, Steve Goater and Anthony Hanna 15-10.
In the all-Aramoho final, Johnson's team beat Corney's 16-14, having withstood a late comeback as they were up 15-4 after 11 ends.
Scrivener made a similar comeback in the men's singles final against Wanganui's Clint Park, and this time it was enough as Scrivener rebounded from being 18-12 down to winning a 21-20 thriller.
In the Cleveland Funeral Home women's singles final, Laird Park BC's Pauline Pirere defeated clubmate Shirley Dollimore 21-10.
Onto today and both the Ryman Healthcare Open Pairs and Fours titles.
The women's pairs final was again won by Wanganui BC's Dianne Patterson and Lesley Bourke, who defeated Wanganui East's Raymond and Margaret Blinkhorne 20-12.
There was another thriller in the men's final, which required an extra end as the team's were all square at the start of the last end, which was then killed.
In the finish, Durie Hill BC's Bruce Winterburn and Shane Broderson edged past the Aramoho pair of Slight and Scrivener 15-14.
The event concluded with the fours and the women's final was a great game, as Patterson and Bourke won another crown with Eleni Meimaris and Karen Hunt by beating Wanganui East's Foster, Johnston, Raymond and Eileen Anderson 13-11.
In the men's final, Wanganui BC's Clint Park, Ray Park, Bernard Anderson and Alan Dickson picked up a comfortable win over Aramoho's Corney, Scrivener, Prescott and Brendon Kenny, who conceded when they were 24-6 down after 12 ends.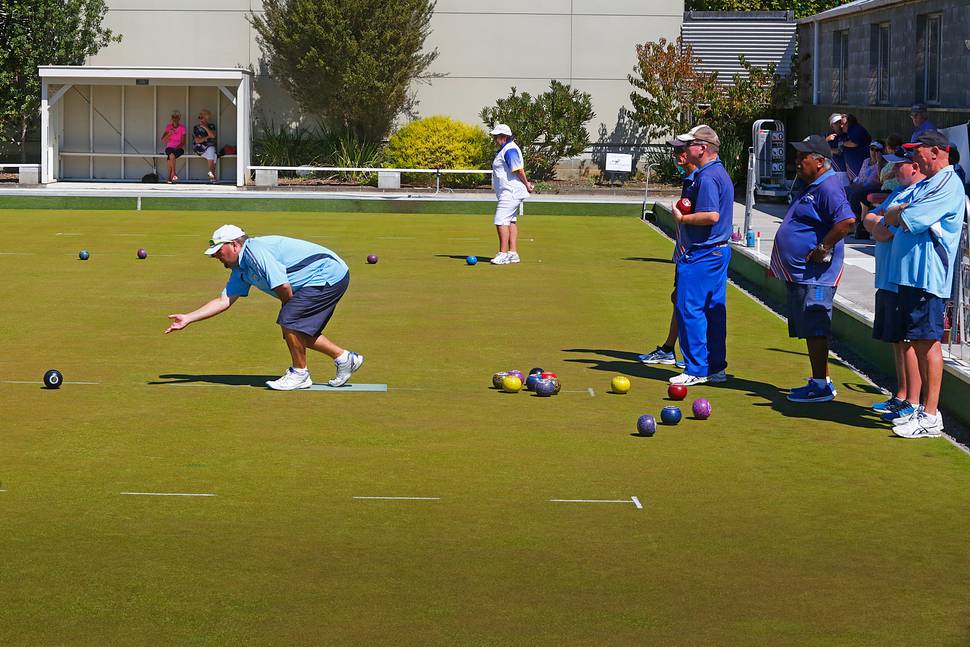 The Subway 2-4-2 Mixed Pairs final was not held, as Wanganui's Ray Park and Patterson got a default win over Gonville-Castlecliff's Chris Waterson and Anne Loveridge, which gave Patterson three titles and Park two over the weekend.