It was the biggest score seen in Wanganui Premier or Senior in quite some time as Utiku Old Boys ran riot over an understrength Black Bull Liquor Pirates in Taihape to the tune of a double take 110-0 on Saturday.
As the Pirates club struggled with both their teams travelling to opposite sides of the WRFU catchment – the Premier side heading up the Waitotara Valley to face Settler's Honey Ngamatapouri – Utiku's new coach Wiremu Hirini said only 13 senior players were there to play them at Memorial Park.
"I don't know what happened, but good on them for turning up. I've been in their shoes, playing for various teams."
When Utiku had scored their bonus point four tries in the opening quarter, Hirini loaned Pirates one of his four reserves to fill part of the gap, but the home side kept running for the holes to lead 47-0 at halftime.
The coach actually told his team off for being selfish and ordered them to work together as practiced in the second half, and the result was a staggering further 63 points.
"You treat it as a training run in the second half. They had a good scrum, but because of their player numbers, they ran out of field [to cover]."
Utility back Karl Farrell scored six tries, while young loose forwards Mitch Transon and Fergus Smith showed their potential.
Former club standout Taylor Transon has also returned this year to be first-five, after previously transferring to neighbours Taihape before a winter in the Hawke's Bay.
The Utiku Old Boys club has had a rough patch themselves in recent times, losing their original Senior team while the 1st XV pulled out of Premier.
But Hirini said they are determined to have a good 2019 to honour some recently deceased club members, with the goal of qualifying for the new Division 2 in the second round.
Wanganui Car Centre Kaierau started the 2019 Tasman Tanning Premier competition eager to show they are finally ready to deliver on their potential, and holding on to win a 35-31 thriller with Dave Hoskin Carriers Marist went a long way towards doing that on Saturday.
Both teams have added some exciting backline talent, as Apenisa Koroi, brother of NZ Sevens star Vilimoni and the top Premier tryscorer in 2009 with 29 tries, has returned home to the Kaierau wing.
Marist, meanwhile have taken advantage of the Whanganui Boxon going on rugby league hiatus this year to add Jamie Lee Robertson and Emitai Logadraudrau to their outside backs – the Fijian fullback Logadraudrau having been named in the initial Wanganui Sevens squad last year despite playing a different code.
Kaierau were glad to have first-five Ethan Robinson and winger Clive Stowers fit and ready, after both missed most of last year's club season with injuries, and Stowers scored their opening try as the visitors led 8-5 at Spriggens Park after 20 minutes.
They extended this to 18-5 at halftime, before Marist had a stronger second stanza, scoring four more tries.
Logadraudrau and flanker Dale Pene both scored doubles for the home team.
Despite being outscored five tries to four, Kaierau got home on the boot of fullback Shandon Scott, who landed three conversions along with three crucial penalties to set his team off on the right foot, given they lost twice to Marist in 2018.
Defending champions McCarthy's Transport Ruapehu appear not to have lost a trick despite having to go without the support of a senior squad this year, as they smashed 2018's wooden-spooners Harvey Round Motors Ratana 91-3 at Rochfort Park.
Midfielder Troy Brown, now without his erstwhile partner Craig Clare, who has moved to Waverley Harvesting Border, scored a hat-trick of tries, while fellow backs Mitchell Millar and Cody Scarrow got doubles, as did incumbent Steelform Wanganui flanker Jamie Hughes.
The home side, sensing the chance to open the game up, were a little too individually-focused in the opening quarter, but once they started to work together and run the angles, the dam burst.
Playing in the front row of a strong Ruapehu scrum, the Hakaraia brothers had a good match – Gabriel being named player of the day for some strong carries while Te Uhi fired out a 20m pass for loose forward Jackson Campbell to score.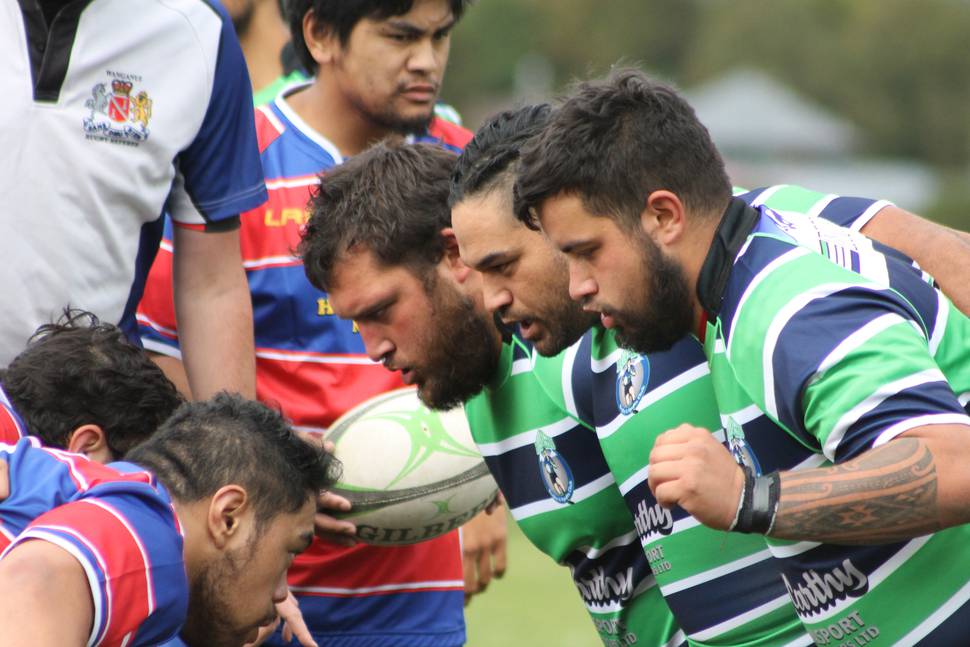 Young players Tuhirangi Akapita and Julian Paoratoho came off the bench to score their first Premier tries.
A lot of questions have come wafting down from the Waitotara Valley after Settler's Honey Ngamatapouri – one win last year – picked up a convincing 52-22 victory over Premier grand finalists Black Bull Liquor Pirates.
It was Pirates first competition game after the Phillip 'Red' Morris era, who coached them to two titles and worked diligently to secure talent from Fiji and Samoa, with Danny Tamehana and Denning Tyrell taking over.
Meanwhile, after injuries and import departures left Ngamatapouri struggling for a full squad for most of 2018, it is understood club benefactor Henry Matthews has been on another recruitment drive to bolster the stocks.
That can be seen on the scoreboard as a Seva Seraraia scored a hat trick of tries for the home side, while regular Heartland Championship players Bryn Hudson and Jim Seruwalu, who was lent to Horowhenua-Kapiti last year, also dotted down.
Adding to the scoreline blowout was the accurate goal kicking of Sheldon Pakinga-Manhire, who got six conversions and a penalty.
Pirates were still in the match at 21-17 down at halftime, but appear to have run out of legs.
Prop and former Wanganui rep Brett Turner has returned to the club and was one of the tryscorers, along with James Forsythe and Manulua Lafi.
In Senior rugby, three teams remain unbeaten after the second round of games, with 2018 champions Kelso Hunterville handing Counties their second close loss in as many games, winning 18-11 at home.
Celtic also had a tough match at Spriggens Park, but did what their Premier team couldn't by beating Kaierau 19-12.
Bennett's Taihape continued their good run of form with a second away victory, beating Border 37-14 at Waverley in their first defence of the Stihl Shop Wanganui Challenge Shield.
Speirs Food Marton rebounding from their opening weekend loss to pick up a comfortable 33-7 win over Marist Buffalo's at Marton Park, as team's will need to make early head way to get themselves into the Top 4 which will be promoted to the new-look Division 2 at the end of the first round of games.
Results, April 6.
Tasman Tanning Premier, Week 1.
Wanganui Car Centre Kaierau 35 (Joe Edwards, Fafeta Tai Siona, Josh Lane, Clive Stowers tries; Shandon Scott 3 pen, 3 con) bt Dave Hoskin Carriers Marist 31 (Dale Pene 2, Emitai Logadraudrau 2, Taione Ratu tries; Ricky Alabaster 2 con, Pene con). HT: 18-5.
Grand Hotel Challenge Shield – Waverley Harvesting Border 10 (Tom Symes try; Nick Harding pen, con) bt Byford's Readimix Taihape 9 (Te Rangitapu McLeod 3 pen). HT 9-0 Taihape.
Settlers Honey Ngamatapouri 52 (Seva Seraraia 3, Joeli Vasukacivi, Bryn Hudson, Deni Caucau, Jim Seruwalu tries; Sheldon Pakinga-Manhire pen, 6 con) bt Black Bull Liquor Pirates 22 (Brett Turner, James Forsythe, Manulua Lafi tries; Peika Peika pen, 2 con). HT: 21-17.
McCarthy Transport Ruapehu 91 (Troy Brown 3, Jamie Hughes 2, Mitchell Millar 2, Cody Scarrow 2, Morvin Trow, Jackson Campbell, Julian Toho, Campbell Hart, Tuhirangi Akapita, Kautahi Rauriri tries; Millar 5 con, Rauriri 3 con) bt Harvey Round Motors Ratana 3 (Matiu Webber pen). HT: 36-0.
Senior Championship, Week 2.
At Spriggens Park: Marist Celtic bt Kaierau 19-12. HT: 14-0.
At Dallison Park – Stihl Shop Wanganui Challenge Shield: Bennett's Taihape bt Border 37-14. HT: 27-14.
At Marton Park: Speirs Food Marton bt Marist Buffalo's 33-7. HT: 14-0.
At Hunterville: Kelso Hunterville bt Counties 18-11. HT: 8-6.
At Memorial Park, Taihape: Utiku OB bt Black Bull Liquor Pirates 110-0. HT: 47-0.