"What do we want?"
"Re-spect."
When do we want it?"
"Now."
Close to 10 members of security staff could be heard chanting outside of Whanganui District Court on Tuesday as they initiated a lightning strike.
Public service association (PSA) members don't only want respect from the Ministry of Justice, but they want to be rewarded for their loyalty and hard work with pay increases.
Team leader of court security Peter Te Huna said that the membership feel as though they've been taken for granted by the Ministry.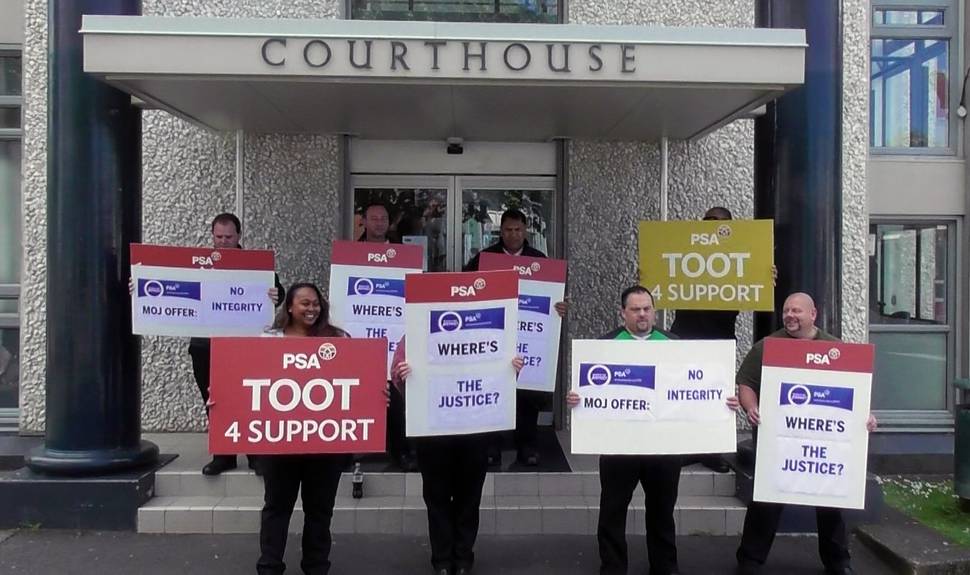 "Tuesday's the busiest day of the week for us here in Whanganui, so we thought it would have a difference and make an impact if we went on strike today," Te Huna said.
"The membership have had enough throughout the country. Enough is enough."
The strike began at 10.30am and continued until 12.30, at which time there was a one hour lunch break.
It meant that court proceedings involving the public, which were scheduled to begin at 10am, had to be delayed until 1.30pm.
Car horns could be heard tooting at the staff, who were no longer dressed in uniform and holding signs with messages on them such as "Where's The Justice?"
"Members of the public certainly don't hold any ill-will towards us because of what we're doing. You could say we are supported by the public," Te Huna said.
"Some of them are even saying for the job that you guys are doing, the pay that the Ministry are offering is crap."
Plenty of vehicles that passed by on Market Place tooted their horns to support Te Huna's comments.
In a negotiation in November last year, PSA members begrudgingly accepted a pay offer from the Ministry, but what they are being offered now is less than it was then.
"In my experience, Ministry of Justice staff are extremely loyal, they're loyal to the judiciary, they're loyal to the stakeholders and that makes them loyal to clientele," Te Huna said.
"We're not receiving that same loyalty from the people above us."