Two long waka lie side-by-side at the entrance of the UCOL Whanganui Campus on Rutland St.
Beside them, Tahi Nepia speaks to two students, telling them about the history of the double-hulled waka, or hourua, and trying to convince them to go for a paddle.
Nepia is the chairman of Te Kaihau o Kupe Waka Ama in Castlecliff and is visiting UCOL to promote Māori Language Week.
"I wanted to support Te Wiki o te Reo Māori, to let people know that a waka isn't just a waka, it has got history as well," Nepia said.
"Our ancestor Kupe was responsible for the migration of all the waka here, he came over in a double hull with sails and named the place Te Whanganui o Kupe."
Nepia's hourua are called Rere Ki Uta and Rere Ki Tai - the incoming tide and the outgoing tide.
Last Sunday, 16 children showed up in Castlecliff for an open day with Te Kaihau o Kupe Waka Ama.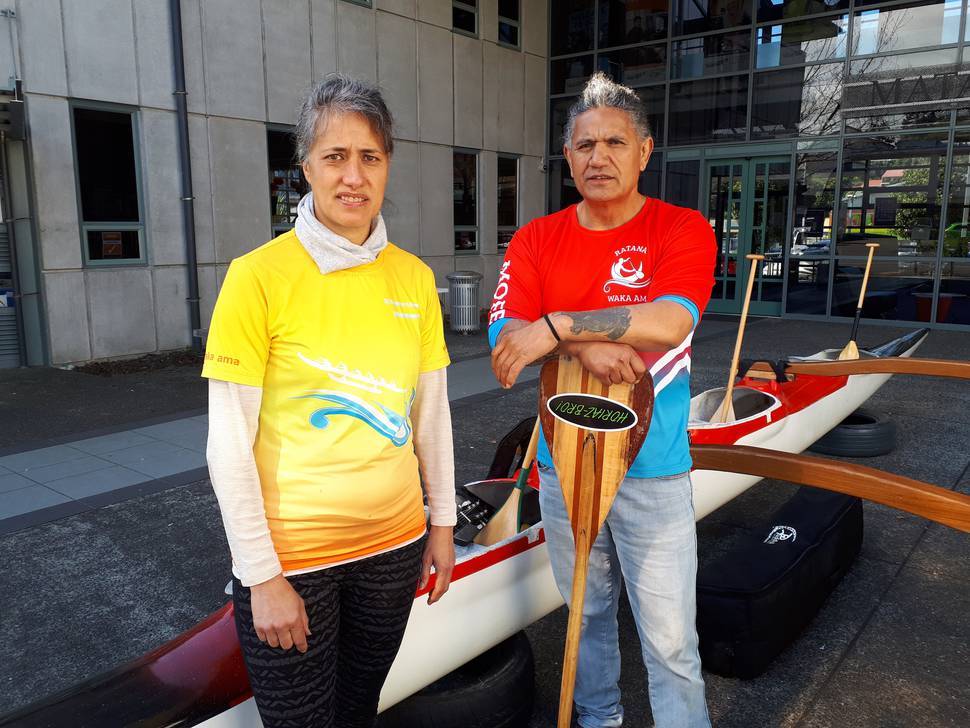 "Last year we tried to encourage 500 people to get out on the water, but we only got to about 440, so this year, we're going to amp it up," he said.
"It's important that they use the opportunity to learn about the area and how to identify dangerous conditions and things like that."
Nepia planned to remain on-campus all of yesterday, but was not sure whether he would be back again later in the week.
He is training for a 28km ocean paddle in Napier in October and said Waka Ama is the fastest growing sport in New Zealand.
"Two years ago, at the secondary school nationals, there were 1200 paddlers and two years later, there were 1700.
"They're expecting it to reach 2000 in another couple of years time, it's because it's easy to get involved in, anyone can give it ago and it becomes a lifestyle."
Nepia said that for a time, people thought that the art of sailing the ocean was lost.
"Waka Ama became extinct until about 30 years ago when Matahi Brightwell went over to Tahiti and brought it back to Aotearoa.
"Now, there's a lot of young people getting back into ocean paddling and navigating on hourua."
Nepia loves being out in the elements.
"When you're out in 30km/h winds, it's raining and it's freezing, but you've got a competent team with you, that's the challenge I enjoy and getting through it is so rewarding.
"You think about that 16-year-old girl who sailed solo across the world and imagine how she felt, we are just crossing the river, but that girl went around the world."
UCOL will continue celebrating all week, with a performance from Cullinane College at lunchtime on Tuesday, a hangi on Wednesday, a foundation class boil up fundraiser on Thursday and competitions and games on Friday.