The familiar sound of a fork slamming against glass sides is predominant in the UCOL Whanganui Campus kitchen.
A yellow egg mixture sloshes round and round like a whirlpool in the measuring cup as it is frantically stirred by Isabelle Boyack-Bridgman.
While Isabelle stirs, her teammate Sky Atkinson places a frying pan on the element, cranks up the gas and prepares plates for the presentation of their omelettes.
The Whanganui Girls' College students are participating in the UCOL Secondary Schools Hospitality Competition and it is hectic in the kitchen.
"Sixteen minutes to go," UCOL programme leader and senior chef lecturer Ian Drew yells.
"This is a teams event, they're producing two types of omelettes, a folded omelette and a flat omelette - two portions of each," Drew says.
"They've got 30 minutes to do it."
This is the first year that the competition has been held at UCOL's Whanganui Campus, it started about four years ago in Palmerston North, but went on hiatus until last year.
"It was successful in the past, but last year it was a bit slow because we lost contact and some teachers had moved on. This year we've got lots of entries," Drew says.
"It's about giving high school kids the chance to cook in a competition environment, to see what we do at UCOL and to consider hospitality as a career."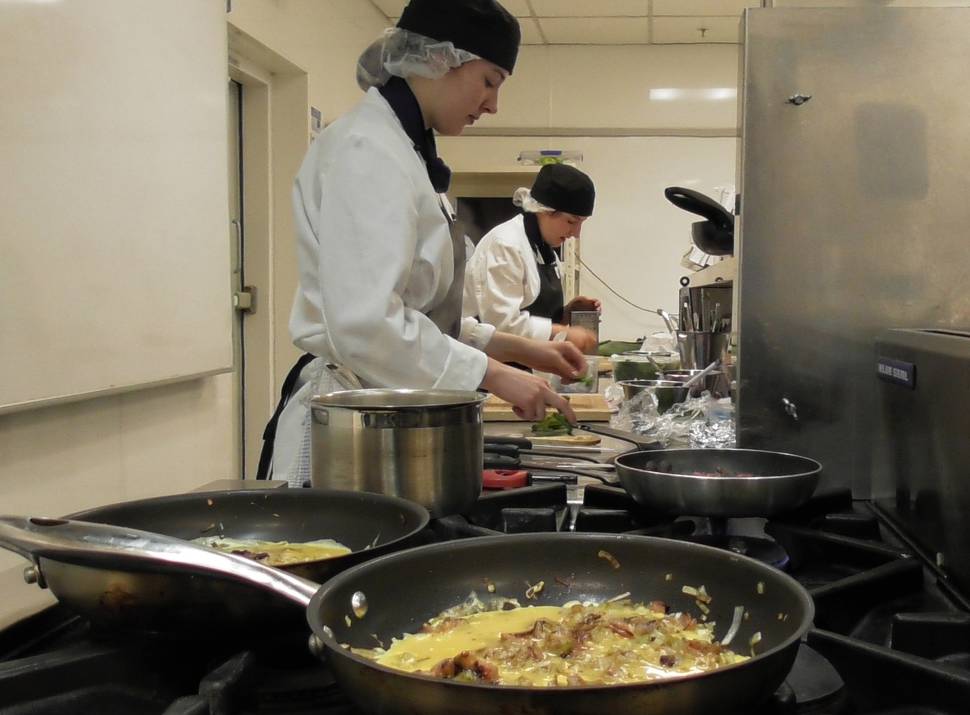 More than 50 students from Whanganui City College, Whanganui Girls' College and Whanganui High School signed up to compete.
They competed in a series of classes including cupcakes, white bread loaf, pizza, pasta, non-alcoholic mocktails, coffee and of course, omelettes.
Drew came up with the items on the menu because they are relatively cheap to make and he was mindful of the budgets that schools have.
Sponsors provided some of the ingredients for the food, but the rest was brought by the students, who were also required to bring their own gear.
Three judges marked the competitors in each class on things like personal presentation, hygiene practices, professional practice and technical skills.
"Once they've presented the food we're looking at eye appeal, the balance of textures and flavours, whether it's cooked correctly, whether it's tasty and seasoned," Drew says.
"The perfect omelette needs to be a nice light golden brown colour on the outside, still moist in the middle, well seasoned and have a flavourful filling."
Another judge, Dean Wong yells "orders up" to competitors, informing them it is time to present their plates.
Isabelle and Sky have finished on time, but others are not so fortunate, some desperately try to add their finishing touches and others are even treating burns.
Drew would like to see more Whanganui schools get on board in future.
"There's a huge shortage of chefs in the country, in fact in hospitality in general there's a skills shortage.
"It's good to get them involved, have a bit of fun, a bit of competition and it breaks down the bridge between high school and tertiary education."